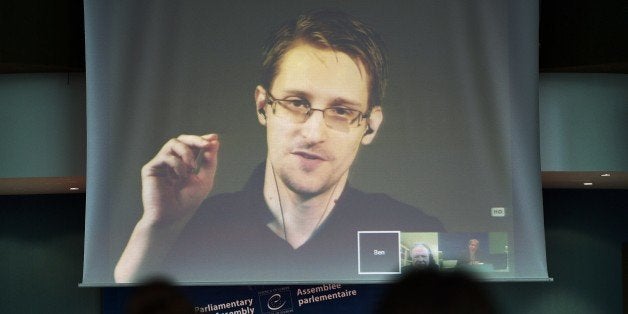 WASHINGTON -- Former NSA contractor Edward Snowden could have spurred a "useful" and necessary debate about government data collection if he had taken his concerns to members of Congress instead of giving documents to journalists, former Attorney General Eric Holder told The Huffington Post on Tuesday.
Holder said in an interview with Yahoo's Michael Isikoff earlier this week that Snowden's disclosures had resulted in a "necessary debate" about the government's bulk data collection. On Tuesday, Holder told The Huffington Post that he believes the same discussion could have taken place if Snowden had taken his concerns to lawmakers.
"Yeah, I do," Holder said when asked whether this debate could have occurred without Snowden's public disclosures. "If Snowden, for instance, had gone to certain members of the Senate Intelligence Committee and made disclosure to them, that debate could have occurred in a way that was less harmful to the interests of the United States."
Holder declined to specify which senators he believes would have been open to hearing Snowden's concerns, but said it was "kind of obvious" who those might be. The former attorney general also said he was "not sure" whether he would call Snowden a whistleblower.
"I think the manner in which he made the disclosures has proven to be extremely harmful to the United States, but as the same time as I acknowledged in the interviews I did, a debate has been spurred in our country that I think at the end of the day has been a useful one and resulted in appropriate changes to the way in which we gather information," Holder said.
Jameel Jaffer, the deputy legal director of the American Civil Liberties Union, in June called the passage of the USA Freedom Act -- which brought some reforms to the government's bulk data collection programs -- a "milestone" and a "testament to the significance of the Snowden disclosures."
Holder, who this week returned to Covington & Burling -- the law firm where he worked before he became attorney general -- also reiterated his belief that it would be possible for the Justice Department to work out some sort of plea deal with Snowden's legal team that would bring him back to the United States to face charges.
"I think there is an appropriate way to resolve the matter which could prove to be satisfactory to both sides," Holder said. "The question is whether or not there's going to be the willingness on the part of Snowden and his people to engage."
Jesselyn Radack, an attorney for Snowden, called Holder's comments disingenuous. She told HuffPost that before Snowden made his disclosures, she took four other NSA whistleblowers to speak with congressional committees about domestic surveillance issues. The discussions, she said, included information that overlapped with Snowden's revelations.
"They did absolutely nothing," Radack said of the lawmakers.
"Before Snowden, I don't think Congress would have done anything -- I know Congress wouldn't have done anything -- because they didn't. Nor did any of the other supposed channels that are set up for this," Radack said.
"I'm glad that Holder is recognizing and acknowledging Snowden for creating a positive change and a badly needed debate, and that's good," she continued. "It's just easy for him to say that after leaving the Justice Department, where he presided over the most draconian crackdown on whistleblowers in U.S. history."
Radack also declined to comment about discussions with the government, saying it would not be appropriate for either the Justice Department or Snowden's legal team to speak publicly about the plea negotiations.
This story has been updated to include comment from Jesselyn Radack.
Calling all HuffPost superfans!
Sign up for membership to become a founding member and help shape HuffPost's next chapter
BEFORE YOU GO
PHOTO GALLERY
Politicians React to Eric Holder's Resignation