WASHINGTON -- Attorney General Eric Holder told the House Judiciary Committee on Wednesday that he may be comfortable with subpoenaing the phone records of hundreds of journalists if warranted by the facts of a hypothetical case.
"In a hypothetical situation, we're gonna go after and subpoena hundreds of phone lines, phone records for journalists. Does that offend you as an American?" Rep. Blake Farenthold (R-Texas) asked Holder.
"It would depend on the facts. You'd have to know what the facts were and why the actions were taken," Holder responded.
But Holder insisted that his Justice Department "does not want to have its actions chill sources" or "have a negative impact on the newsgathering abilities" of reporters.
Holder was sharply questioned by members of Congress from both sides of the aisle about the Justice Department's subpoena of Associated Press phone records as part of a probe into a national security leak. Holder revealed that he had voluntarily turned over his own phone records as part of the same investigation.
Holder confirmed that it was Deputy Attorney General James Cole, his longtime friend and his number two at the Justice Department, who ultimately signed off on subpoenaing the AP's phone records. In a letter Cole sent to the AP on Tuesday, he argued the subpoenas for AP's phone records -- covering 20 phone lines over the course of two months -- "were limited in both time and scope." Several members of the committee said they wanted answers from Cole directly.
Rep. Ted Poe (R-Texas) told Holder he had filed his own version of a proposed reporter shield law in the wake of the AP scandal. The Texas Republican on Tuesday drew comparisons between the DOJ's actions and those of Communist leaders in the Soviet Union in the 1980s. Poe took on a softer tone during Wednesday's hearing.
"Looks like bruising the First Amendment at least by me," Poe said. "I hope we can get that shield law passed through both houses this time."
"I think it is a dangerous breach of the freedom of the press," Rep. Trent Franks (R-Ariz.) told The Huffington Post as he left the hearing. But Franks stopped short of outlining specific measures the administration should take in response.
"In this case they should ascertain the culpable individuals and, unless there was a clear constitutional impetus for their actions, they should be held accountable," Franks said.
Rep. Raul Labrador (R-Idaho) told The Huffington Post he was "absolutely" concerned about the scope of the subpoenas and he would take a look a the shield law, admitting it was an issue he hadn't followed closely before the AP story.
Rep. Louie Gohmert (R-Texas) didn't get a chance to raise his concerns about the DOJ's handling of the AP leaks during the hearing. Instead, he engaged in a lengthy and heated exchange with Holder over whether the FBI had appropriately investigated Boston bombing suspect Tamerlan Tsarnaev upon the Russian government's request in 2011.
After exiting the room, Gohmert told HuffPost he had intended to bring up the AP controversy because it defied people's "constitutional privilege" with respect to communication.
"I think it's outrageous because there is an obligation on the part of the Justice Department to try to minimize any breaches of individual rights, like freedom of speech and freedom of the press," Gohmert said. "So there is a real burden on the Justice Department to avoid gathering information that may breach people's civil rights unnecessarily."
Still, the Texas lawmaker declined to take a position on a reintroduction of a shield law.
"I'd have to see what it is," Gohmert said. "I think the administration needs to quit breaching people's constitutional rights. More than chilling, it's a freezing effect on the right of free press and freedom of speech."
Rep. Jerrold Nadler (D-N.Y.) said it was good the White House was pushing Congress to revive a the media shield law.
"A shield law will help a lot," Nadler told HuffPost. "These subpoenas are probably overwrought -- probably because we don't yet know … but the whole point of the press shield law is you don't want it to depend on the proper following of policies of any administration."
But Sen. Dianne Feinstein (D-Calif.) didn't seem too upset about the scope of DOJ's phone records subpoena, telling Roll Call "it was a very short period of time and the only thing collected was what we call metadata — which is not content of a call."
Before You Go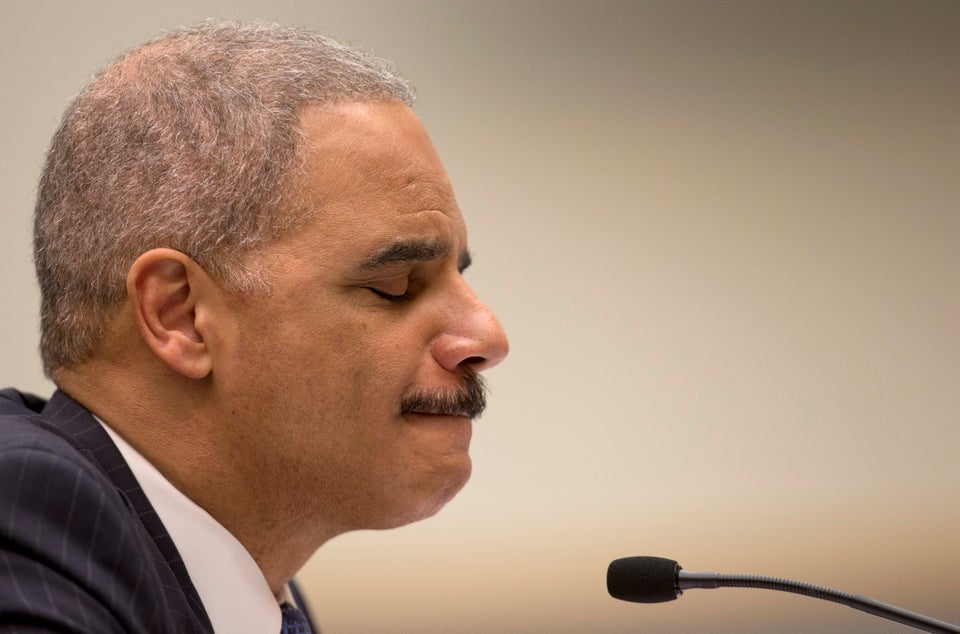 Eric Holder In The Hot Seat
Popular in the Community