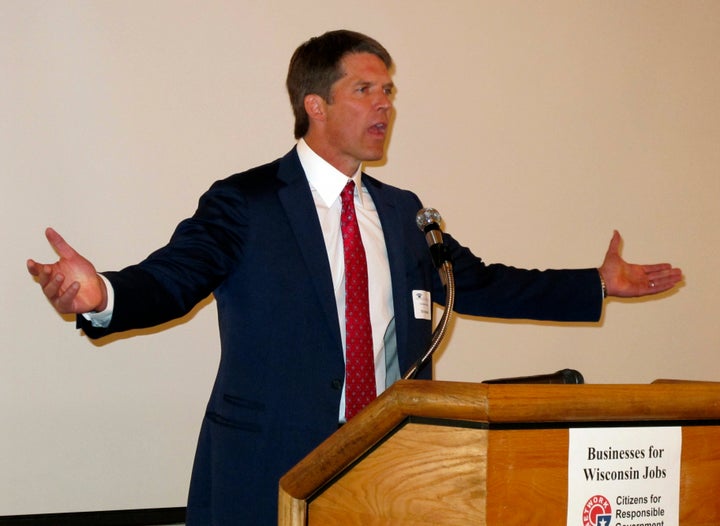 Eric Hovde, an outspoken critic of the federal stimulus program and Republican Senate candidate in Wisconsin, sits on the board of a technology company that was granted more than $2 million from the same initiative, the Associated Press reported Tuesday.
Hovde, who is running for the GOP nomination to replace retiring Sen. Herb Kohl (D-Wis.), has called himself the "second-largest shareholder" of Herndon, Va.-based ePlus,according to the Milwaukee Journal Sentinel. The company sells computer services and products, such as data centers and cloud computing.
Recovery.gov, a federal government website tracking stimulus spending, shows that ePlus received more than $2.3 million in federal department grants set up by the American Recovery and Reinvestment Act of 2009.
Hovde's campaign told the Associated Press that he "beneficially owns less than 15 percent, both directly and indirectly," of ePlus, downplaying any notion that Hovde is a key player in the company's operations.
Hovde has said he opposes the federal stimulus, which has emerged as a flashpoint in the Wisconsin Senate race as other candidates have been tied to benefiting companies.
Hovde opponent and former Wisconsin Gov. Tommy Thompson pounced on the stimulus hypocrisy as an example of Hovde's coziness with Beltway politics.
"Eric Hovde has spent the past 24 years in Washington, D.C., selling access and leveraging government-assisted transactions," Thompson spokesman Brian Nemoir told the AP. "The latest revelation that Hovde has benefited from stimulus dollars is nothing but business as usual."
10 more election stories from beyond the presidential field:
House Candidate Charged With Underage Drinking [The Item]
Fight For Bill Kentron's Endorsement Ends With Split Decision [The Tennessean]
McCotter's Mess: Confusion Hangs Over 11th Congressional District Election [MLive.com]
Republicans Open Fire On Gregg In Indiana Governor's Race [Herald Bulletin]
Lt. Gov. Dalton Declines Pay Raise In NC Budget [WFMY]
REAL LIFE. REAL NEWS. REAL VOICES.
Help us tell more of the stories that matter from voices that too often remain unheard.
BEFORE YOU GO
PHOTO GALLERY
Republicans: Wealthy Already Pay Enough In Taxes