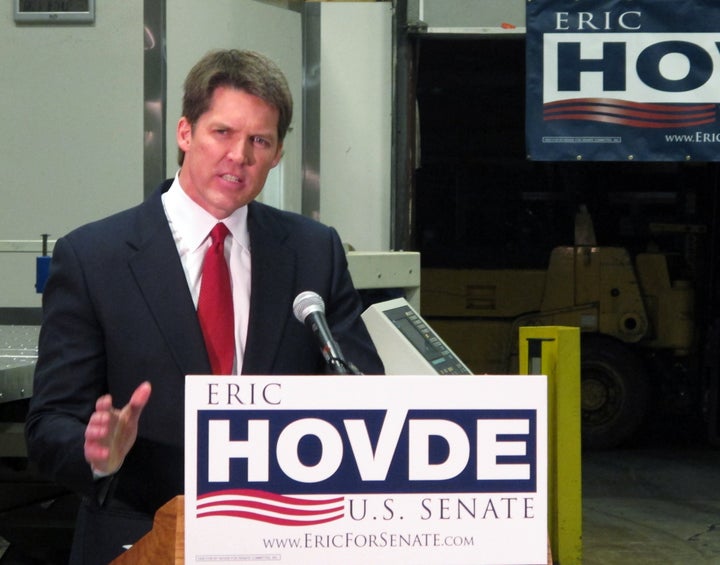 Tommy Thompson has lost his lead in the Wisconsin senate race, with the GOP primary now a tight contest between the former governor and businessman Eric Hovde.
Hovde leads Thompson 31 percent to 29 percent in the latest survey by the Democratic-leaning firm Public Policy Polling. Former congressman Mark Neumann has 15 percent and state Assembly Leader Jeff Fitzgerald has 9 percent.
Thompson's net favorability rating has dropped 21 points since PPP last polled in February.
"There's an increasing sense that Thompson is not conservative enough -- only 34 percent of voters say they want him to be the nominee, while 50 percent say they would prefer someone 'more conservative,'" noted PPP in its release.
Thompson's opponents have been focusing on his past support for health care reform. For example, Thompson -- who also served as President George W. Bush's Secretary of Health and Human Services -- once backed the individual mandate, and in 2009 he praised a leading Democratic version of reform legislation. He now says he wants to repeal Obamacare.
Hovde, meanwhile, is emerging as the conservative alternative to Thompson, according to PPP, even though Neumann has the backing of the Club for Growth and of Tea Party favorites like Sens. Mike Lee (R-Utah) and Rand Paul (R-Ky).
While non-Tea Party Republicans in the PPP poll split evenly between Hovde and Thompson, Hovde has an 18-point advantage among those who identify with the Tea Party.
"There's reason to think Hovde's lead could get wider between now and the primary -- he still has only 59 percent name recognition, compared to 84 percent for Thompson. Among the voters who are familiar with Hovde he leads Thompson 47-21, suggesting that as he becomes better known in the final weeks of the campaign his fortunes could continue to improve," added PPP.
Hovde recently gained national attention for saying he was tired of the media covering sad stories about poor people who can't get their food stamps.
Hovde said he would love to see the press stop covering sad stories about low-income individuals who can't get benefits and start covering issues like the deficit more frequently.
"I just pray that you start writing about these issues," said Hovde at a speech in June, referring to the debt and government spending. "I just pray. Stop always writing about, 'Oh, the person couldn't get, you know, their food stamps or this or that.' You know, I saw something the other day -- it's like, another sob story, and I'm like, 'But what about what's happening to the country and the country as a whole?' That's going to devastate everybody."
The winner of the primary will face Rep. Tammy Baldwin (D-Wis.) in November. In the PPP poll, Hovde leads Baldwin 45 percent to 44 percent, while Thompson and Baldwin are tied at 45 percent.
HuffPost Pollster's analysis of the polling in the Wisconsin Senate GOP primary:
REAL LIFE. REAL NEWS. REAL VOICES.
Help us tell more of the stories that matter from voices that too often remain unheard.
BEFORE YOU GO
PHOTO GALLERY
Below-The-Belt Political Attacks