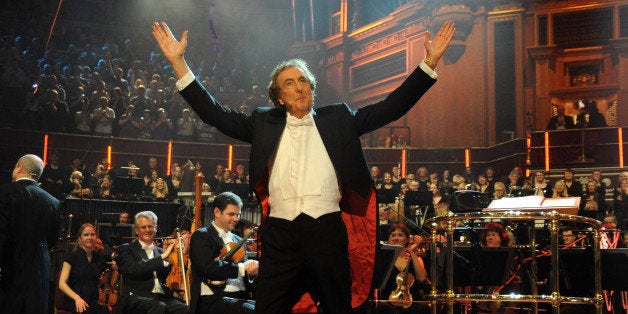 No, no, no. Of course he's not the Messiah. That contraction would be grammatically incorrect, anyway. Rather, we're speaking of his - meaning "Idle's" in the possessive form - Not The Messiah (He's a Very Naughty Boy) that has played to sold-out audiences around the world since 2007, and will have its New York City premiere next week at Carnegie Hall. But, see how confusing this all can be? Not unlike the film "Monty Python's Life of Brian", for which Idle both coauthored and costarred with his fellow famed Python cohorts about Jesus' next door manger neighbor - who himself is also mistaken for the Messiah. So, it's no surprise that this famed performer, fresh off the success of Broadway's Spamalot (a stage musical version of another classic film, "Monty Python and the Holy Grail"), sought for continued confusion with a comedic oratorio. Fans, rejoice!
I caught up with this comedic genius last week who shared insight on this exciting new production, written with John Du Prez (Spamalot), which will feature the Collegiate Chorale alongside Idle and Broadway performers Victoria Clark (Light in the Piazza, Cinderella), Marc Kudisch (Assassins, The Apple Tree), Lauren Worsham (Gentleman's Guide to Love and Murder) and William Ferguson under the direction of conductor, Ted Sperling.
Not the Messiah (He's a Very Naughty Boy) "comes in the afterglow" of Spamalot, Idle says. "My cousin is the Principal Conductor of the Toronto Symphony Orchestra [Peter Oundjian]. He was always on me to write something, to do something... because he's always looking for new ways to bring young people in to the symphony orchestra."
Assuming at first it would only contain a few songs, "it didn't seem to be a whole evening." However, "I was thinking about it and suddenly thought, well, wait a minute. If the Messiah is the story, the Bible, the New Testament told in an oratorio form [referring to Handel's Messiah - with its ubiquitous "Hallelujah Chorus"], wouldn't it be funny to tell the story of Brian in an oratorio form, very seriously. If angels had written the story of Brian, and it would be NOT the Messiah." Realizing the comedic effect but serious impact if Brian had been a real person, "It's something of a tragedy to be mistaken for the Messiah. And that seemed, to me, to have a nice weight to it."
Even upon the premiere of "Life of Brian" in 1979 there's been seriousness about it, as the religious farce was labeled blasphemous for it's portrayal of the Messiah story. It was banned in several countries, a distinction the filmmakers used humorously to their benefit with advertising claims like, "So funny it was banned in Norway!" With time, cultural perceptions have changed, and this style of irreverent comedy has become de rigueur (e.g. "Family Guy", Broadway's The Book of Mormon, and many more). However, in return, Idle has upped the stakes by integrating this style of "low" comedy with the high culture tradition of symphonic orchestras and specifically, the oratorio - a large musical composition for orchestra, choir, and soloists, much like an opera.
In many ways a pastiche or homage to various forms of music, using them to tell this story, Idle explains that in composing Not The Messiah, Du Prez "used every kind of music, from Mozart to Gilbert & Sullivan and to doo-wop. He calls it the iPod shuffle because his observation was that now iPod has the shuffle, all music is just music. You have the Beatles followed by Bach followed by Beethoven followed by the blues. So the oratorio contains all genres of music, including a surprise appearance by Bob Dylan [played by Idle]"
Having toured the world including in Canada, Australia, the UK and assorted festivals, Not The Messiah then made its way to England's prestigious Royal Albert Hall in celebration of Monty Python's 40th Anniversary, with Python alums Michael Palin, Terry Jones, and Terry Gilliam. "It was just a smashing evening," Idle says proudly. "It was just very silly".
Seemingly excited to now bring Not the Messiah to New York City, Idle says that it offers something new to fans with an added layer to the "Life Of Brian" story. Where the film focused primarily on the comedic situation of being mistaken for the Messiah, the oratorio allows the audience to not only enjoy the laughs, but also bask in the music by Du Prez and deeper character insights afforded by this altered format. "It's very sweet because we do it as a full oratorio, white tie and tails," Idle explains, adding, "So it's done with dignity. Fancy. Taken very seriously, which sort of increases the silliness of it all... I think."
Furthermore, in translating the film to the stage, idle explains how he and Du Prez overcame the physical comedy, which is such an integral part of the film, "when I was taking 'Holy Grail' [and translating it to the stage for Spamalot], you can pretty much put all the scenes on stage... In this one, the concept is there but with an evangelist who wrote the story of Brian so it's told through his viewpoint rather than just trying to replicate the film..
Just like the Messiah preached treating all people alike, Idle concluded our conversation by asking that I inform readers, for those who are unable to attend the show, that they can see the Royal Albert Hall concert and the Monty Python reunion performance, "One Down, Five to Go," on DVD. Thinking this might be my one chance to enjoy a moment of playful banter with a master of comedy, I added, "Perfect. I'll be sure to tell the paupers breaking down the doors of Carnegie Hall to head home and catch the rerun on TV." Apparently not amused, Idle glazed past this comment with grace. Not even a chuckle. Jesus Christ.
Not The Messiah (He's a Very Naughty Boy) will play Carnegie Hall on December 15 and 16. For information and tickets, visit www.carnegiehall.org.
Popular in the Community