Today, we introduce Eric, Jason and their son Justin in this week's Huffington Post Gay Voices RaiseAChild.US "Let Love Define Family™" series. Contributing writer Eric Criswell shares their family's story from Los Angeles.
A loving couple, a cute kid, two dogs, piano recitals and swimming classes -- it draws the perfect picture of a typical family. For Eric Pelovello and Jason Peers, who have been together for twelve years, this is simply about living the lives they had always imagined and being the best dads they can be to their son, Justin.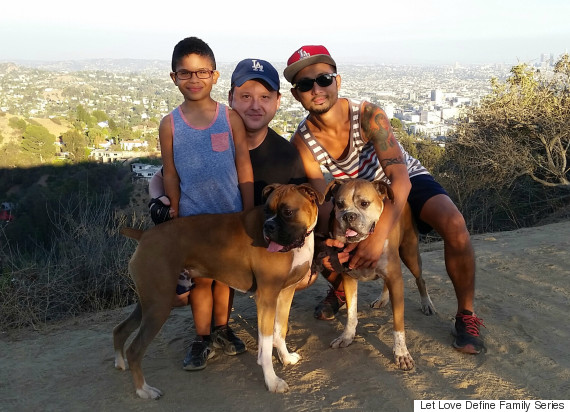 They both knew that fostering and adopting was the way to go and decided that they wanted an older child, believing they could make a difference in that child's life. Pushed by Eric's traditional Filipino mother to have their own child, they soon convinced her that their decision was the right one for them, and she has become a loving grandma, beaming with pride over her new grandson.
Once the decision was made, it all moved very quickly. They attended classes administered by their social worker and Robyn Harrod, Adoptions Director at Southern California Foster Family and Adoption Agency, where they learned about the possibilities and issues associated with foster-adoption. According to Eric, "It can be a little daunting as you hear the stories of what these kids have gone through. But you realize that's why we're here, to help them through it, and if you have the strength for that, you can handle anything." Jason continues, "It can be scary, especially with how much you don't know. You hear the sad stories, but that's unfortunate because there is so much good that can happen when you make your focus the best interest of the child. That's what parenting is all about."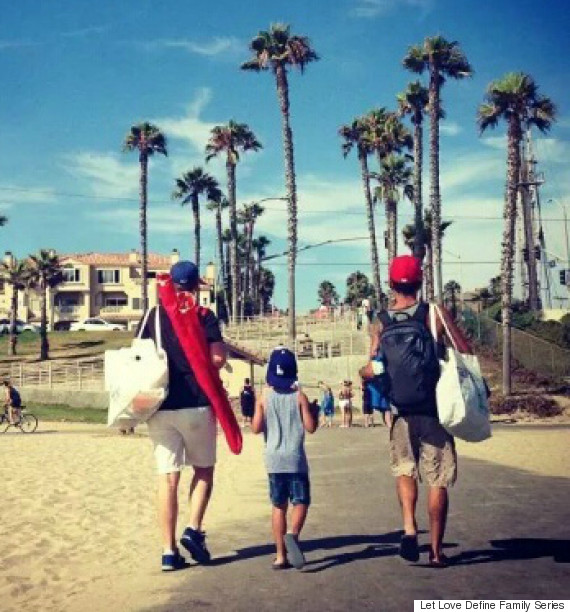 Eric is a real estate agent in Los Angeles, and Jason has recently written an ebook on his experience called, From Foster-Adopt to Forever Family: A Gay Couple's Journey to Fatherhood where he shares his personal thoughts:
So why the heck am I doing this? Why am I suddenly writing about this extremely intimate and deeply personal experience and putting it out there for the world to see?… It's all for our little guy. I want to document all that's happened in case one day he ever decides he wants to know how in the world this man from Manila and this guy from Connecticut ever came together and crossed paths with this beautiful, amazing, bright little boy and rather than try to remember it all for him when I'm old and grey, I want to write it down now while it's still fresh and share how magical and wonderful and trying and complicated it was for us to get to the point in our lives where we even had the opportunity to become a family.
Shortly after their classes and home studies were finished, they got a call that they were a good fit for a seven-year-old named Justin. Within a week they had a "meet and greet" with Eric, Jason, and Justin… and the two dogs. Luckily for everyone, it was a good match and Justin moved in the next day.
Jason sums up the experience with: "We will never forget the moment we first laid eyes on Justin. Eric and I turned to each other and smiled. This was him. This is who we have been waiting for. Our son had finally arrived."
"Dad" and "Pops" are guarded about Justin's history, but share that they knew his potential was limitless the minute they met him. Justin clearly loves life and there is a sense that he comprehends just how fortunate he is to have found a place where he can thrive. He takes full advantage of every opportunity and is active in school, sports and music. When asked how they would describe their family, the quick answer is, "normal."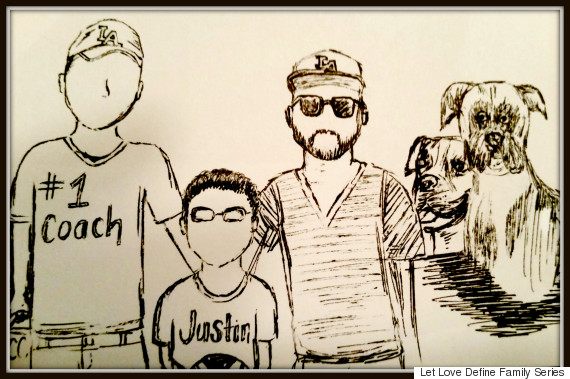 In January 2015, the family was made official when the adoption papers were signed.
"Going out to dinner on Friday nights with his dads is Justin's favorite thing to do," explains Jason. "He's such a foodie! He loves going to new places and is fearless about trying new things."
Between all the activities, school work, and Friday night dinners, they try to find time for long hikes with the dogs. Usually they all are exhausted by the time it's over -- but love to say, "we're finally home."
On Saturday, June 13, 2015, RaiseAChild.US will host "Call Me Dad," a free brunch event for the gay community and all people interested in learning about building or expanding a family through fostering, adopting, or weekend hosting. This two-hour event will begin at 11:00 a.m. at the Montalban Theatre in Hollywood, CA and feature a special performance by actor/comedian Alec Mapa. RSVP and information at www.RaiseAChild.US.
RaiseAChild.US is the nationwide leader in the recruitment and support of LGBT and all prospective parents interested in building families through fostering and adopting to meet the needs of the 400,000 children in the foster care system. RaiseAChild.US recruits, educates and nurtures supportive relationships equally with all prospective foster and adoptive parents while partnering with agencies to improve the process of advancing foster children to safe, loving and permanent homes. For information about how you can become a foster or adoptive parent, please visit www.RaiseAChild.US.
Calling all HuffPost superfans!
Sign up for membership to become a founding member and help shape HuffPost's next chapter