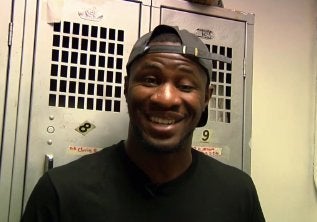 Sometimes a coach chews out his athletes in order to buck them up. Sometimes he's just a total jerk because he knows more than they ever will. There's a fine line between the two, and boxing instructor Eric Kelly definitely falls into the latter category.
WARNING: Explicit Language Below In Article And Video
Kelly, a four-time National Amateur Boxing champion and two-time NYC Golden Glove tournament winner, definitely knows a lot more about boxing than his Wall Street clientele, and isn't afraid of deriding them to their faces or, for that matter, on camera.
In a charming character study by Animal New York, Kelly, whose boxing career ended prematurely after a "street altercation" in which he took a pool cue to his left eye, repeatedly calls out wannabe boxers at the Church Street Boxing Gym, where he trains, "a bunch of fucking nerds" from Wall Street.
"A lot of these cats, I wish would just forget the address to the gym," Kelly said. In the context of his general vocabulary, that sentiment is downright polite.
And whether the serves as abuse motivation or just gleeful derision, Kelly's style is surprisingly popular.
"He turned it up a little for the camera, but that's basically all Eric is," Jason Strout, owner of Church Street Boxing Gym, told The Huffington Post in a phone interview. "He's a handful."
According to Strout, Kelly has about 30 clients that he trains one-on-one. Strout said that while some people are turned off by Kelly, others respond well to his style. "It takes a special kind of personality to take lessons from him," Stout said.
It's a sentiment with which Kelly seems to agree.
"Not everything is for everybody," Kelly says in the video. "You don't see me going to motherfucking Wall Street, picking up a fucking briefcase trying to type, do you?"
WARNING: Video Contains Explicit Language
WATCH: Coach Eric Kelly Will F*** Your 'Miscreant' A*** Up