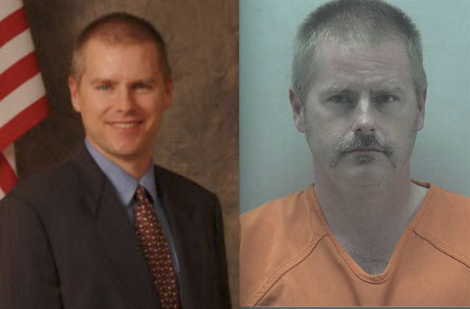 WASHINGTON ― A former Republican political candidate in Indiana who authored a right-wing blog was arrested this week for allegedly mailing a pipe bomb and a threatening letter containing a bullet to two of his political opponents. The pipe bomb exploded at a post office, leaving a pregnant postal worker with "cuts, abrasions and bruises to her head, legs, and feet."
Eric Krieg, a 45-year-old resident of the city of Munster, was charged with knowing possession of a destructive device and transporting explosive materials. He was arrested on Thursday after the FBI executed search warrants at his residence, his work and on his vehicle. The Justice Department put out a straightforward press release about Krieg's arrest, but a FBI agent's affidavit offered a lot more of an interesting backstory.
The package containing a pipe bomb that exploded at a post office in East Chicago, Indiana, on Sept. 6 had been addressed to an attorney who the feds labeled "Victim 1." The lawyer had represented a person who filed a defamation lawsuit against Krieg that was settled for around $60,000, which led Krieg to declare bankruptcy, according to the feds.
The feds say Krieg was a blogger who went by the nickname "buzzcut" and wrote a blog, "Blue County in a Red State," which is no longer active. The blog's tagline said it was about "Life in the most corrupt county in America: Lake County, Indiana." But Krieg, who was described by a local columnist as "the unofficial mud-thrower of the Lake County Republican Party," has run for county council and as country surveyor in Lake County.
The attorney who represented the individual who sued Krieg for defamation also told the feds that he believes he might have been targeted by Krieg because he authored an opinion on behalf of the city supporting an LGBTQ ordinance he believed Krieg may have disagreed with. The city of Munster passed a human rights ordinance that prohibited discrimination on the basis of sexual orientation back in 2016.
The victim who received a bullet that was wrapped in tape and had a message ― "The next one will be in the back of your head" ― had criticized Krieg online back in 2013.
One 2013 post on an online discussion board authored by the man who received the bullet said the person who sued Krieg had "served him a huge cup of STFU [Shut the Fuck Up], that's for sure." The victim had also reposted another person's comments calling Krieg "a first class asshat, and a typical right wing tea-bagging idiot."
The Times of Northwest Indiana reported that Krieg was a BP engineer and "an outspoken critic of the Lake County Democratic Party and Hammond Mayor Thomas McDermott Jr." The defamation lawsuit was filed by Aaron M. McDermott, the mayor's brother, over a blog claiming he had been arrested in Munster.
Krieg admitted that he had mailed the explosive device in an interview with FBI special agents before his arrest, according to the FBI. A federal magistrate judge ordered Krieg held until a detention hearing next week.
Read more in the affidavit below.
Ryan J. Reilly is HuffPost's senior justice reporter, covering criminal justice, federal law enforcement and legal affairs. Have a tip? Reach him at ryan.reilly@huffingtonpost.com or on Signal at 202-527-9261.
Calling all HuffPost superfans!
Sign up for membership to become a founding member and help shape HuffPost's next chapter