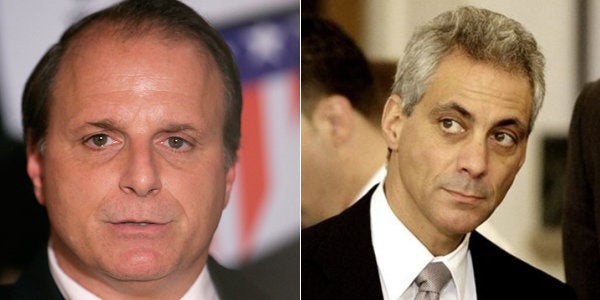 Outgoing Rep. Eric Massa (D-NY) had some choice words for White House Chief of Staff Rahm Emanuel during a recent radio interview in which he called the top Obama adviser "the son of the devil's spawn."
"He is an individual who would sell his mother to get a vote. He would strap his children to the front end of a steam locomotive," Massa said of Emanuel's desire to lock up vital votes on health care reform. "You think that somehow they didn't come after me to get rid of me because my vote is the deciding vote in the health care bill? Then, ladies and gentlemen, you live today in a world that is so innocent as to not understand what's going on in Washington, D.C."
According to an account given by Massa, he and Emanuel have had tense confrontations in the past, including one particularly memorable incident in the shower of the Congressional gym.
"Let me tell you a story about Rahm Emanuel," Massa started. "I was a congressman in my first eight weeks, and I was in the congressional gym, and I went down and I worked out and I went into the showers...I'm sitting there showering, naked as a jaybird and here comes Rahm Emanuel not even with a towel wrapped around his tush, poking his finger in my chest, yelling at me because I wasn't going to vote for the president's budget. Do you know how awkward it is to have a political argument with a naked man?
"By the way, what the heck is he doing in the Congressional gym," Massa continued. "He goes there to intimidate members of Congress...He's hated me since day one, and now he wins."
Massa, who is scheduled to resign from the House on Monday, following sexual harassment allegations, contends that he "was set up for this from the very, very beginning," and that Emanuel was a key orchestrator in the plot to get rid of him.
Massa and Emanuel have long had a contentious relationship. Watch video of Emanuel giving advice to Massa during his congressional campaign. Emanuel was then chairman of the Democratic Congressional Campaign Committee: