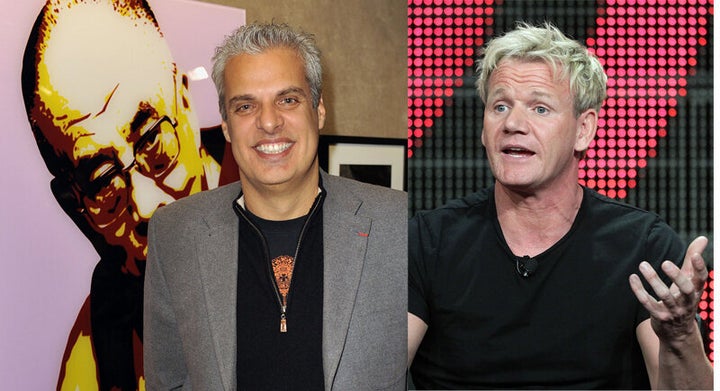 UPDATE, 9/30/10: Ripert's Comments Not Prompted By Kitchen Nightmares Alum's Suicide
Ripert returned to Twitter Wednesday evening to set the record straight on what triggered his abrupt trifecta of anti-Ramsay tweets (which can be read at the bottom of the entry), and to attempt to correct the record for several media outlets who've run articles under the assumption that the recent tragic suicide of chef Joseph Cerniglia, who appeared on Ramsay's Kitchen Nightmares in 2007, prompted Ripert's candor (who, incidentally, had made quite similar comments about Ramsay at least as far back as May).
Many of the articles in question failed to note that per Cerniglia's close friends, the chef was "was grateful to Ramsey for helping him turn his business around." "[Cerniglia] said Ramsey was intense but that he turned out to be a nice guy, that in the end, he helped him out," another friend recalled.
So, while we still don't specifically what prompted the Ripper's careful words, we have no reason to believe it was related to the suicide.
Ripert's follow-up tweets: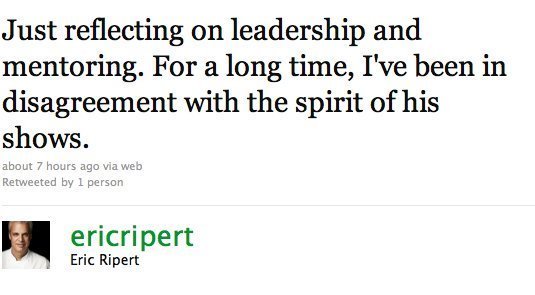 A usually-restrained Eric Ripert took to Twitter this morning to pan Gordon Ramsay, noting that he believes "in the goodness of Gordon," but that "he is a poor inspiration for professional chefs in his shows."
Whatever it may have been, the renowned chef of Le Bernardin and recent Top Chef judge wrote across three tweets: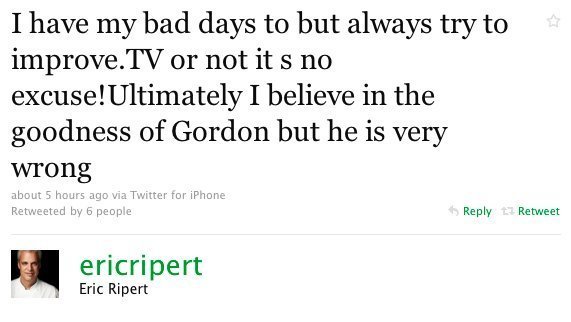 Related