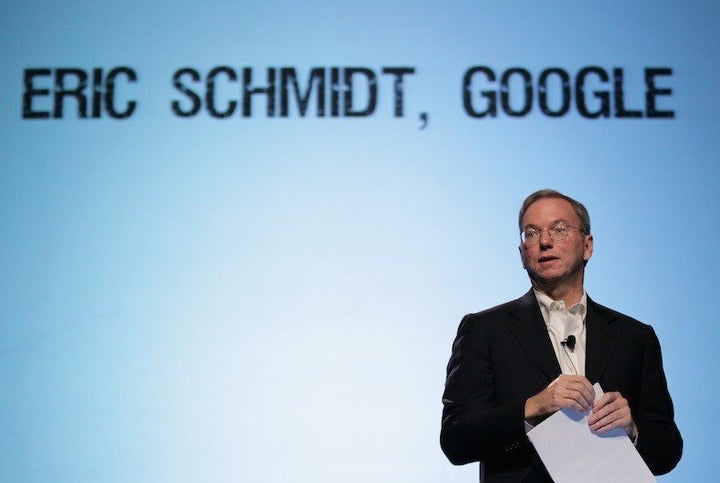 By Diane Bartz and Malathi Nayak
WASHINGTON (Reuters) - Google Inc has not cooked its search results to favor its own products and listings, Executive Chairman Eric Schmidt told a U.S. Senate hearing looking into whether the search giant abuses its power.
Members of the Senate Judiciary Committee's antitrust panel said on Wednesday that Google had grown into a dominant and potentially anti-competitive force on the Internet.
"Google is in a position to determine who will succeed and who will fail on the Internet," said Republican Senator Mike Lee. "In the words of the head of the Google's search ranking team, Google is the biggest kingmaker on Earth."
Google has been broadly accused of using its clout in the search market to stomp rivals as it moves into related businesses, like travel search.
The Federal Trade Commission is looking into that charge and others, including whether Google manipulates its search result rankings to favor its own products.
Google is trying to convince regulators and lawmakers that it does not need restrictions placed on its growing portfolio of businesses, and that its business practices are legal and good for consumers.
Lee aggressively quizzed Schmidt over whether Google deviates from its search algorithm to boost its own listings.
He brought a chart that showed a study comparing the success rate for shopping-related key word searches. Lee said that search rankings for price comparison sites -- Nextag, PriceGrabber and Shopper -- varied while Google's shopping site consistently ranked third.
"I see you magically coming up third every time," Lee said. "I don't know whether you call this a separate algorithm or whether you've reverse engineered one algorithm, but either way you've cooked it, so that you're always third."
Schmidt replied: "Senator, may I simply say that I can assure you we've not cooked anything."
Google controls more than two-thirds of the global search market. But Schmidt argued that specialty web sites -- like those with restaurant reviews and travel search -- give Google stiff competition.
In an oblique reference to Microsoft, which faced nearly two decades of legal scrutiny for antitrust violations, Schmidt told lawmakers: "We get it. By that I mean, we get the lessons of our corporate predecessors."
Colin Gillis, an analyst at BGC Partners, said some of the senators were "gunning hard" for Google but Schmidt handled himself professionally. "He appeared well-coached to me," Gillis said.
The senators were at times frustrated by what Democratic Senator Al Franken characterized as "fuzzy" answers from Schmidt about how Google prioritizes its search results and whether it unfairly uses rivals' content.
Franken questioned Schmidt about complaints from Yelp -- which provides user-generated reviews of restaurants, shops and other local businesses -- that Google unfairly rips reviews from Yelp to build Google's competing site, Google Places.
Franken asked if Google still used Yelp's content to drive business to Google Places.
"As far as I know, not," Schmidt answered.
Franken skeptically asked, "As far as you know?"
"Again I'll have to look, but I'm not aware of any," Schmidt said.
Schmidt was Google's chief executive officer from 2001, but vacated the post to company co-founder Larry Page in April.
Schmidt now serves as executive chairman and oversees government affairs -- a position of critical importance during the FTC probe and lawmakers' reviews.
Some of Google's rivals made their case at the hearing for why Google needs to be reined in.
Jeffrey Katz, the CEO of Nextag, an Internet comparison shopping company, said Google was initially a huge help in building innovation.
"But what Google engineering giveth, Google marketing taketh away," he said in written testimony.
He argued that Google is now the Internet neighborhood bully. "Google doesn't play fair. Google rigs its results, biasing in favor of Google Shopping and against competitors like us," Katz said in written testimony. "As a result, Nextag's access is more and more discriminated against ... because we compete with Google where it matters most, for very lucrative shopping users."
Katz and Yelp CEO Jeremy Stoppelman both said they would not start new businesses in the current environment.
"I personally wouldn't. I'd find something else to do," said Stoppelman at the hearing.
(Reporting by Diane Bartz and Malathi Nayak in Washington; Additional reporting by Alexei Oreskovic in San Francisco; Editing by Tim Dobbyn, Phil Berlowitz)
"Google does nothing to block access to any of the competitors and other sources of information" in Web searches, Schmidt testified. He acknowledged that Google is "in that area" of being a monopoly company but said it's up to the courts to determine the question. The company recognizes that it has a special responsibility because of its market power, Schmidt said.
The political theater unfolded against the backdrop of a Federal Trade Commission investigation that threatens to handcuff Google as it tries to diversify beyond Internet search. Just last month, Mountain View, Calif.-based Google announced by far the biggest acquisition in its 13-year history – a proposed $12.5 billion deal to buy cellphone maker Motorola Mobility.
The FTC's probe, triggered by rising complaints about perceived bias in the way Google ranks other websites, also is forcing the company to defend its pledge to make the world a better place. Google underscored that commitment by embracing "don't be evil" as its corporate motto.
The biggest concern about Google is whether the company has been manipulating its results to prominently display its own services instead of rival websites. Those rankings can make or break websites because most people rely on Google to get around the Internet. Google processes about two-thirds of U.S. search requests and handles an even larger percentage in some parts of Europe.
The hearing by the Senate Judiciary subcommittee on antitrust turned up the heat on Google. It could further embolden the FTC as it investigates the company, with several members of the panel having publicly posed serious questions about Google's practices.
Sen. Michael Lee of Utah, the panel's senior Republican, said "some of my fears have been confirmed" by Schmidt's testimony and answers to senators' questions.
Google appears to exploit its Web search dominance to reap an "unnatural and extraordinary advantage," Lee said, adding that the company has a "clear and inherent conflict of interest" in its search results.
Sen. Richard Blumenthal, D-Conn., used a metaphor. "You run the racetrack, you own the racetrack," he told Schmidt. Google now also owns some of the horses and "you seem to be winning," Blumenthal said.
That prompted Sen. Al Franken, D-Minn., to wonder whether Google might also be "doping the horses."
But Schmidt said he prefers to think of the Internet as a platform with Google the GPS system. "This is the best we know how to do," he said.
Another focus is the way Google sets the rates in the Internet's largest advertising networks. Critics contend Google sometimes rigs the system to drive up the prices that its rivals have to pay to ensure their commercial message is seen.
"Not being on Google is the equivalent to not existing," Jeremy Stoppelman, co-founder and CEO of search engine Yelp Inc., told the panel in later testimony.
"I wonder if we would have been able to start Yelp today given Google's recent actions."
Stoppelman also said Google started bullying Yelp, a 7-year-old service, after it refused to sell itself to Google in 2009.
Google maintains its prices are largely set through an open auction tied to words appearing in search requests and other Web content. The system has proven highly effective: The ads will generate most of Google's projected revenue of more than $37 billion this year.
The assertion that Google places a higher priority on boosting its profits than providing unbiased results came on the same day that Schmidt and Google's co-founders – Larry Page and Sergey Brin – were listed among the 50 richest Americans in the latest rankings released by Forbes magazine. Collectively, the trio is worth about $40 billion, with most of the wealth tied up in Google stock that usually increases in value when the company's earnings rise.
In his testimony, Schmidt stuck to a familiar script. As he and other Google executives have said in the past, Schmidt said the company always strives to provide the information that its users want so they don't become disgruntled and defect to other websites such as Microsoft Corp.'s Bing.
Schmidt's appearance before the antitrust committee was tinged in irony.
While working as a top executive at other technology companies in the 1990s, Schmidt was among the Microsoft critics who helped gather evidence that spurred the U.S. Justice Department to open an antitrust investigation that became a huge distraction for Microsoft.
While Microsoft was sparring with the Justice Department, former Stanford University graduate students Page and Brin founded Google in a rented Silicon Valley garage. Within a few years, Microsoft found itself scrambling to catch up in the increasingly lucrative Internet search market – a largely fruitless quest that has cost the world's largest software maker billions of dollars.
On Wednesday, Schmidt found himself being grilled about whether Google's behavior is reducing the likelihood that other entrepreneurs will be able to invent something as revolutionary as Google.
Schmidt urged committee members not to draw parallels between Microsoft and Google, insisting his company isn't "cut from the same cloth."
After spending a decade as Google's CEO, Schmidt was replaced by Page in April. Schmidt remains Google's chief liaison with the government, enabling the aloof Page to focus on running the company.
Liedtke reported from San Francisco.
Popular in the Community