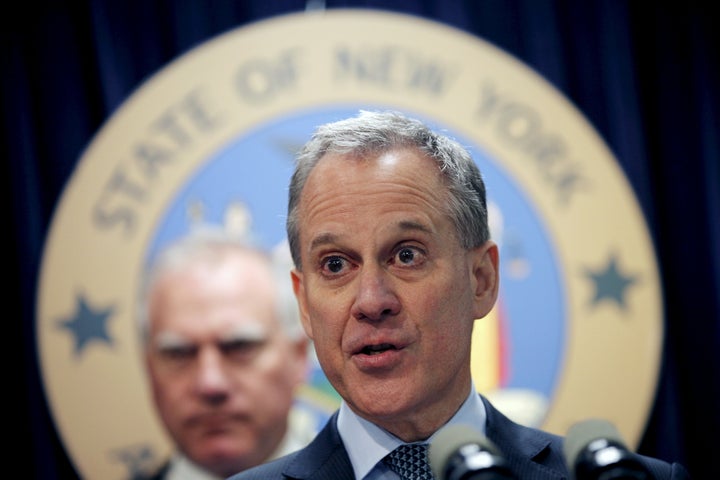 Four women who have been romantically involved with New York Attorney General Eric Schneiderman (D) have come forward with accusations that he physically abused them, according to accounts published by The New Yorker on Monday.
Two of the women, Michelle Manning Barish and Tanya Selvaratnam, told the outlet that Schneiderman, 63, "repeatedly hit them, often after drinking, frequently in bed and never with their consent," forcing them to seek medical attention. Manning Barish recounted Schneiderman "shaking me and grabbing my face," demanding that she repeat lines such as "I'm a little whore," and threatening her that "If you ever left me, I'd kill you."
Late Monday, just hours after the report came out, Schneiderman resigned.
"It has been my great honor and privilege to serve as Attorney General for the people of the State of New York," Schneiderman said in a statement. "In the last several hours, serious allegations, which I strongly contest, have been made against me. While these allegations are unrelated to my professional conduct or the operations of the office, they will effectively prevent me from leading the office's work at this critical time."
The women who spoke to The New Yorker said they were motivated to share their stories after witnessing Schneiderman become a vocal advocate against sexual misconduct during the rise of the Me Too movement in recent months. His efforts to combat abuse, including by filing a civil rights lawsuit against disgraced film mogul Harvey Weinstein, have received wide praise from women's organizations.  
Prior to his resignation on Monday, Schneiderman had tweeted, "In the privacy of intimate relationships, I have engaged in role-playing and other consensual sexual activity. I have not assaulted anyone. I have never engaged in nonconsensual sex, which is a line I would not cross."
Still, fellow politicians called on him to resign. New York Gov. Andrew Cuomo (D) said, "No one is above the law, including New York's top legal officer." 
Sen. Kirsten Gillibrand (D-N.Y.) stated, "The violent actions described by multiple women in this story are abhorrent. Based on this extensive and serious reporting, I do not believe that Eric Schneiderman should continue to serve as Attorney General. There should be a full and immediate investigation into these credible allegations."
Schneiderman's relationships with Manning Barish and Tanya Selvaratnam reportedly occurred between 2013 and 2017. The New Yorker also vetted similar accounts from two other women who chose to remain unidentified.
Manning Barish accused Schneiderman of being emotionally abusive, describing his attempts to control her body by demanding she remove a tattoo and lose weight. Selvaratnam described similar interactions, calling Schneiderman "a misogynist and a sexual sadist." Like Manning Barish, she said he had choked her. She also alleged that his violence became worse after President Donald Trump won the presidency because Schneiderman was angry he wouldn't have a chance at a role in the White House. 
Selvaratnam, who was born in Sri Lanka, said Schneiderman would sometimes request she call him "Master" and slap her until she did. "He started calling me his 'brown slave' and demanding that I repeat that I was 'his property,'" she told The New Yorker.
Schneiderman was a state senator from 1998 to 2010 and has built a reputation as a champion of women. He notably advanced legislation to protect women from domestic abuse, including sponsoring the Anti-Strangulation Act in 2010.
Weeks ahead of The New Yorker's bombshell report, Schneiderman tweeted his accolades to the outlet and The New York Times for their Pulitzer Prize-winning reports on sexual misconduct in Hollywood, politics, media and tech. 
This story has been updated with news of Schneiderman's resignation.
Calling all HuffPost superfans!
Sign up for membership to become a founding member and help shape HuffPost's next chapter