WASHINGTON -- A growing number of lawmakers are calling for Veterans Affairs Secretary Eric Shinseki's resignation following a report that found widespread problems of delayed treatment at a Phoenix, Arizona, veterans hospital.
The report, which was conducted by the VA Office of Inspector General, sampled 226 appointments and found that patients had an average wait time of 115 days until their first appointment. It also found that about 84 percent of veterans waited more than the 14-day goal set by the VA. The wait time the hospital reported to the department in 2013 was, on average, 24 days.
"This keeps piling up, and it can't be just an isolated — the Phoenix VA is not an island," John McCain, a member of the Senate Armed Services Committee, told CNN's Wolf Blitzer on Wednesday. "Every other VA is probably going to have these same influences on them because they were trying to comply with guidelines that were laid down from the headquarters of VA, which they couldn't meet. That's what this whole waiting list stuff is all about. So I haven't said this before, but I think it's time for Gen. Shinseki to move on."
Joining McCain in calling for Shinseki's resignation was Sen. Jeff Flake (R-Ariz.), who shadowed him at a press conference in Arizona on Wednesday, Sen. Mark Udall (D-Colo.) and House Veterans Affairs Committee Chairman Jeff Miller (R-Fla.).
"Shinseki is a good man who has served his country honorably, but he has failed to get VA's health care system in order despite repeated and frequent warnings from Congress, the Government Accountability Office and the IG," Miller said in a statement. "What's worse, to this day, Shinseki -- in both word and deed -- appears completely oblivious to the severity of the health care challenges facing the department."
Despite the growing political pressure, the president did not appear quite ready to cut ties with his embattled VA head. White House Chief of Staff Denis McDonough briefed the president about the findings in the IG report on Wednesday and "the President found the findings extremely troubling," according to White House press secretary Jay Carney.
"As the President said last week, the VA must not wait for current investigations of VA operations to conclude before taking steps to improve care," Carney added. "It should take immediate steps to reach out to veterans who are currently waiting to schedule appointments and make sure that they are getting better access to care now. The Secretary has said that VA will fully and aggressively implement the recommendations of the IG. The President agrees with that action and reaffirms that the VA needs to do more to improve veterans' access to care."
There was nothing in the statement that addressed calls for Shinseki's firing.
In a statement of his own, Shinseki said he respected "the independent review and recommendations of the Office of Inspector General (OIG) regarding systemic issues with patient scheduling and access." He added that he thinks the findings are "reprehensible to me, to this Department, and to Veterans" and noted that he was directing the 1,700 veterans affected by the delays to get "timely care."
As for reforming the VA at large, Congress appears poised to push the administration's hand on that front. At a press conference Wednesday, McCain said he expects a bipartisan VA reform bill to pass the Senate soon. Both he and Sen. John Cornyn (R-Texas) called for the FBI to investigate allegations of delayed cared and manipulated scheduling data. Sen. Joe Manchin (D-W.Va.), meanwhile, called for an independent outside audit into the matter.
Still, not all lawmakers have gone so far as to call for Shinseki's departure. House Speaker John Boehner (R-Ohio) said last week that he was "closer" to calling for the VA chief's resignation, but a spokesman told HuffPost that his position on the matter remains unchanged despite the new OIG report.
"The reason I threw cold water on the idea is, it'd be the easy way out to get rid of the secretary," he told The Columbus Dispatch on Friday. "He'd resign, we'd wait for months and months, someone else would be nominated, then cleared, then they're brand new, and I think it just takes people's eye off getting to the bottom of the problems."
While Udall called for Shinseki's resignation, Rep. Chris Van Hollen (D-Md.), ranking member on the House Budget Committee, said the "VA should IMMEDIATELY implement all 4 recommendations" stipulated by the inspector general's office. They include reviewing all existing wait lists at the Phoenix hospital and implementing a nationwide review of veterans on wait lists.
Vulnerable Senate Democrats are urging patience until an official investigation sanctioned by the White House is completed. But Democratic candidates facing uphill climbs for office, including Alison Lundergan Grimes in Kentucky and Michelle Nunn in Georgia, have said Shinseki must go.
UPDATE: -- More lawmakers have urged Shinseki to step down since this article's publication. Democrats include Sens. Mark Warner (D-Va.), Al Franken (D-Minn.), Kay Hagan (D-N.C.), Jeanne Shaheen (D-N.H.) and John Walsh (Mont.), who are facing reelection battles, and Reps. Bruce Braley (Iowa), Scott Peters (Calif.), Kyrsten Sinema (Ariz.), Tim Ryan (Ohio), and Ron Barber (Ariz.). On the Republican side, House Armed Services Chairman Buck McKeon (Calif.), Rep. Matt Salmon (Ariz.), and Rep. Jeb Hensarling (Texas) have also called for the secretary's resignation.
New Mexico Democratic Sens. Martin Heinrich and Tom Udall added their voice to the chorus on Thursday.
Sam Stein contributed reporting.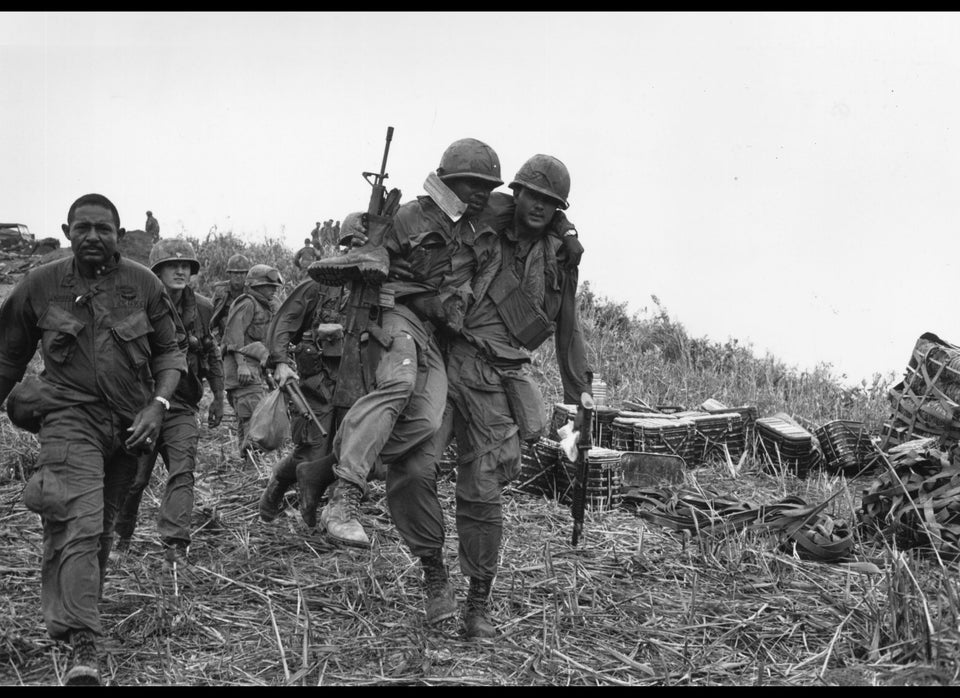 40th Anniversary Of Vietnam Withdrawal