WASHINGTON -- After Eric Shinseki took over a sleepy Department of Veterans Affairs four years ago, he decided some change was due. For one thing, those 154,000 homeless veterans living as beggars on the streets.
After some study, Shinseki, a decorated Vietnam veteran wounded twice in battle, ordered that the VA would not just reduce veteran homelessness -- it would end it. And end it by 2015.
The bureaucrats of the VA, a sprawling $140 billion empire that operates the nation's largest integrated health care system, sends veterans to college, insures their lives, guarantees their home mortgages and manages their burials, weren't used to having someone over their heads barking orders. They certainly weren't used to publicly announced deadlines.
"When I put that out, there was a lot of wind being sucked through teeth," Shinseki told The Huffington Post during a rare interview.
In combat, he explained, commanders never have perfect knowledge, never have enough time, never enough resources. "Sometimes you just gotta launch, and fight your way through the unknowns," he said.
That approach -- setting high goals, announcing them to the public, and then challenging and enabling people to reach them, marks Shinseki's tenure as VA secretary on this Veterans Day, nearly four years after he was drafted out of retirement by then President-elect Barack Obama. It may be that despite his many critics, the VA under Shinseki is nailing down reforms and expansion of services that have eluded previous VA chiefs for years.
In his interview with The Huffington Post, Shinseki asked that everyone take time Sunday to thank a veteran. "Don't hesitate -- just say thanks … this is the perfect opportunity. More importantly, if you are in a position to hire, hire a veteran. They will be the best employees you have."
Among his achievements so far: moving 31,000 chronically homeless veterans off the streets and into permanent housing last year and enrolling them in health treatment, substance abuse programs and job training. That work has dropped the homeless veteran population to 65,000 and put the agency on track to achieve Shinseki's 2015 goal on time, said Vincent Kane, director of the VA's homeless programs. "The end of 2015," Kane stressed.
It looks as if the VA will achieve another major Shinseki goal that sent gasps through the bureaucracy: ending the notorious backlog of pension and compensation claims by 2015.
The results, he stresses, have been achieved by the agency's 300,000 employees working under his management credo. "I have spent a lifetime watching kids make mistakes," he said, "because they were not trained or well led or properly motivated to do well. I never faulted the kids; rather, I saw opportunity to train, to motivate, to improve leadership -- not to punish the individual." Seeking to instill the same approach inside the VA, Shinseki started its first leadership training program.
But daunting challenges lie ahead as the VA struggles to serve two vastly different generations: the aging veterans of World War II, Korea and Vietnam, whose need for geriatric care is dramatically driving up the VA's health care costs, and the younger Americans surging off the battlefields of Iraq and Afghanistan.
While the older generation is filling the VA's 152 hospitals with patients needing nursing care for diabetes, Alzheimer's disease and congestive heart failure, the new generation of combat veterans is demanding more community clinics, mental health services, advice and assistance on college and jobs.
This new generation is posing an additional challenge for the VA: the 50,000 wounded from Iraq and Afghanistan. Along with those bearing the common wounds of war are the more severely injured, including roughly 15,000 who would have died on the battlefield in past wars, who are now being saved because of advanced and speedy medical intervention. Many of them are double or triple amputees or severely burned patients who will require intensive and lifelong care.
The younger generation of vets is also more diverse: The proportion of women veterans will double from about 6 percent of veterans in 2000 to 14.5 percent by 2035, the VA projects, requiring new expertise in dealing with women's health and sexual trauma issues.
More than 2.5 million young Americans have served in the past decade of wars, and apart from the normal flow of troops retiring from active duty into the veteran population, the military ranks will be thinned by about 88,000 additional military personnel because of projected budget cuts over the next decade. All this will put new demands on the VA.
"Look, let's not kid anybody -- this system is gonna be overwhelmed. It's already overwhelmed," Marsha Four, a Vietnam war combat nurse and veterans advocate, said recently. "As we draw down over the next five years we're gonna be adding another 100,000 per year, and to effectively deal with health care, benefits and other challenges -- that's not gonna be easy. This is inherently part of the cost of war, and it'll be a big ticket item."
Two years ago, for instance, the VA finally acknowledged what had been clear to veterans over the ages: War is traumatizing, and those who experience it need help when they come home. Increasing numbers of veterans were being diagnosed with post-traumatic stress disorder (PTSD) and traumatic brain injury (TBI), and tens of thousands of others were either undiagnosed or just coping with mild symptoms. The VA's suicide hotline was jammed with 17,000 calls a month, and the VA estimated that 18 veterans kill themselves every day.
The VA's decision to provide free treatment to every veteran with symptoms of PTSD was undoubtedly the right one. But it prompted a flood of new demands for mental health services, a surge only partially met by the VA's hiring of 20,000 new mental health clinicians.
Thousands of veterans seeking mental health counseling found long waiting lines for too-short appointments and some VA counselors unschooled in military culture and insensitive to the specific concerns of combat vets. Things got so bad that the U.S. 9th Circuit Court of Appeals actually ruled that "unchecked incompetence" at the VA was unconstitutionally denying veterans access to timely mental health care.
Extending free mental health care to new veterans with PTSD also helped gum up the VA's creaky and already overwhelmed paperwork system of adjudicating pension and compensation claims.
Before 2009, the VA routinely was handling around 900,000 claims a year and barely keeping its head above water. In 2010, VA clerks processed a million claims -- but were still overwhelmed because 1.2 million new claims came in the door. It became a bitter part of veteran lore that so much paperwork accumulated in the claims office in Winston-Salem, N.C., that the floor sagged, and one worker was injured when stacks of claims toppled over on him.
Claims continue to pour in. Under pressure from Congress, the VA also recognized that any veteran exposed to Agent Orange, a herbicide used by the U.S. in Vietnam, would be treated for free, whether or not he could prove he was exposed.
In 2011, VA clerks worked frantically at the growing pile of claims and managed to process 1 million -- but 1.3 million new claims piled up outside.
Today, almost a million veterans are waiting to have their claims for compensation or pension approved; two-thirds of them, 597,337, have been waiting more than 125 days.
That, and more, is known to the public because of another Shinseki innovation: announcing specific goals, making sure his people have what they need to reach those goals -- and then publicly posting the results. The infamous "backlog" of claims is updated in the VA's internal weekly reports.
More broadly, Shinseki ordered the VA to post a painstakingly detailed list of his reform initiatives, a blueprint of the efforts that are being put against those goals and -- startling to Washington's bureaucratic corps -- the results so far.
Among these goals is to end the backlog of claims by the end of 2013, and Shinseki set about reaching that goal with customary determination, using 2008's new GI Bill as a test. That program, for post-9/11 veterans, pays a complicated set of benefits for those enrolled in college or vocational education courses. In 2009, the year it was implemented, VA clerks processed 173,000 paper claims by hand.
Working nights and weekends for 18 months, VA techs put together an automatic processing tool. They brought in a "red team" that worked every day to break the program. "They were very good at breaking it, but over time as we worked on it they were able to break it less," Shinseki said.
Now that system is processing 550,000 claims for college tuition and 400,000 vocational education claims a year.
The next step is to apply the same technology to compensation and pensions, the VA system that's clogged with over 1 million claims. The automatic claims-processing system is currently in place at five regional VA offices and will be up and working in 18 offices this year, and in all 52 offices by the end of 2013, Shinseki said.
Yet veterans' experiences with the current VA, of course, are mixed.
"I can't say enough about how well I've been treated here," said Jim Robinson of Eden Prairie, Minn. He went to Vietnam as an 18-year-old Marine and served in combat for 19 months, then came home with "some serious PTSD issues." It took him 45 years to make his way through a fog of alcoholism to the VA medical center in Minneapolis.
"Sometimes persistence is required to work through the bureaucracy," said Robinson, who is now 65. "But intentions are good and I've never had trouble having my needs fulfilled."
The VA does a lot of good, concedes Ralph Ibson, national policy director of the Wounded Warrior Project. "At the same time, we see trends that have not changed in terms of timeliness of care, in terms of a system that remains essentially passive and puts the burden on the veteran to knock on the door."
Shinseki awaits an invitation from the White House to continue shepherding the VA through the next few years. What drives him through this challenging and often thankless mission, he says, is a combat-forged bond with his fellow veterans, from his days at West Point (class of 1965) to Vietnam and through the 38 years he spent in uniform, ending as a four-star general and Army chief of staff.
"You don't get many do-overs in life. This is a do-over." An intensely private man, Shinseki added haltingly, "I get to take care of the kids I fought with in Vietnam and the kids I sent off to war" in Iraq and Afghanistan.
"I shipped kids off to war, and this is a chance to take care of them when they come home, and to take care of the kids who weren't cared for when they came home," he said. "I just wasn't going to walk away from them."
CORRECTION: This article originally stated that Shinseki aimed to end the backlog of pension and compensation claims by 2013, rather than 2015.
Before You Go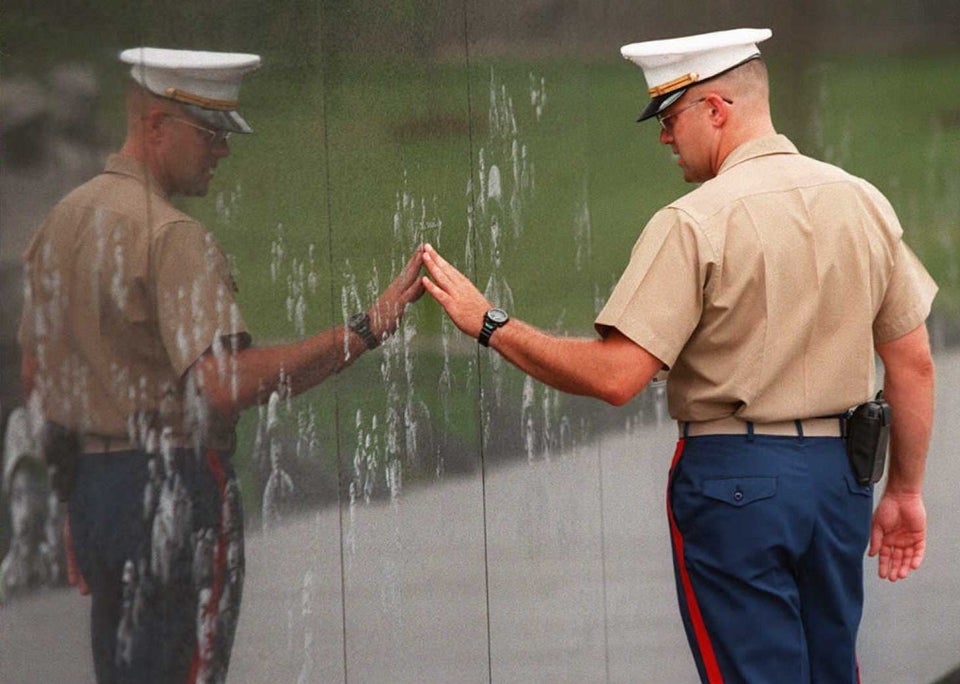 Veterans Day
Popular in the Community