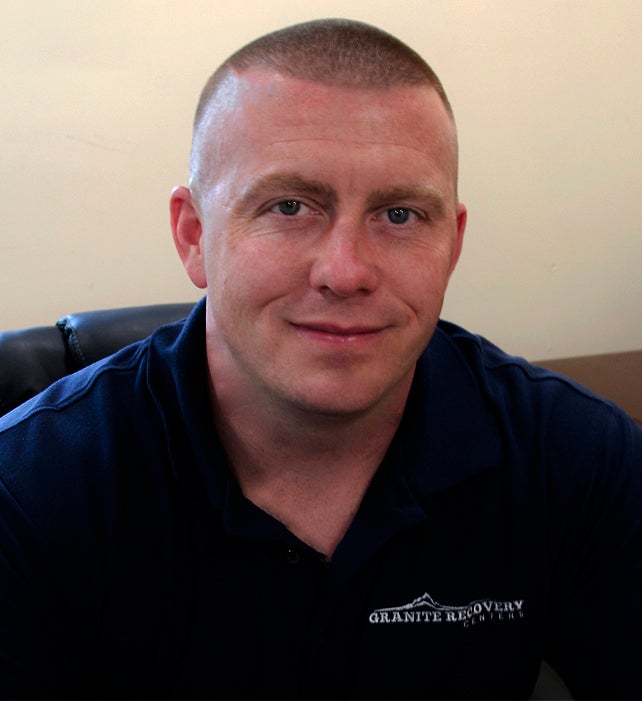 At 18 years old he was already a thriving entrepreneur who had grown up working in the ranks of his father's logging and excavation business. He was young, ambitious, and tenacious.  As much as he loved the high that comes along with big wins in business, he was equally addicted to the manufactured high of alcohol and drugs; Oxycontin, cocaine, and heroin, with his choice of drug progressively getting worse though his late teens.  He wanted more for his life. He wanted to help grow his dad's business. He wanted to make his father proud, but he walked a tightrope daily. He was getting into a stride of hard work, working alongside his father in construction, but at any moment he could fall off the path, choosing instead the life of a manufactured high. And while trying to recover from substance abuse between the ages of seventeen and twenty-one, he fell off the tightrope on at least five occasions. 
By the time he turned twenty-one, he was facing a fork in the road. One path could inevitably leave this aspiring entrepreneur dead in the back room of a crack house with foam dripping from his lips and a needle in his arm. The other path, would require that he find his highs in business and life the more challenging way, by going after big goals, doing hard work, and accomplishing impossible dreams. Eleven years ago, at twenty-one years old, just as he was in the process of choosing his path in life for what could have been the final time, he fell upon the 12 step program for addiction recovery. And he has never looked back. Not only has he taken the reins of his father's excavation business, thus turning that business into a massive development firm, building condos, townhouses, apartment buildings, and commercial spaces, but he also launched Granite Recovery Centers, a firm that offers drug and alcohol treatment, both medical detoxification as well as 12 step centered programs, for men and women across New England. His name is Eric Spofford and at thirty-two years old, he is changing the world by helping others recover from addiction. He is the CEO of two big empires, dad to a six-year-old boy, and a chronic optimist who believes that the path to changing your own life is paved when you begin to help others change theirs. I recently sat down with Eric to find out what it takes to get past addiction, how to win in business, and to learn about his newest venture, opening soon in Salem, NH, The Pritts Recovery Center.
Stay Connected to the Bigger Picture: I asked Eric if it's difficult coping with the ups and downs of business, especially when it comes to helping people recover from addiction. He says that it's hard to watch when you lose someone to their addiction, especially when it appears that they've made so much progress. However, he says that much of the success and growth of his organization is a byproduct of his team's ability to constantly stay connected to the bigger picture. He says that he and his team are on a mission to change the lives of the addicted, and to change the lives of their spouses, their children, and their friends in the process. He says one person who beats addiction has a positive effect on hundreds of others around them in the process. Spofford says that in business, in life, and in recovery, it's important to stay connected to the big picture. Sure there will be losses from time to time, but it doesn't change the fact that you are making a difference in the big picture.
Find Mentors: Eric says that his life has been profoundly changed through the influence of key mentors in his life. His greatest mentor growing up was his dad, who took Eric to work with him starting at a young age. He says that he was in training to be an entrepreneur since he was six years old, and as such, Eric now brings his own six-year-old to work with him when he can.  Eric says that not only was his father an important role model in business, but also, he was his champion through his recovery during his teenage years. In addition to his father, Eric says he has business mentors and recovery mentors who have helped guide him and help him overcome stumbling blocks along the way. He says success in any venture, business or personal, requires advocates who will offer unbiased advice and exceptional guidance, especially when you are in the weeds of the day to day work.
Broker of Hope: In 2008, Eric purchased a multi-family property that he turned into a halfway house. What he realized through his own struggle was that ongoing recovery required that the person fighting addiction surround himself with other people dedicated to clean living. With so few options available, Eric created his own sober living home so that there would be options available for others in his community dealing with addiction. In 2009, after attending a conference on addiction recovery in Cape Cod, he believed there was an opportunity to build a world class facility where drug and alcohol addicted clients could get ongoing treatment. He started by building his sober living property, Granite House, into a nationally recognized extended care program. In 2013 he launched Granite Recovery Centers with the simple goal of expanding his impact further, helping as many people as possible achieve their goal to recover from addiction. Today, he has more than 200 employees, and five facilities, in addition to his thriving real estate development business which he took over from his father in 2013. His newest project, which will be open in early 2018 is The Pritts Recovery Center in Salem, NH. This facility will be a place where anyone can come for life guidance. He looks forward to having a speaker series, attracting inspirational speakers from around the world. The facility will offer ongoing classes on yoga, meditation, and art, as well as programs centered around the traditional 12 step recovery program.
Two hundred employees, five locations, and construction under way for a massive outpatient recreation center – how did he scale so quickly? According to Eric, the growth has been a byproduct of their mission. Said Eric, "We give families hope. And if there's one thing I know from experience, when you have someone in your family dealing with addiction, the one thing that gets you through the day is hope."  Eric points out that it wasn't that long ago when he was faced with that fork in the road in his own life. Through Granite Recovery Centers he is now able to help thousands of families each year face that same split in the road in their lives, and by brokering hope, offering guidance through treatment, and extending extreme support after the initial 30 days of treatment has passed, Eric hopes to change the face of addiction in NH.
REAL LIFE. REAL NEWS. REAL VOICES.
Help us tell more of the stories that matter from voices that too often remain unheard.
This post was published on the now-closed HuffPost Contributor platform. Contributors control their own work and posted freely to our site. If you need to flag this entry as abusive,
send us an email
.