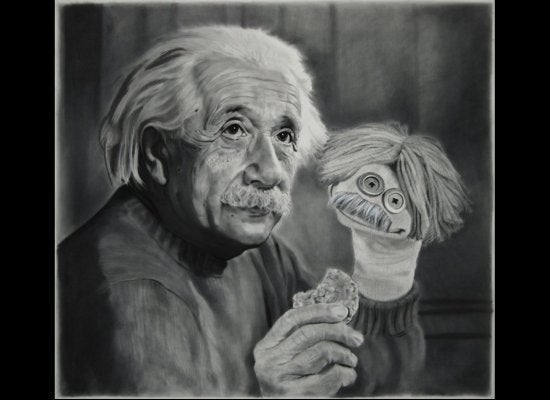 Eric Yahnker's exhibition "Party Sub / Sub Party" presents a playful look at the United States in a time when celebs, sports and sandwiches rule.
The artist was born in California, studied journalism at USC and then received his BFA from California Institute of the Arts. Along the way, he worked as an animator, which culminated in a job on "South Park: Bigger, Longer & Uncut" -- the 1999 musical comedy that earned the title for "Most Swearing in an Animated Movie" from the Guinness World Records. It can be argued, then, that Yahnker is well-versed in pop culture.
The exhibition, which showed at the Armory Show in New York in early March, showcases the ridiculousness of our time. His subject matter appears to take inspiration from good old Americana imagery, YouTube videos, viral "Believe It or Not" spectacles, celebrity sightings and pop culture cliches.
In one piece, titled "Endless Summer", a T-Rex rides a gnarly wave atop a classic red surfboard, in another, dubbed "Sub Party/Party Sub", a subway sandwich emerges from an orgy-like collage of GOP candidates. In another piece, we see baseballs signed by some pretty big name, including Abraham Lincoln and, ahem, Jesus.
Yahnker uses comedy as an art form, and his clever associations and re-appropriations help him create a larger dialogue with us, the viewer who wants to chuckle over the absurd. Yahnker obviously has a great respect for comedy and timing, which can be rare in the art world. He told the LA Times magazine: "Comedy is the quickest way to the truth. I don't buy the idea that it's somehow lowbrow to be entertained by art. People accuse me of doing one-liners, but I can draw a straight line from Confucius to Rodney Dangerfield. They both make great bumper stickers."
Check out some of the collection below, and let us know what you think of Yahnker's antics in the comments section. What will he take on next?
Calling all HuffPost superfans!
Sign up for membership to become a founding member and help shape HuffPost's next chapter
BEFORE YOU GO