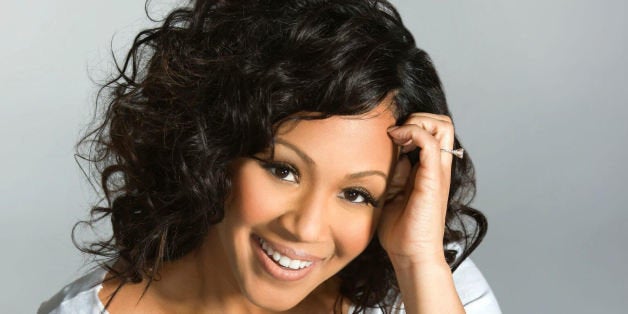 Gospel singer Erica Campbell is aiming to contribute to the discussion of sexuality in Christianity through her new women's empowerment movement, "More Than Pretty."
During a recent interview with The Huffington Post, the Grammy Award winner explained that she was inspired to create the campaign due to her passion for educating young girls about their bodies and "God's design to love and intimacy."
"I think the world we live in today talks a lot about intercourse and not about interconnection or intimacy, which is what God designed," Campbell told us. "And when you do things God's way I believe you get God's results. Growing up in church you hear a lot of 'Don't, don't, don't. Don't talk about it. Don't think about it.'"
"And then you get married and you're supposed to be fully equipped and fully prepared," she added. "And yes, you could probably figure it out, but I think if you understand the power of your sexuality and the beauty of it, and how God created you to be, you're armed with information that can allow you to have a healthy relationship."
The singer attributes the influence of the digital age, as one of the leading ways for young girls to learn about sexuality. Campbell wants to reassure people that the campaign's purpose is not to talk about sexuality in Christianity for the sake of talking about it.
"We're talking about it to educate a young 16-year-old or 17-year-old girl who may have had sex and feels like she knows everything, but her reference for it all came from not God's design for it," she said. "I do believe sex is for marriage, I'm a bit old school in that respect, but if you understand more in detail the reasons why, you'll go, 'Oh, OK I get it now.' So I think people support learning. I don't think anyone would be against learning."
Despite the singer's previous backlash, it appears some in the Christian community are excited to witness her latest initiative.
"Erica Campbell's 'More Than Pretty' message reminds us that our worth comes not from outside approval but from being a temple for 'the Holy,'' Rev. Dr. Jacqui Lewis, Senior Minister at New York's Middle Collegiate Church, said in a statement to The Huffington Post.
"This is true about all bodies -- regardless of gender and gender performance, sexual orientation, race and ethnicity. We are strong, beautiful, sensual, creative. When we can accept our wonderful 'made in the image of God' selves, we can more easily accept each other. What an important positive message in these times," she added.
Campbell plans to extend the conversation surrounding the "More Than Pretty" campaign into a national tour.

For more information on Erica Campbell's "More Than Pretty" campaign head here.


Calling all HuffPost superfans!
Sign up for membership to become a founding member and help shape HuffPost's next chapter
BEFORE YOU GO
PHOTO GALLERY
COMPARE: 9 Divas Sing Gospel and R&B