The daughter of Eric Garner, the man who died two years ago after New York City police placed him in a chokehold, walked out of an ABC News taping of a town hall with President Barack Obama Thursday in protest, saying network producers broke a promise to highlight her questions.
Erica Garner is now denouncing the session on race, saying she was "lied to" and was "railroaded" by ABC producers who ignored her questions for the president.
"ABC is using black lives as a rating and to get paid," Garner told HuffPost in an exclusive video statement. "They guaranteed me that I would be asking the president direct questions about what's going on. I was lied to."
Reggie Harris, Garner's political adviser, said producers told him the head of Disney, ABC's parent company, considered Garner "a major political figure" and specifically asked for her to attend the session.
Ultimately, Garner met with Obama briefly backstage. "I am sorry for your loss," the president said as he shook Garner's hand.
Garner, whose father died in July 2014 after a confrontation that police said began with him selling loose cigarettes, said she felt disrespected by ABC producers, who didn't give her the opportunity to ask about the federal investigation into her father's death and improved policing policies.
"I had to stage a walkout by myself," Garner said. "And I went out there I had to yell, scream, and eventually I was able to speak to the president. It's a shame as black people that we have to yell and become belligerent to have our voices heard."
"We took an extra 30 minutes to get to as many people as we could during the town hall," ABC said in a statement. "The President spoke to several people after the event ended, including at length with Erica Garner."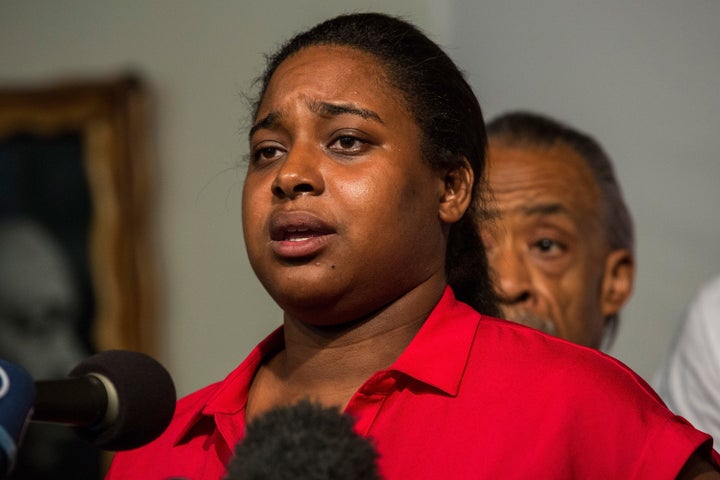 Harris took video of Garner's backstage meeting with Obama, in which she asked about the Justice Department investigation into her father's death.
"I promise you people are hearing it and I wouldn't be spending all this time here if I wasn't concerned about it," Obama told Garner in the video, provided exclusively to HuffPost. "But I have to make sure that we don't get in a situation that there's a perception that, in any way, these kinds of investigations are being influenced.
"I just wanted to say that respectfully, but I am sorry for your loss," Obama added.
Garner then asked the president about a federal program that provides military weapons to local police departments.
"We have already impacted it and we have reformed it and we will provide you information on that," Obama said, referencing an announcement he made in May to restrict police from obtaining certain military equipment.
Harris said Obama then left the meeting, but his senior adviser, Valerie Jarrett, continued speaking with Garner. Jarrett said Obama didn't know about ABC's agreement to allow Garner to ask her questions during the session, according to Harris.
Garner said she travelled to Washington during a busy week in which she's also prepping for a march in New York City on Sunday to mark the anniversary of her father's death.
There are "so many things I could've done this weekend to prepare for Sunday for my march and commemorate the memory of my dad," Garner told HuffPost. "Not once did they mention Eric Garner or acknowledge the family. I say we rise up and say enough is enough."
Harris told HuffPost that the network had promised to allow Garner to present her questions to the president.
"This is some bullshit," Harris said. "They invited us out here, promising us they'd give us a chance to speak. I negotiated, I said, 'If any questions get asked, can we guarantee it'll be Erica's? And [the ABC rep] said, 'I promise you.'"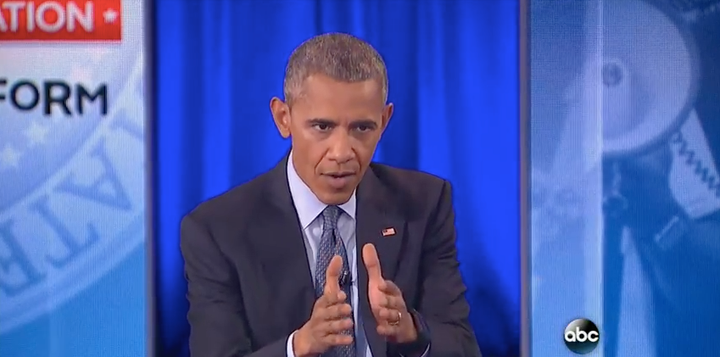 Patrisse Cullors, a co-founder of the Black Lives Matter movement, told HuffPost she immediately walked out after Garner did.
"It was honestly one of the worst experiences you could've put families through," Cullors said. "It was all about apologizing about the cops, it was just a mess ... It felt like a love-fest for cops. The entire show was about respectability politics. It was so staged and so curated.
"We denounce the ABC Town Hall ― it wasn't a town hall," she said. "I'm upset with ABC and how they handled it. They curated a town hall that forced black people to be re-traumatized and didn't allow for a real constructive conversation about what we're going to do about race issues in this country."
This story has been updated with a comment from ABC.
Michael Calderone contributed reporting.
Popular in the Community