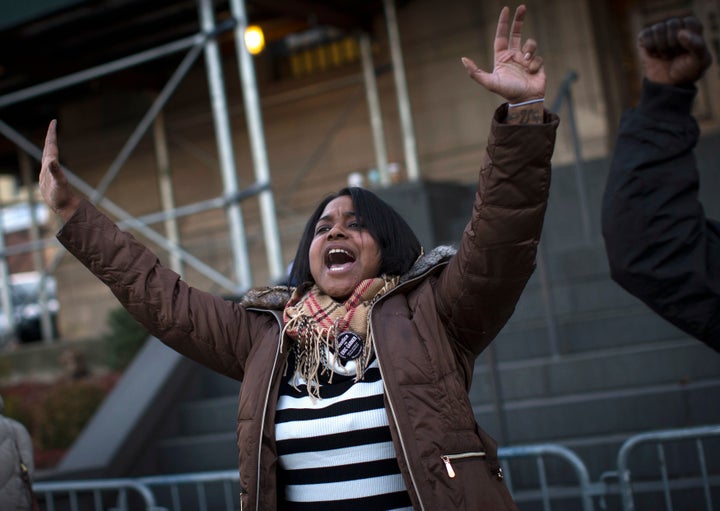 The daughter of Eric Garner, the black New York man who died in 2014 after a police officer put him in an illegal chokehold, endorsed Sen. Bernie Sanders (I-Vt.) for president Friday. Erica Garner said she wants a leader who truly cares about justice for her family.
Garner wrote a heartfelt essay in The Washington Post Friday explaining that she wants a candidate who understands issues that currently plague the nation's black communities.
"Black Americans -- all Americans -- need a leader with a record that speaks for itself. And to me, it's clear. Of all the presidential candidates, Sen. Bernie Sanders is our strongest ally," she wrote.
Garner's endorsement strikes a contrast to her grandmother Gwen Carr's endorsement this month of Hillary Clinton. Carr said she backed the former secretary of state because she believed she was the best candidate to tackle gun violence and police brutality issues.
"We've got to do something about the violence in our communities -- especially gun violence," Carr said in her statement. "Hillary seems to be the only candidate right now who's talking about how we can be strategic in trying to solve this problem. That's why I'm endorsing her for president."
After Carr's endorsement, Erica Garner went on a 28-tweet rant decrying her grandmother's support of Clinton.
Garner's father, a 43-year-old man, died at the hands of NYPD Officer Daniel Pantaleo after repeatedly saying, "I can't breathe." A jury declined to indict the officer.
Garner's daughter said in her op-ed that, when thinking about this presidential race, she's not just contemplating the next four years, she's considering the next 40. 
Erica Garner is also mulling a run for Congress in New York, according to the New York Post. The 25-year old is considering challenging Rep. Daniel Donovan, who oversaw the grand jury case involving her father's death when he was the Staten Island district attorney. 
Erica Garner's statement marks another big endorsement for Sanders in the last week, following the support of Walter Scott's lawyer. Scott was an unarmed black man who was shot in South Carolina last April while running away from a North Charleston police officer.
PHOTO GALLERY
Eric Garner Protests
Calling all HuffPost superfans!
Sign up for membership to become a founding member and help shape HuffPost's next chapter