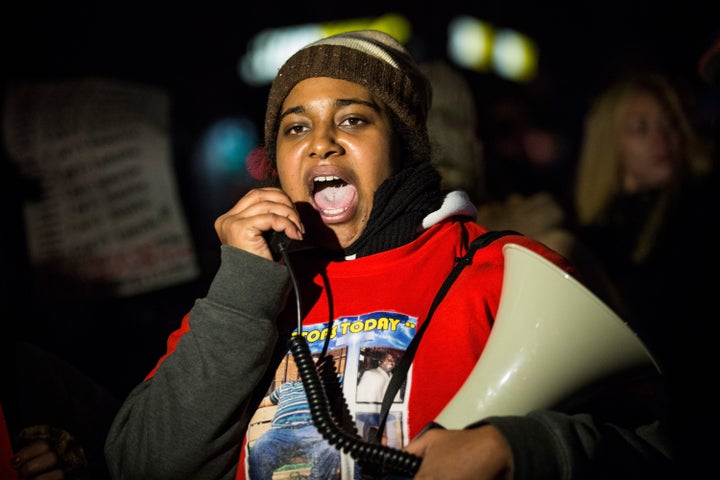 The video is a sort of bookend to the one captured three years earlier, showing officer Daniel Pantaleo killing Eric Garner using an illegal chokehold.
If the 2014 footage of Garner's death shows a shocking episode of police aggression, this video shows the bureaucratic end of state violence ― with officials in suits giving earnest assurances to family members that an investigation is proceeding "expeditiously" and that they will soon reach a "decisional point."
The footage, shot in secret by Garner's daughter, Erica, shows a June 21, 2017, meeting of DOJ representatives talking with Erica Garner, along with her mother Esaw Snipes, grandmother Gwen Carr and the Rev. Al Sharpton.
The video begins with unidentified officials giving the family only vague responses to pointed questions about exactly when federal investigators would release information, reiterating that they'll know something soon.
"I think that we'll be at a decisional point within the next several months," an official tells the family, adding: "We're not talking about no decisions being made on this case in 2018. That is not where we're at."
Sharpton apparently mentioned the case against North Charleston Police officer Michael Slager, who shot and killed Walter Scott in 2015, most likely commenting on the Slager's indictment and subsequent guilty plea to a federal civil rights offense. DOJ officials are heard responding to this case in the recording.
"You reference Slager's case and why did that one move faster than this particular case," one unidentified man says, addressing Sharpton. "Each case is dealt with on its own individual merits." He goes on to say that the "most important thing" is that investigation is even active.
The Justice Department declined to comment to HuffPost on the video.
In one of the last essays she wrote before her passing, Erica Garner expressed her frustration with the meeting and the pace of the investigation. She described her family's desire for answers and how the officials involved were willing to use her father's life for political gain while leaving justice out to dry.
"Many elected officials have said my dad's name but aren't fighting tooth and nail as I've done in the last three years for justice," wrote Erica Garner. "Our city's mayor initially blocked the Right To Know Act, the release of Daniel Panteleo's complaint records and refused to stand with the family during this year's anniversary commemoration of my father's death. In previous years, he stood in a black church in Staten Island and said my father's life mattered and that a full investigation into his death will be done."
"Not only did he not stand with my family this year on the day of my dad's death, but, to add insult to injury, he helped open a new police precinct on Staten Island," she added.
"I, personally, thought it would be a waste of time," she wrote of the meeting captured on video. "And surely it was a waste. During the hour long meeting, answers to our questions were avoided or simply told they weren't at liberty to discuss the case with us. I wasn't enthused at all. They kept talking in circles, and not answering questions, until my son, who I was carrying in my arms at the time, told me that he would rather eat lunch than waste any more time watching our conversation go nowhere."
Before You Go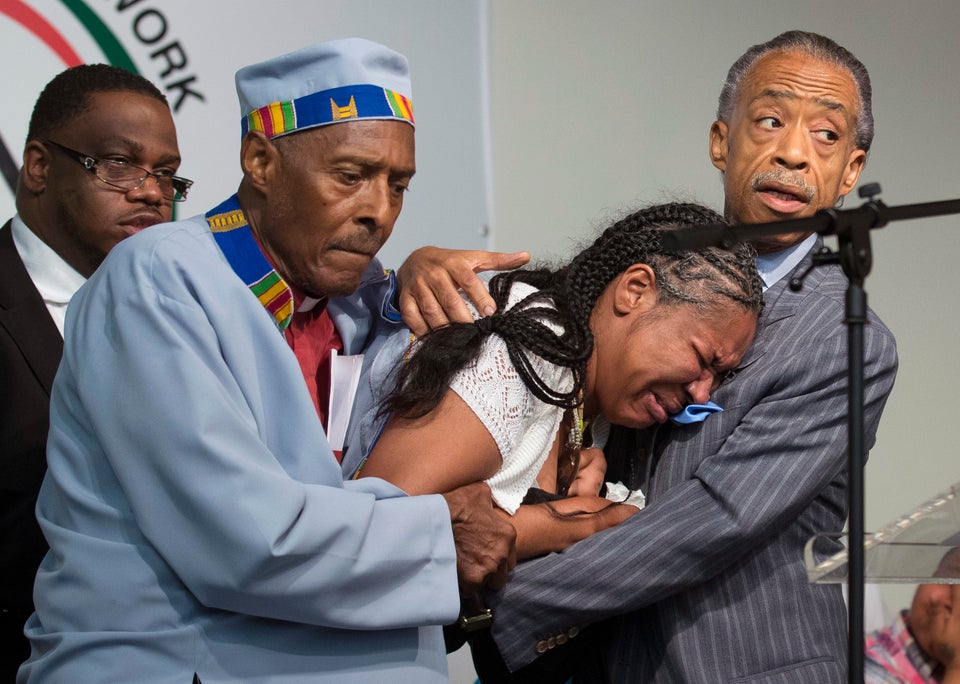 Eric Garner
Popular in the Community