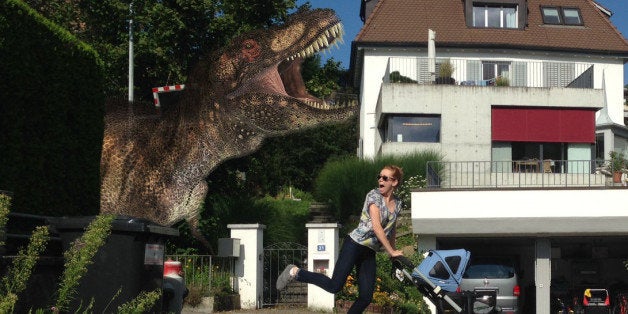 When you ask your friends to look after your 6-month-old for a day, it's understandable if you go a little overboard with instructions, especially if it's their first time caring for him. You want to make sure they're able to tackle anything that comes their way.
Even a hungry Tyrannosaurus rex.
According to Buzzfeed, Swiss designer couple Erica and Hannes received a rather extensive lowdown on how to take care of Alex, their friend Andre's baby, so they were feeling pretty nervous about being good babysitters.
To combat their nerves (and make some memories), they decided to Photoshop monster movie-inspired scenarios and send them to Andre as hourly updates on his baby's wellbeing.
Because if your child is about to be eaten by a giant grizzly bear, that's at least worth a text. Right?
Luckily, both the babysitters and the baby survived the harrowing day.
Alex "giggled a lot was looked after the entire time by the two of us and went to bed at 7.30PM perfectly happy," the couple wrote on their Reddit thread where they posted the photos from the day. "We will show him these pics in maybe 10 years or so and say: "Young man, we had an awesome time together that day.'''
Erica and Hannes weren't just the good babysitters they wanted to be -- they were the best.