A police officer's simple and poignant act has moved people across the Internet. 
Sgt. Erica Hay of the Ocala Police Department in Florida saw a homeless man sitting out on a curb earlier this month, and decided to buy food and coffee for him, she told The Huffington Post. But Hay didn't just give the man something to eat -- she joined him on the curb with food of her own and the pair ate their meals together. 
The pair's time together was caught on camera by TiAnne Greene and uploaded to Facebook. It went viral with more than 2,100 shares as of Monday. 
While people online praised Hay for her kind act, the sergeant said that she was treating the man like she would anyone else. 
"He's just another person, just like I am. I know I enjoy company when I eat. I just sat down and ate with him," Hay told HuffPost. "He's ... just like any other citizen. He's homeless, he might need our assistance more ... but he needs us just like everyone else does."
Hay told HuffPost that she had just gotten out of a meeting when she went to pick up some breakfast for herself. After she saw the man and decided to sit down with him, the pair enjoyed a nice chat. They talked about the man's background and the sergeant learned that he had been going through some daily struggles.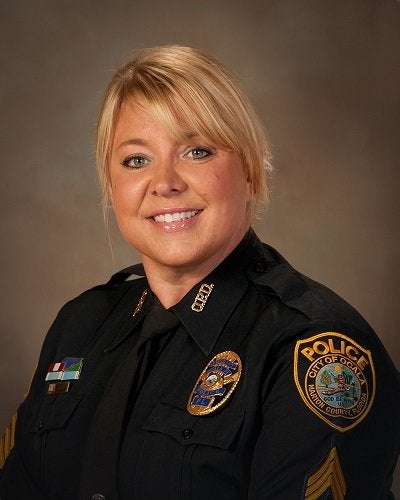 Greene, who was taking her 7-year-old daughter to summer camp at the time she snapped the pictures, said that she was especially moved by the beautiful act -- one that she says taught her daughter a powerful lesson. 
"I looked over and said to [my daughter], 'See? That's a real good sign of compassion -- that you care for other people no matter where they are in their lives,'" Greene told HuffPost. "It was a real teachable moment for her. It showed [her] that not all law enforcement are bad." 
PHOTO GALLERY
Artist Redesigns Signs For Homeless People
Calling all HuffPost superfans!
Sign up for membership to become a founding member and help shape HuffPost's next chapter