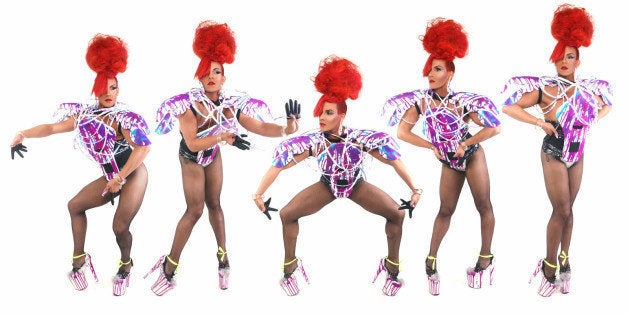 This is the fifteenth installment in HuffPost Gay Voices Associate Editor JamesMichael Nichols' 30-part series "After Dark: NYC Nightlife Today And Days Past" that examines the state of New York nightlife in the modern day, as well as the development and production of nightlife over the past several decades. Each featured individual in this series currently serves as a prominent person in the New York nightlife community or has made important contributions in the past that have sustained long-lasting impacts.
HuffPost Gay Voices believes that it is important and valuable to elevate the work, both today and in the past, of those engaged in the New York nightlife community, especially in an age where queer history seems to be increasingly forgotten. Nightlife not only creates spaces for queers and other marginalized groups to be artistically and authentically celebrated, but the work of those involved in nightlife creates and shapes the future of our culture as a whole. Visit Gay Voices regularly to learn not only about individuals currently making an impact in nightlife, but those whose legacy has previously contributed to the ways we understand queerness, art, identity and human experience today.
What did your journey to becoming a fixture as an artist within the New York nightlife scene entail?
Erickatoure Aviance: I moved to NYC in 1999 to attend Tisch School of the Arts at NYU as a Dance major. I had been itching to see what the club scene was really all about since the first time I saw "Club Kids" on daytime television. I started going out immediately after arriving in New York, with my first trip to clubland being the legendary Tunnel. I waited for two hours in a line that stretched from the West Side Highway all the way to 11th avenue. When I reached the door I was given a near cavity search by the largest man I had ever seen. I payed my 20 dollars and the doors opened -- it was magical to say the least. There were throngs of muscular, sweaty, writhing, shirtless men, candy ravers, glamorous drag goddesses, scary clown club kids, gogo dancers in cages -- and a entire room covered in hot pink "fun fur". There I was, a little girly-boy from a small town in New Hampshire, right in the middle of it all. It was clear to me that THIS was how I wanted to feel and THIS was where I wanted to be. For nightlife and I, it was love at first dance.
I started going out with a vengeance. It didn't take long to notice that drag queens never waited in line and never paid. So I started dressing up and nightlife scene started paying attention. Tunnel, Twilo, Roxy, China Club, Cheetah, Sound Factory and Limelight were regular stops in my first years on the scene. My first paid drag gig was in 2001. Working at the big clubs was a dream come true and paid very well. However, the dream didn't last long. Over the next few years the big clubs were all but wiped out by Mayor Giuliani's war on nightlife. So we all had to make the transition to smaller venues and smaller paychecks.
It was during this transition that I met Jonny McGovern at one of his parties at The Hole and we became fast friends. I became a part of his crew, so to speak, and ended up working parties and performing with him for years after. It was Jonny who pushed me to explore my drag character further and make my own music.

I released my EP "Work Ericka" in early 2009 and the video for the single "My Pumps" came soon after.
In the interim I have been hosting, singing, performing and creating all over NYC and, as of late, mostly hosting parties for Susanne Bartsch and Brandon Voss. Later this year I'll be releasing three new singles produced by Adam Joseph and next year an album produced by Clifton Brown. It's been a long, winding road but I wouldn't have it any other way. I couldn't exist anywhere else and I couldn't be anyone else. I have tried. Nightlife is filled with Peter Pans and I am most certainly one. The only place for me is Neverland.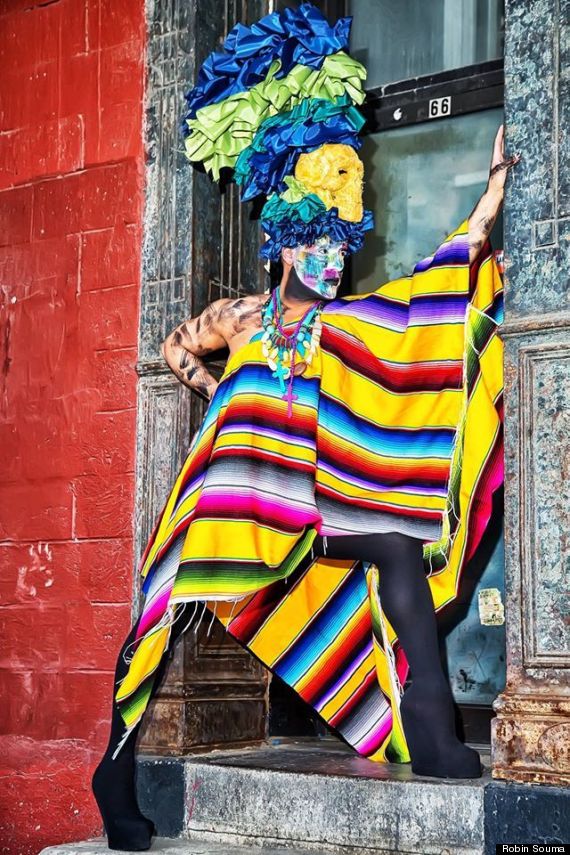 You produce a diverse spectrum of work. How would you describe your aesthetic and your work as an artist?
I would have to say that I am, first and foremost, a performer. The artistic gifts I've been given and skills I've acquired over the years -- singing, dancing, songwriting, sewing, costume construction -- are usually called upon in service of my primary passion for performing.
In my younger years, my aesthetic was more that of a Prince protege/'80s sex siren -- sexy with a high fashion edge. Leather dresses and lacy lingerie. As a child I was obsessed with Vanity and Apollonia. Over the years I've made the transition to full on "Art Drag." My embracing of the avant-garde has been due, in large part, to my friendship and creative collaborations with the inimitable one-half NelSon. My aesthetic is continually evolving and wide-ranging. From space-alien club monster to high fashion chanteuse. From grunge-rave sex kitten to amish-goth voodoo priestess. My aesthetic comes from all over the map. As a result that's sometimes where my art ends up. I'm cool with that.

How would you say nightlife influences or informs your art -- or vice versa -- as well as your identities as an artist and nightlife personality?
I am a disciple of the beat. The dance floor is where I go to worship. It's primal. Tribal. Transcendent. So much energy pouring out of such a diverse array of souls. Inspirations for all of my creative endeavors have been plucked from the rich ether of nightlife.
Nightlife introduced me to the wonder of Kevin Aviance. His performances in my early years in NYC were extremely influential. I found him captivating, dynamic and inspiring. He was completely his own creation unlike anything I'd ever seen before. His command over an audience was enrapturing -- his spiritual essence could envelope an entire room. The gravitas he had as a performer is always in the back of my mind when I create anything and every time I perform.
EVERYTHING I know about being a queen I learned on the dance floor at the club. Nightlife taught me how to walk, how to talk, how to work a room, how to lip-sync, how to carry myself, how to put together a look... I doubt very much Erickatoure would even exist without nightlife.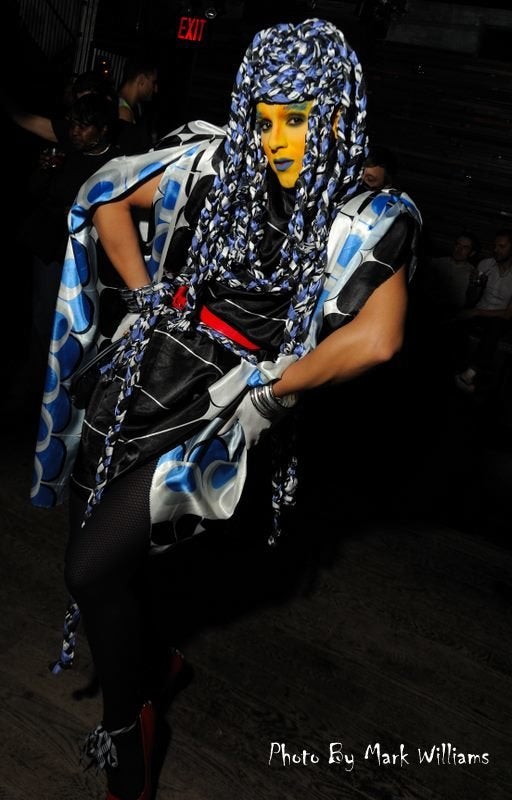 Erickatoure Aviance
What is the House of Aviance and what role do you play in it?
The House of Aviance a community of like-minded creatives with a similar aesthetic: DJs, drag queens, performance artists, visual artists, singers, songwriters and musicians, the majority of whom are or have been a part of nightlife in some way. I've always called it a "working" house -- you'll find us throughout every aspect of the nightlife industry.
Aviance was a clear choice for me. A lot of the queens that had the most fashion-forward looks, the most devastating runway and the most stunning performance were involved with Aviance. The fact that the house didn't really walk in balls was also a plus for me. I always found them a bit scary and I've never been much for competition.
Aviance, for me, is a name that is synonymous with high style and innovation. I wear it proudly. As Mother Juan Aviance loves to say: "You make yourself who you are, the name doesn't make the individual." So, my role is the same as every other Aviance: to represent the house by making the most of the talents I have been given.
You're involved in a number of collaborative groups and projects, notably with one-half NelSon. How do these groups intersect with nightlife?
one-half NelSon and I have been involved in a mutually inspirational creative relationship since we met rolling around on the floor at the legendary Mr. Black night club. He brings out the artist in me, I bring out the performer in him and we bring out the party girl in each other. He is one of the most creative people I have ever met. Our creative collaboration began with the video for "My Pumps," for which Nelson constructed all the looks. We both started working for Susanne Bartsch on a weekly basis for the Catwalk party at Marquee two years ago. We created coordinating looks each week. This is really when I made the full transition into "art drag." one-half NelSon really pushed me to leave behind the traditional and embrace a more artful approach to my drag. We have a wonderful synergy that I think really shows in the things we create together -- costumes, decor, performance concepts. He is my creative guru.
enSUBTITLES is a performance art group started by myself, one-half NelSon and Clifton Brown. Our first show was for one of the Spank parties in the east village. We were living florescent hieroglyphs lip-syncing to "Mesopotamia" by The B52s. So its roots are firmly planted in nightlife. Our performances together are always a reimagining traditional drag shows with bizarre concepts and unconventional costuming. We are currently conceptualizing an entire evening-length work for this group.
Leo GuGu spoke in his feature about nightlife spaces as art galleries/community centers/wreck rooms. How have you seen this play out in your own nightlife experiences? Why are these kinds of spaces important?
The club is where I cobbled together the band of eccentrics I now call family. I met the vast majority of people I now hold dear in clubland.
We live in an age where people are becoming increasingly detached from social interaction. No matter how loud or messy, nightlife spaces are some of the few places left where conversations happen. People can put a face to different viewpoints and lifestyles. With the ever-increasing number of queer subsets standing up to be counted, it is essential that we all know what's going on within our own community. The queer community coming together for any reason is important and, unfortunately, very rare. Nightlife spaces are a sort of neutral ground for communication to take place -- even if that communication is through a haze of drugs and alcohol, muffled by thumping base.

Nightlife acts as a major force of cultural production. Now, Susanne Bartsch is pushing an initiative to take art "from the clubs to the galleries" -- which you were recently involved with -- in order to showcase and celebrate this work in a different context. How do you see this influencing the future of nightlife?
I think its a very exciting prospect. I put a lot of time, thought and effort into what I bring to the club as a performer and nightlife personality. To have my hard work appreciated without beer goggles by people whose main purpose for being there isn't to get laid is thrilling. I'm always looking for ways to expand my creativity. My art is primarily wearable or performance-based but I'm willing to try and push into visual art.
It's an amazing opportunity for artists who reside primarily within the boundaries of nightlife to reach a wider audience. I don't think nightlife will lose any of its art makers... I see it more as spreading ourselves around for the world to enjoy.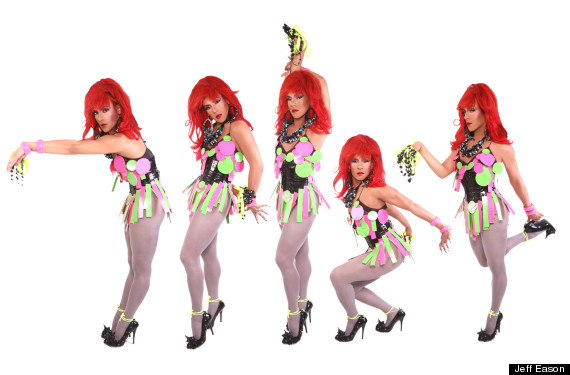 Domonique Echeverria said in her feature: "I think the truly innovative people that I'm seeing are playing around with gender and sexuality. I think that's what our generation has to offer -- the idea of acceptance and blurred lines of gender. It's causing discussion, debate, new laws to be made and it's causing more art. THAT is the movement that's happening" -- how do you see this playing out in nightlife? Do you feel like nightlife will player a larger cultural role in changing perceptions surrounding gender and sexuality?
Pushing limits and breaking taboos involving sexuality and gender has always seemed safer under cover of night. The nightlife realm has and will continue to be a safe space for those on that fringe to push boundaries even further. It has always been a place where beautiful creatures of indeterminate sex and gender have flourished. That being said, even throughout my own ascent within the nightlife ranks there have been boundaries that I have been encouraged not to cross. Lines that I have been told to steer clear of. Those boundaries are all but non-existent for queens today. For instance, a queen with a beard or body hair was not seen and simply not done when I was a young thing. At least not in NYC. Now, bearded queens are fairly commonplace and body hair abounds. It's a big, brave, beautiful "fuck you" to convention and that's alright by me .
When these types of looks from make their way from the club onto the street is when attitudes start to change. You can no longer ignore what's ordering a latte in front of you at 6 a.m.
What is the most important thing you see coming out of nightlife today? What do you see as the future of nightlife?
I love to party. I'm a party girl. Give me a beat and I'm happy. Nightlife is an escape. That is its primary function. That is why it exists. That is it's most important function now and in the future. Nightlife provides a place where anyone can go and forget all of their troubles and the ills of the world. Nightlife will ALWAYS provide that place.
Missed the previous installments in this series? Check out the slideshow below.
Popular in the Community