"Erik Parker: Colorful Resistance" is a retrospective survey of the work of the New York-based painter. Inspired by the many voices of American subculture -- underground comics, graffiti, alternative music -- Parker is well-known for his neon psychedelica and flair for political and social rebellion.
As the title suggests, "Erik Parker: Colorful Resistance" places the artist's subversive nature and love of all things vivid as the reoccurring themes of his prolific body of work. Beginning with an introduction by the author, Monica Ramirez-Montagut, and an essay titled "Subterranean Excess" by Angela Stief, the remainder of the compilation is over two hundred pages of Parker's loud and sometimes garish art.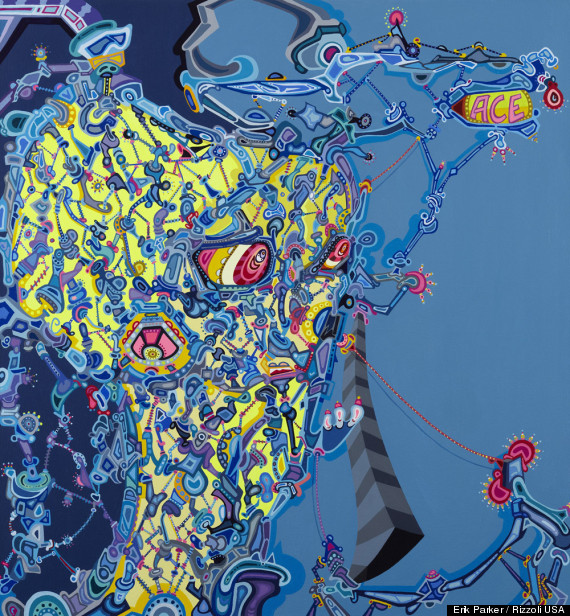 "Ace," 2009, mixed media on canvas, 40 x 43 in., collection of the artist.
Parker's illustrations are displayed in four thematic sections, "Maps," "Heads," "Hydroglyphics," and "Still Lifes." "Maps" includes the artist's graphic word clusters that are roughly arranged into the shape of bounded entities like the United States or the inside of the artist's mind. Works like "Head Strong" and "In My Head" represent not only mappings of Parker's brain, flooded with the concerns or preoccupations of a politically-minded artist, but also as his version of a self-portrait. Beyond his maps, Parker's fascination with the emotive design of a head are showcased in the following section, aptly named "Heads." Included here are Parker's cartoonish renderings that take the form of distorted and expressive faces. These still-boldly colored, text-graphic swells are often composed of smaller illustrations woven together to reveal gaping eyes or screaming, seething mouths.
The last two sections -- "Hydroglyphics" and "Still Lifes" -- capture much of the same comic-art driven designs. The former showcases Parker's more rigidly organized pieces that depict repetitive, pictogram-like images placed above or around a large-type word, which is often the work's title. The latter highlights Parker's interpretations of classic still-life arrangements, taking floral designs to their psychedelic breaking point.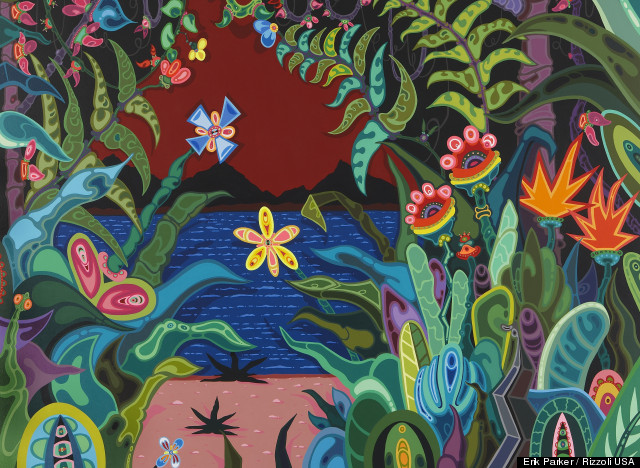 "Bermuda," 2011, mixed media on canvas, 90 x 78 in., private collection, New York.
Throughout the survey of Parker's work, his anti-establishment attitude is always present, whether the focus is on figures, words, or incomprehensible blends of both. Parker's love of music is especially evident in his illustrations, which retain the fluid movement and dynamism of his preferred auditory art. But it is the influence of comic and graffiti stylings that bring the artist's powerful words and equally powerful palette to a harmonious composition.
The titillating barrage of Parker's beyond-bright graphics comes to a close with an interview conducted by New York-based graffiti artist and toy designer KAWS. The two artists share stories of their graffiti origins, classical influences and political hangups. And Parker supplies some personal explanations for his work that are lacking in the sparse text throughout the book.
But Perhaps he most aptly explains his artistic trajectory in a quote provided in the book's introduction: "It was either art or a life of vandalism."
"Erik Parker: Colorful Resistance" is available via Rizzoli New York. Check out images from the book below, and let us know your thoughts in the comments section.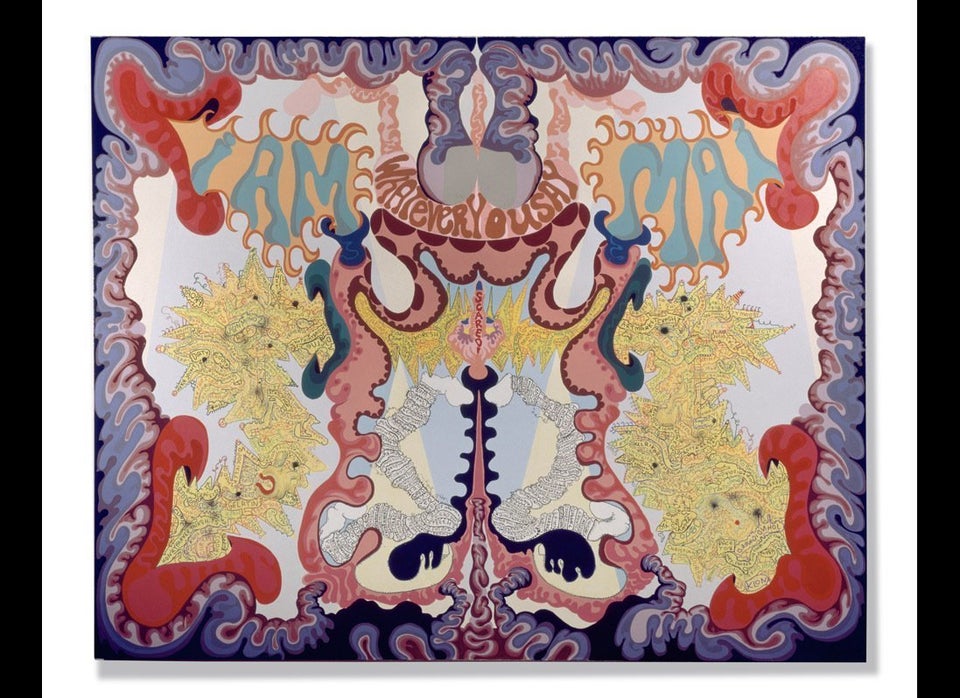 'Erik Parker: Colorful Resistance'
Popular in the Community