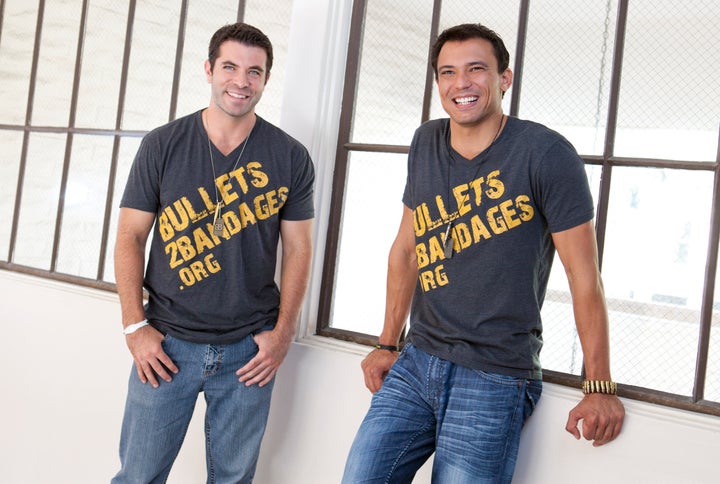 As Naval Explosive Ordnance Disposal officers -- more commonly referred to as bomb technicians -- Erik Spalding and Cole Evans were prepared to enter into high-risk situations in the Middle East, Southeast Asia and South America. Now as veterans transitioning back into civilian life in the United States, they are taking on a different type of risk: In June, they started Bullets2Bandages, a fashion jewelry business that donates 15 percent of profits to veterans' nonprofits, despite having no experience in fashion or entrepreneurship and no funding.
"When we were getting out of military service, we both knew we weren't interested in taking what's considered the traditional path for a former Naval officer, which is to get an MBA and go to work in corporate America," Spalding says.
Instead, Spalding and Evans, who met while at the Naval Academy, were eager to start their own business. They began by developing software apps before a random event inspired them to switch gears and start making jewelry out of bullets. Since then, their business has grown so quickly, they decided to launch a streetwear line of T-shirts and caps this Veterans Day. As Spalding sees it, the San Diego-based startup has changed their lives and the lives of U.S. veterans transitioning back to civilian life.
Did you ever think while in the military that one day you'd own a fashion jewelry business?
No. I was a weapons and systems engineer in the Naval Academy and Cole had a background in mathematics. So, in a way, our background is the antithesis of fashion.
How did you get the idea for Bullets2Bandages?
When we first got out of the military, we were roommates in San Diego. We had a lot of equipment and were cleaning our stuff out. Cole was cleaning out his old body armor -- his bulletproof vest -- and a bullet literally fell out and rolled onto my dog tag. It looked kind of cool lying there, so I took a picture of it and put it on Facebook. And everybody was like, "Really cool necklace. Where do I get one?"
So what exactly is "bullet jewelry"?
We take brass casings from 9mm or 5.56mm ammunition, and we reload them with bullet tips but we don't put any explosives in them, put them through a finishing process, then match them with dog tags. All of our jewelry uses actual bullet components -- it's not something manufactured in China. We're repurposing something that symbolizes destruction and war to be something that symbolizes healing through our donations to nonprofits. One thing we realized through our own experiences is the transition from the military to civilian life is sometimes very difficult. Everyone has their individual barriers. And we saw a great opportunity to leverage our brand and our company to become symbolic of a transitional process.
How did you start the business? Did you take advantage of any of the opportunities or programs available to veterans?
That's where we realized there are a lot of limitations or barriers. I've been told there are a lot of programs out there for veterans. We actually went to the White House in July and talked to the director of the SBA. It was an open forum Q&A type of thing and we said, "We can't get a loan because we haven't been in business for two years." And a lot of times the loan officers would say, "You have no experience in fashion." They were talking about how the SBA has Patriot Express Loans, but the couple banks we approached said no and were pushing us in the direction of getting a credit card. So we embody the concept of the lean startup -- a lot of the stuff that companies outsource, we do ourselves. I taught myself how to use Photoshop so I could do graphic design work and learned a lot of Internet-based stuff so I could manage the website. Having limited capital forced us to constantly evaluate how to maximize efficiency, and that's a good thing. That's how we started and that's still how we work. We don't waste a lot of money on unnecessary things. We reevaluate what we we're doing at a very fast pace, which is why we've become successful fairly quickly.
Why did you not want to go the corporate route after the military?
A lot of it had to do with creativity, on my part. Obviously, the military is structured in a way that there are a lot of limitations on what you can do, how much freedom you have. I didn't want to have limitations on my creativity. Also, I wanted to build my own dream, not someone else's. I like being able to come up with an idea and put it into action. Obviously, there's risk involved. But I like the process of creation.
But, in some ways, isn't entrepreneurship a natural fit for military veterans? What are some of the skills and training you learned in the military that help you with your business?
Definitely leadership. Leadership is something that's engrained from day one at the Naval Academy. I was always put in charge of other people and had to make decisions. Leadership is about being able to process and use your assets to make good decisions. Even if you're not the most knowledgable person, you're still ultimately making the decisions. That skill transfers into business 100 percent. You're bringing together the people working with you to put them on a path toward some common goal.
The other skill is adaptability. In the military, your tasks vary greatly, whether it's disposal operations like blowing up old ammunition dumps or teaching kids about bomb awareness. In the military, they basically give you an objective but don't tell you how to do it, so it requires you to figure out what resources you need and to learn new skills to do what you need to do. In business, that's a skill you use every day. For example, if you talk to Cole about software applications, it sounds like he's been doing it his whole life, but a year ago he didn't even have have a smartphone. We're always going into new territories, which forces us to be adaptable and constantly grow. It's pretty amazing how being in the military has developed those skill sets.
Did working in such a risky part of the military prepare you for entrepreneurship?
It's definitely a different type of risk. In the military, it's a a physical risk. I don't face a physical risk. Now I face a financial risk, which is just as stressful sometimes. And there are ramification to your actions. One of the things that's big with us in the military is calculated risk. In "The Hurt Locker," the guy did some really stupid stuff. I didn't even watch the whole thing. He took a lot of unnecessary risks, whereas EOD techs are taught early on to make calculated risk. That's what we call threat assessment -- the mentality of taking risks but being able to add in a bit of calculation. You make decisions that are risky, but mitigate some of the risks through intelligence. That applies today. We're wiling to take larger risks than, say, some of our friends, but we always calculate risk versus reward. You learn to do that pretty quickly in the military for physical reasons. Now we're learning how to do that in business.
Did you know right away that you wanted your business to be able to help veterans?
We envisioned the company and brand being symbolic of transition for veterans, helping to bring awareness to some of these issues. Initially we were working with the Travis Munion Foundation, which helps families of fallen soldiers and veterans overcome barriers through grief counseling. We're going to rotate every two months, so the one we're working with for November and December is Veterans Village of San Diego, which helps veterans overcome drug and alcohol dependency issues and homelessness. They take people from the streets and take them through a program, and at the end of the program, they move them into a house and get them job placement. They're finding the issues that today's veterans face are not the same issues Vietnam-era veterans suffered with -- it's about more economic issues, because they can't find a job when they get out and end up homeless. Our company is about helping veterans overcome barriers to alow them to continue on in life. Fifteen percent of our profits are donated to these nonprofits, and we leverage social media and help them with their marketing and to create awareness.
Why is social responsibility so important to your company?
I wouldn't be where I am today if it wasn't for the country I grew up in. I've traveled all over the world and the unique thing about America is the opportunities are endless. But with that comes responsibility for those who are successful to reinvest in our country. I wanted to do something for domestic nonprofits. For us to continue to be in this country, we need to reinvest in our country. We were leaders in the military, now we want to be leaders in the civilian sector and create awareness for veterans. It's kind of hard sometimes when you get out. Some people might be physically disabled, and some might have mental issues. A third of all homeless people are veterans. Some are sleeping on the streets tonight and that just doesn't sit right with me. There are all these different challenges of changing into civilian life, and we just want to help along that process and be a leader for that in business.
Names: Erik Spalding and Cole Evans
Company: Bullets2Bandages
Ages: 29, 30
Location: San Diego
Founded: 2011
Employees: Zero
Revenue: Undisclosed
Website: www.bullets2bandages.org

Popular in the Community