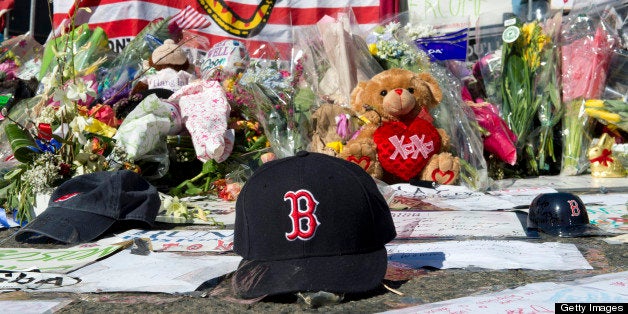 BOSTON -- After two days of heavy sedation, Erika Brannock awoke Wednesday morning in her hospital bed to dramatic and gruesome news: Her left leg had been amputated below the knee, the only medical option for a team of surgeons handling traumatic injuries from the Boston Marathon bombings.
The 29-year-old Towson preschool teacher took the news with courage, relatives said. Then, unable to speak because of a ventilator tube, she wrote out a simple message: She wanted to see photos of her students. She was worried about how they were taking the news of her injuries.
"She is really concerned about the children," her mother, Carol Downing, said Wednesday afternoon. "She misses them."
The separation of Brannock and her students at Trinity Episcopal Children's Center in Towson will last at least a month while she remains hospitalized, Downing said. After that, Brannock -- and the dozen other Boston bombing victims who were robbed of a limb -- face an unpredictable and long road to recovery, medical experts say.
"There's a whole spectrum of how people do," said Dr. Thomas Scalea, head of the Maryland Shock Trauma Center in Baltimore and a surgeon who has performed amputations throughout his long career. "It's hard to know when you have three people sitting in front of you, which one's going to be the one with the problems. It's a little hard to predict."
How Brannock will fare depends on a variety of medical, psychosocial and social factors. Among them: the care at Beth Israel Deaconess Medical Center, her support system back in Maryland, and how advanced a prosthetic she can afford, said Ellen MacKenzie, professor at the Johns Hopkins Center for Injury Research & Policy.
Such injuries are associated with limited physical mobility as well as high rates of depression and post-traumatic stress disorder. But "all of those can be minimized if one has a good support network, and if one can take care of their own recovery and have the confidence that they can deal with the amputation," said MacKenzie, the coordinating director of a national consortium of institutions studying traumatic lower-extremity injuries for the U.S. government.
The Major Extremity Trauma Research Consortium, which MacKenzie coordinates, was initially funded by the Department of Defense in light of the high numbers of amputations and extremity injuries sustained by troops in Iraq and Afghanistan. They totaled more than 1,700 at the end of last year, according to a February report by the Congressional Research Service.
By all accounts, the Boston bombing injuries were very similar to those being sustained by service members from improvised bombs jammed with metallic odds and ends intended to maim, if not kill, their targets. Among the dozens of injured was Brannock's sister, Nicole Gross, 31, a Charlotte, N.C., fitness trainer who remained hospitalized Wednesday with serious injuries to both legs.
The FBI believes BBs and nails may have been contained in homemade explosive devices made from pressure cookers. By Wednesday, there had been 13 amputations reported in Boston, including three at Beth Israel Deaconess, five at Boston Medical Center and one at Brigham and Women's Hospital, according to The New York Times. Four were reported at Massachusetts General Hospital on Tuesday, according to Reuters.
Scalea, of Shock Trauma, said typical injuries from such exploding devices involve soft tissue, muscles and blood vessels being torn apart. They differ slightly from the dozens of amputations conducted at Shock Trauma each year, most of which are the result of motorcycle and car crashes and long falls, Scalea said, but they involve the same techniques for treatment.
Even in the confusion and terror surrounding the bombings, medical personnel would remain calm and concentrated when evaluating a patient who might require amputation, Scalea said. "There's some complicated decision-making, but this is complicated decision-making we do every day."
Dr. Adil Haider, a trauma surgeon at Johns Hopkins Hospital, added, "Typically, traumatic amputations are done when there is no other option to salvage the limb. It's not something we take lightly."
Often in amputation cases, enough of the limb has been severed or destroyed that the decision takes little thought, he said. At other times, doctors discuss options and the likelihood of reconstruction success. But all of this happens quickly, because patients with such injuries are rapidly losing blood.
Once a decision to amputate has been made, surgeons decide where to cut based on another set of factors: Where the damage stops, how much muscle and skin will be needed to close the end of the leg after amputation, and how dirty the wound is.
"You ask yourself how much muscle or soft tissue you have to cover the bone, and that's how you decide where to do the amputation," Scalea said. "You usually don't bring in tissue from another place. You usually use local tissue."
The cut is then made, and blood vessels are tied off, Haider said. Generally, the leg is left unclosed for another day, or days, as the wound is cleaned and doctors assess whether there is more dead or dying flesh that must be removed, he said.
"It is no doubt painful, and it's terrible and it's tragic, and in many cases people have phantom limb pain," Haider said. "But many people, one year, two years, five years later have better functional outcome and less pain than people who stuck with trying to repair an extremely damaged limb."
Brannock, a graduate of Mount Hebron High School in Ellicott City, has already undergone multiple surgeries. She had been upgraded to serious condition, from critical, as of Wednesday afternoon, her mother said.
She has at least two other things going for her: Beth Israel Deaconess is a renowned hospital with a Level I trauma center, and she has a strong network of family and friends, as is apparent by her mother's devotion to her and by plans for multiple Baltimore-area vigils in her honor this week.
On Wednesday night at Trinity Episcopal Church in Towson, which runs the preschool where Brannock teaches 2-year-olds, local residents and friends gathered to pray for comfort for the bombing victims and their families.
The Rev. Arianna Weeks, rector at a sister church in Ruxton, told the crowd assembled for the vigil about her memories of living in Queens, N.Y., after the terrorist attacks on Sept. 11, 2001, and the similarities between those and the more recent violence.
"Faith, religion, it doesn't shield us from pain and violence," Weeks said. "Prayer is the balm."
Together, the congregation prayed for peace and for those everywhere in the world who live under the threat of terror.
"Bestow your healing grace and favor on Erika, her family and all those affected by the senseless tragedy in Boston," they said as one. "Help us who struggle in the midst of these horrible acts of violence to continue to keep a calm and prayerful heart and acknowledge that you are our focus."
What sort of prosthetic device the young teacher will be able to afford is unclear, though fundraisers have been started to raise money for her and her sister's recovery.
Brannock is also a happy and confident person, according to family and friends, and Downing said her daughter's spirits are high.
The two sisters are in separate but nearby hospitals, and Downing is splitting her time between the two. Nicole Gross' husband, Michael Gross, was also injured in the blast, though far less severely, and has been discharged.
Downing was planning to arrange the first Skype conversation between her daughters Wednesday night.
Baltimore Sun reporter Carrie Wells contributed to this article.
A trust fund has been established for preschool teacher Erika Brannock, who was injured in the Boston Marathon bombings. Donations can be made payable to the Erika Brannock Fund and mailed to the Erika Brannock Fund, P.O. Box 828, Sparks 21152. More information is available at http://www.TheBrannockFund.com.
(c)2013 The Baltimore Sun
Distributed by MCT Information Services
Calling all HuffPost superfans!
Sign up for membership to become a founding member and help shape HuffPost's next chapter
BEFORE YOU GO
PHOTO GALLERY
Boston Marathon Bombings