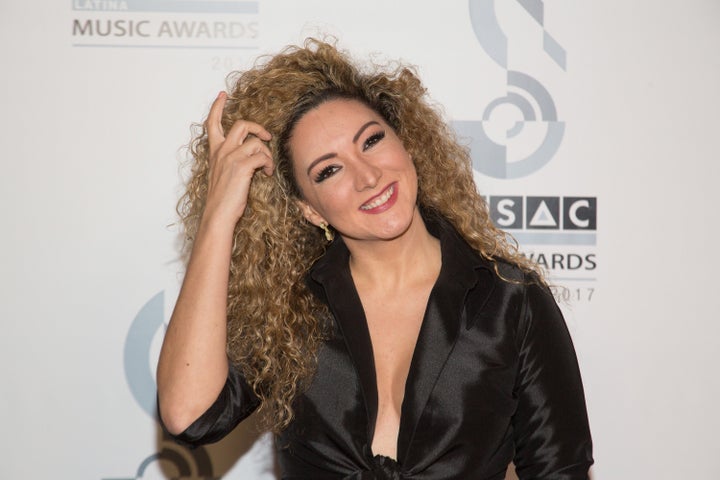 When the single first began taking shape in Luis Fonsi's mind nearly two years ago, the Puerto Rican artist called on singer-songwriter and long-time friend Erika Ender for help. The Latin Grammy-winning artist has collaborated with Fonsi multiple times in her 25-year career, but the day the two began to co-write "Despacito" in September 2015 was a game-changer for the both of them.
"We go to his studio and he tells me, 'I have this idea of a song called 'Despacito' and he sings to me the first part of the song: 'Despacito, vamos a hacerlo en una playa en Puerto Rico, hasta que las olas griten "Ay Bendito!"' And we started laughing," the 42-year-old Panamanian-born artist recalled in a phone interview with HuffPost. "Then we started to build the whole song, the whole melody from top to bottom and the lyrics out of the concept of 'Despacito.'"
Ender said writing the single was "very organic," with Fonsi on guitar as the two began to shape the first version of "Despacito." The original was intended as a cumbia but that changed over time, particularly after Fonsi brought a reggaeton artist into the fold.
['Despacito' is] about taking it slow, at first. We live in this rush all the time with technology and everything, sex goes really fast too. You have to treat women the way they want to be treated and I would like to be loved 'despacito' as a woman."
Ender says she broke a record along the way too, becoming the first female songwriter to reach No. 1 on Billboard's Top 100 with a Spanish-language song.
"As a woman, I'm so happy because we are like 20 men to 1 woman in the entertainment industry," she said. "The fact that you can ― with hard work, with values, with talent ― get to that top 100 is amazing and it's a responsibility."
That sense of responsibility was an integral part of the writing process for "Despacito." From the beginning, Ender said she and Fonsi discussed writing a song that was respectful toward women.
"I told him, 'This has to be sensual but let's do it in a classy way — very smart and clever, so that women have their spot as the human art that we are,'" Ender said.
And it goes beyond "Despacito" for Ender, who says every artist in the industry is accountable for the impact their lyrics have on the public. 
"It's not about the genre, it's about the message," she said. "We have a responsibility as artists and as composers because we are impacting the new generation. Whatever we write and whatever we sing is building up a new generation, it's making the soundtrack of everyone else's life."
The song's lyrics poetically describe a seductive encounter, using metaphors to describe each moment. But more importantly, as far as Ender is concerned, the message behind "Despacito" (or "Slowly") is to take your time.
"[It's] about taking it slow, at first," she said. "We live in this rush all the time with technology and everything, sex goes really fast too. You have to treat women the way they want to be treated and I would like to be loved 'despacito' as a woman."
"I mean sensual or sexual should not be a taboo," she added. "The problem is not the sex. The problem is how you give that message. So I think we did a great job with that on 'Despacito,' because it's all full of poetry. It's all full of metaphors. It's very respectful even though there are things going on."
In May, Ender released a solo version of "Despacito" as part of her new album "Tatuajes."
Fonsi responded by saying the song was difficult even for Spanish speakers; Ender agreed, but would recommend that the Canadian singer learn the song for future performances.
"I didn't see him, but I heard about that," she said. "The thing is that even for people who speak Spanish, it's a lot of lyrics. So it's not an easy task. For someone who doesn't know or understand the language, it's even harder. But if the audience wants to hear you sing, the best thing you can do is learn the song in order to please the audience."
Still, Ender knows that Bieber's collaboration ultimately helped the single reach new heights, and the singer-songwriter hopes the song's success will create more opportunities between Latin music and the English-language market in the future. She feels it's the Latino community who has the most to gain from the success of "Despacito."
"It's not only a matter of who wrote [the song] or who is singing it, it's a matter of putting the Spanish language and our flavor out there around the world," Ender said. "So I think this is a great victory for all of us, as Latin people."
This article has been updated to correct a transcription error in Ender's comments; she said "it's not about the genre," rather than "gender."
Calling all HuffPost superfans!
Sign up for membership to become a founding member and help shape HuffPost's next chapter
BEFORE YOU GO