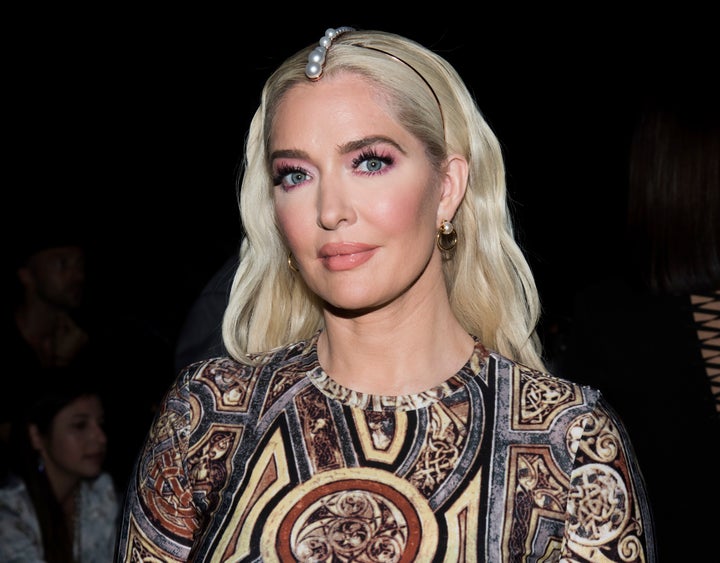 Erika Jayne, star of "The Real Housewives of Beverly Hills," is being sued by a costume merchant for an alleged fraud scheme.
The lawsuit was filed Tuesday by costume merchant Christopher Psaila, who claims Jayne, the Secret Service and American Express "conspired to maliciously prosecute" him for wire fraud and identity theft, claiming that Psaila, who owns Marco Marco, defrauded Jayne by charging her AMEX card with false charges, totaling between $800,000 and $900,000.
Psaila had permission to charge Jayne's credit card, the lawsuit alleges, but then Jayne "falsely claimed that all of a sudden, after doing legitimate business since 2014, Chris Psaila, on his own, decided to defraud her in the sum of approximately $800,000 to $900,000 in unauthorized credit card charges from 2015 through 2016," the lawsuit reads. "In reality, Chris Psaila provided [Jayne] every piece of clothing and services charged under her credit card from the beginning to the end of their business relationship."
Evan C. Borges, Jayne's lawyer, said in a statement to HuffPost that the lawsuit is "without merit."
"It seems calculated that Plaintiff timed this lawsuit to coincide with the rave reviews of Erika's Las Vegas residency opening," Borges said. "Plaintiff's claims against Erika are entirely without merit. Independent federal prosecutors at the U.S. Attorney's Office made the decision to charge the plaintiff with crimes, no one else. The notion that Erika controlled the U.S. Government, or for that matter a Fortune 100 company such as American Express, is fantasy."
The lawsuit alleges that Jayne's estranged husband, Tom Girardi, used her connections to the Secret Service to investigate Psaila. The Secret Service told HuffPost that it does not comment on pending litigation. The lawsuit also alleges that American Express didn't conduct a "reasonable investigation" into Jayne's claims.
American Express said in a comment to HuffPost that the company followed their "regular processes and procedures throughout the investigation."
"We did not initiate the investigation, nor did we proactively contact law enforcement, and the information law enforcement requested from us was typical in fraud investigations," the comment reads. "We did not play any role in the criminal investigation of Mr. Psaila or his business other than responding to inquiries from law enforcement."
Because Jayne's ex-husband Girardi was going bankrupt and had been accused of using client settlement funds from his law firm to fund his and Jayne's lavish lifestyle, Girardi "had a compelling reason to illegally claim that Chris Psaila and Marco Marco had defrauded them," according to the lawsuit.
Since Jayne accused him of charging her credit card without permission, Psaila said he has lost property, destruction of his business "resulting in past and future economic losses," and wants $18 million. Psaila's attorney did not have any comment.
Support HuffPost
The Stakes Have Never Been Higher
Popular in the Community