 What does it take to get to the top -- without losing your center? Our "Making It Work" series profiles successful, dynamic women who are standouts in their fields, peeling back the "hows" of their work and their life, taking away lessons we can all apply to our own.
Erin Andrews is the most recognizable female sportscaster in the world. At age 36, she currently hosts "FOX College Football" and "Dancing with the Stars," but Andrews became famous long before lacing up her dancing shoes for national television.
Daughter to an Emmy-award winning investigative reporter, Andrews decided she wanted to pursue a career in sports journalism at the young age of 13. The Florida-raised sports buff got her start freelancing after college and then landed a job with the Tampa Bay Lightning in 2001. Three years later, she joined ESPN and paved a path to the big leagues. In 2012, she jumped over to Fox and is more legit than ever.

Andrews is the first to admit that her looks opened doors for her. She's been voted "America's sexiest sportscaster" twice by Playboy. People talk about the naked stalking incident. And people really care who she dates. But The Huffington Post caught up with Andrews on the phone to ask the bigger questions. What makes someone successful? What's the most important lesson you've learned through your work? And how do you calm yourself down when you suffer from major anxiety before games?
Highlights from our conversation below:
How do you define success and do you consider yourself successful by that measure?
Success to me is accomplishing what you set out to accomplish. It's not what other people or the tabloids think is successful. You could have a job totally outside of anything in the spotlight and still be very successful. And unfortunately sometimes Hollywood thinks success is based on how many magazines you can sell and how many Cover Girl ads you have. Success doesn't have anything to do with that.
My mom just retired two months ago. She was an elementary school art teacher and was very successful in her career in shaping lives and doing what she could to get younger kids interested in art. I am not artistic at all and my mom goes over her lesson plans with me and it makes me like art and want to appreciate it. You go out there and achieve the goals you set out for yourself in your own career.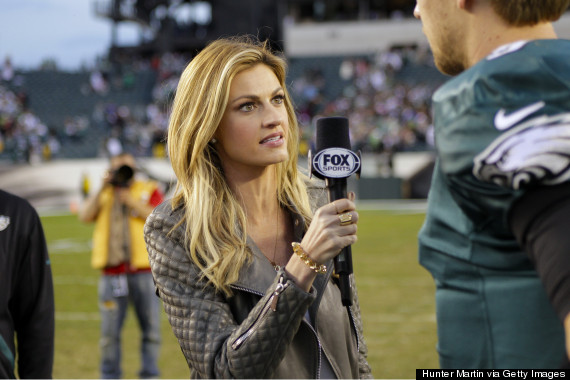 Erin Andrews interviews quarterback Nick Foles of the Philadelphia Eagles in 2013.
What are some of those goals for you?
To work a Super Bowl and to work some of the big events. That's what I just accomplished with Fox. I never set out to do anything in the reality TV business or have sponsorships or marketing deals. Two weeks ago I was in Vail with a couple of girlfriends and a little girl came up to me and asked if I would take a photo with her. Her dad came up to me afterwards and said, "You just made a 10-year-old's day. You don't understand how much she talks about you." And I started crying.
A new sponsorship for you is with Florida Orange Juice. How did that come to be?
I'm from Florida, went to in college in Florida and my first big job was in Florida. I teamed up with Florida Orange Juice because it's a partnership that makes a lot of sense for me. I'm the on the go all the time and I have to be very conscious about my health. I live on a plane. I live in hotels. I really need to take care of myself and this is one way I can get vitamins and nutrients.
You've been on "Dancing With The Stars" as a contestant, but you recently joined as a host. What has the show been like for you?
I was going through a lot of stuff that year when I joined as a contestant, with my stalking incident in particular. I did it to get away from everything that had happened and many of my co-workers at ESPN knew I wasn't in the right frame of mind to be at work. They said they wanted me to get my smile back. I'll forever be grateful for that.
I learned in those three months. It's a lot of work, a lot of training and [that] Hollywood is a heck of a lot different from the sports scene. They care about what you're wearing and they care about who you're dating.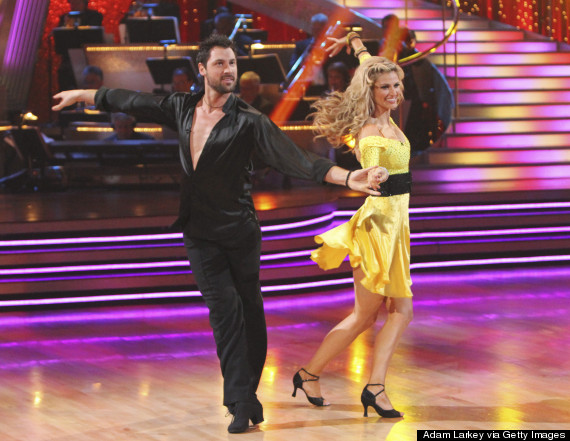 Erin Andrews and partner Maksim Chmerkovskiy on 2010's "Dancing With The Stars"
You don't think those things are emphasized as much in the sports world?
No. People don't care about that kind of stuff. I'm not an athlete so they don't really care about that. But I have done the show and have been able to expand my career since doing the show -- and now people care.
Your bio says you knew you wanted to be a sportscaster at age 13 -- at the time, what did you see as your biggest roadblock on your path to success?
When I was 13? I didn't see anything as a roadblock. I didn't know of the roadblocks in sports broadcasting for females. I guess it was just going to class everyday at school that I thought was a roadblock [laughs].
As you grew into your career, what were some of the things that were challenging for you?
There wasn't anything as I was pursing the career. I was very lucky and things happened very quickly for me. But to be very honest with you, I have had it very easy in the sense that doors were opened for me. Lesley Visser, who is a Hall of Fame female broadcaster, offered her advice to me. She said, "Your looks and the fact that you're female can open doors for you, but it's not going to keep the door open. You have to work hard to stay."
When I first started, there weren't as many sideline reporters. I know that people were always doubting if I was there because I love the game as much as I do. They probably still think that I'm there because I'm 5'10" and I'm a girl and I wear hair extensions and lip gloss.
It's that pressure that makes me get very anxious before a game. My preparation means a lot to me. I did a baseball game recently and said to my boyfriend, "I'm so anxious right now. I need to prep for the game." And it's so weird, that even at 36, that wave of nervousness and anxiety still comes over me. But as he put it, "you love your job and you want to do such a good job." It's the naysayers who have pushed me throughout my career. I didn't study like this in high school or college. I wish I had. But the fact that people are always wondering if you know as much as you claim you do -- that's what keeps me pushing harder and trying to get better.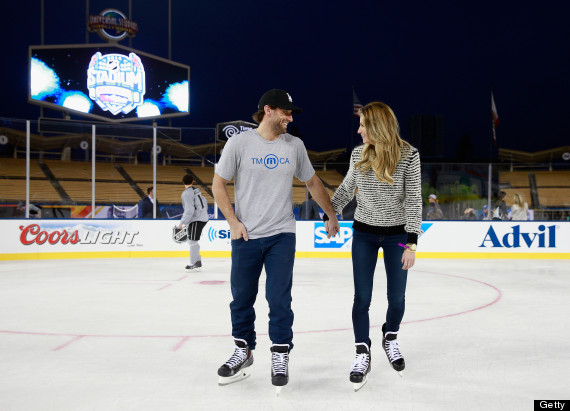 Andrews skates with boyfriend Jarret Stoll of the Los Angeles Kings in 2014 in Los Angeles, California.
When you are feeling that sense of anxiety, what are some things you do to help push through it? [Is it exercise in your life? Is it meditation?]
I have to get my work done. I have to study, I have to read all my articles and I have to make the phone calls. Fitness is very important to me mentally. It really makes me feel better. It gives me that release and an hour of sweating. It gets the blood flowing. But nothing makes the anxiety of preparing for a game feel better than just getting the work done.
How would you finish the sentence: I feel proud to be a woman because _________.
I just feel like without women there would be a lot of lost people. Not to beat our own chest here, but we're really the reason things get done. We make the world go round. I'm not trying to preach Beyonce, but "who run the world? Girls." Let's get serious. We're talking about childbirth, helping men be successful, making sure we're successful, raising kids, good golly!
What's a good piece of advice someone has given you in your career that you've held on to?
If you don't have a thick skin you need to get out. That's something I learned when I was 22-years-old, working for the Tampa Bay Lightning with head coach John Tortorella, who is like a second dad to me. Right away I got dubbed as "Sideline Barbie" on social networks and blogs because people would comment on what I was wearing, what I was eating, who I was dating. And that really hadn't happened before. It was a whole different world for me. The first time I saw something mean written about me on the Internet, I was on the team charter and I sat right by the head coach and I started crying. He looked at me, treated me like one of his players and said, "Toughen up. If you don't have thick skin, get out of this."
It's true. My parents say it to me all the time. Even now. You see your name printed and you want to know what it says. I know I need to have thick skin. It doesn't make it any easier. But it's just part of the gig and if you can't handle it you're not going to last very long.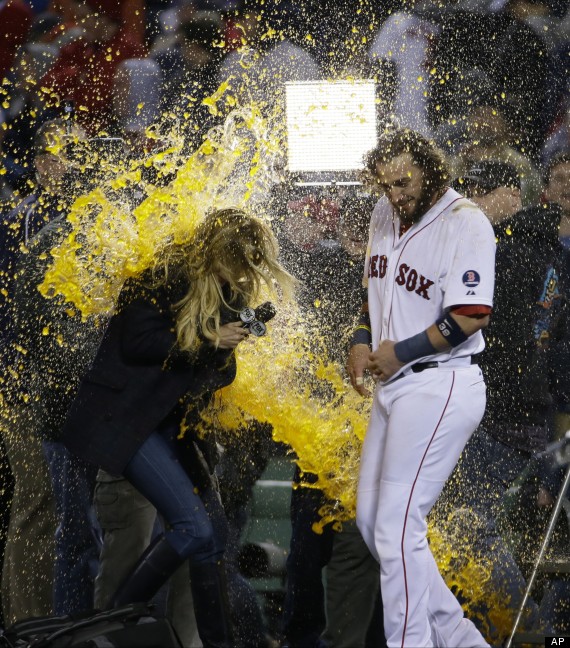 Boston Red Sox's Jarrod Saltalamacchia and Erin Andrews are sprayed with sports drink after Game 2 of the American League baseball championship series against the Detroit Tigers Sunday, Oct. 13, 2013, in Boston.
Related
Before You Go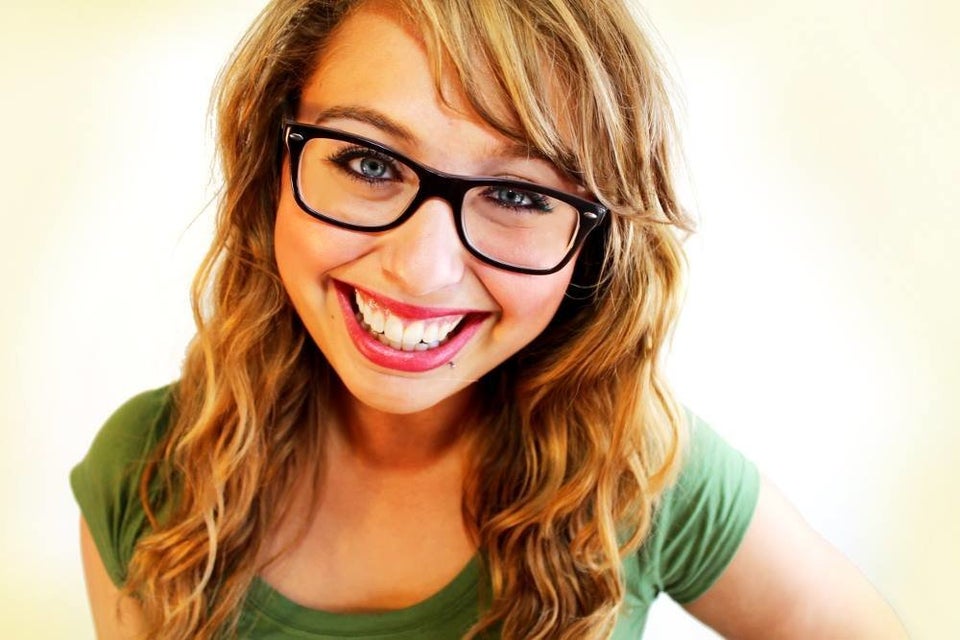 How Amazing Women Are "Making It Work"