Sportscaster Erin Andrews doesn't understand why she gets more attention than her male counterparts for wanting to look her best, she told HuffPost Live on Tuesday.
"It's funny when you post that and people are like, 'Well, that's hard-hitting journalism,'" she said. "Uh, my mentor and a guy I look up to in the industry, Michael Strahan, he was on the cover of a men's health magazine, Men's Fitness."
Andrews added that she's not alone in indulging in a little pre-show vanity.
"It's kind of funny because people talk about the way you dress and the way you care about what you look like, and I always go back to, I work with some very attractive men on Fox. [On] the Fox NFL pregame show, they are dressed to the nines. Their stylists, who I'm very good friends with, dress them very well, and no one says anything about that," Andrews said.
The double-standard bothered Andrews for a while, but now she's over it.
"That kind of stuff used to upset me, and I think I used to hold back. Now I embrace it. It's awesome. The boys are doing it, why can't I do it?" she said.
Long gone are the days Andrew felt she had to prove that she could hold her own in a conversation about sports as a woman, and now she said she focuses on the fun of looking great at work.
"What's wrong with showing that you're a woman who takes care of her body and works out and likes to dress up and wear lip gloss? And hey, she can hang with the boys," she said.
Sign up here for Live Today, HuffPost Live's new morning email that will let you know the newsmakers, celebrities and politicians joining us that day and give you the best clips from the day before!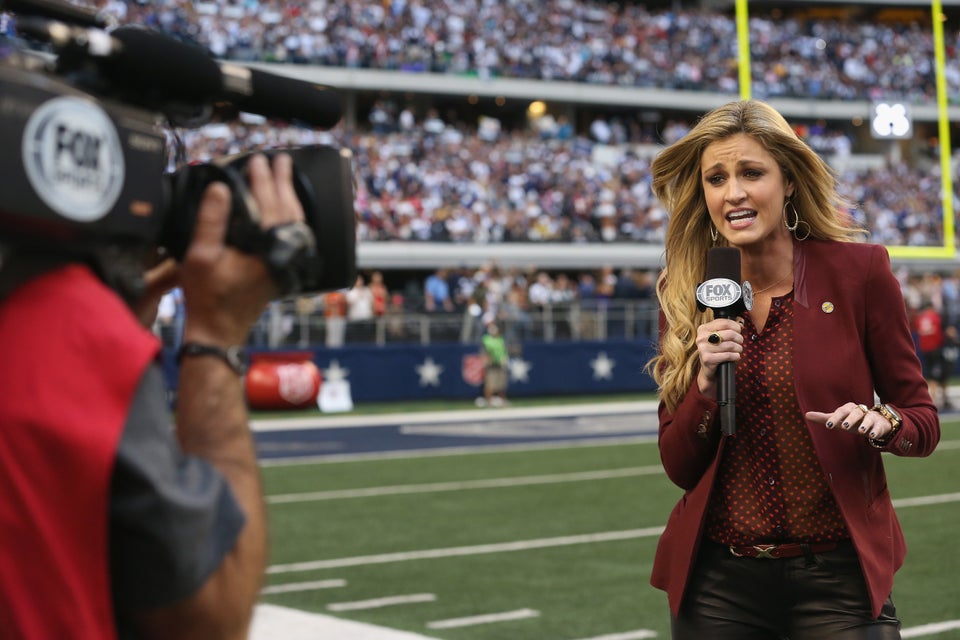 PHOTOS: Erin Andrews
Popular in the Community