Seattle Seahawks cornerback Richard Sherman made waves earlier this year when he responded to a post-game interview question from Erin Andrews by shouting that he is "the best corner in the game," prompting a vociferous response from analysts who called his rant "shameful." Andrews tweeted that his "candid response" left her looking forward to the Super Bowl, but she told HuffPost Live's Caitlyn Becker on Tuesday that there's one thing she really didn't like about that viral moment.
Andrews said her first thought when Sherman began screaming was simple: "Oh God, I better have a really good follow-up question or I'm gonna be crucified." Even though she had spoken to Sherman the day before and knew he was talking about opponent Michael Crabtree, she wanted to make sure viewers at home were in the loop, so she asked him to clarify. What she did next is what still bothers her about the live moment:
If anything, I'm upset about that interview [because of] the way I threw to Joe Buck. I had my next question ready, I was getting ready to get into it, but I know Fox's producers were looking out for me. ... I was getting ready to ask the next question, and they just said, 'Get it to Joe, get it to Joe,' and if anything, I think I made them look bad by going, 'Uh, let's send it to Joe.' That was just kind of my surprised, jerky, idiot way of doing that, and that's what I'm upset about from that interview -- myself. Any other thing about it, I thought it was awesome.
All in all, Andrews added that she and everyone else on her production team were pleased with the way the interview played out.
"When he started going off, I was able to quickly think to myself, 'Oh God, this is big because no athletes do this,'" she said. "We want them to do this, and the president of Fox Sports said it perfectly when we were flying back to Los Angeles that night. He just said, 'This is why we do those interviews. We hope for something like this.'"
Sign up here for Live Today, HuffPost Live's new morning email that will let you know the newsmakers, celebrities and politicians joining us that day and give you the best clips from the day before!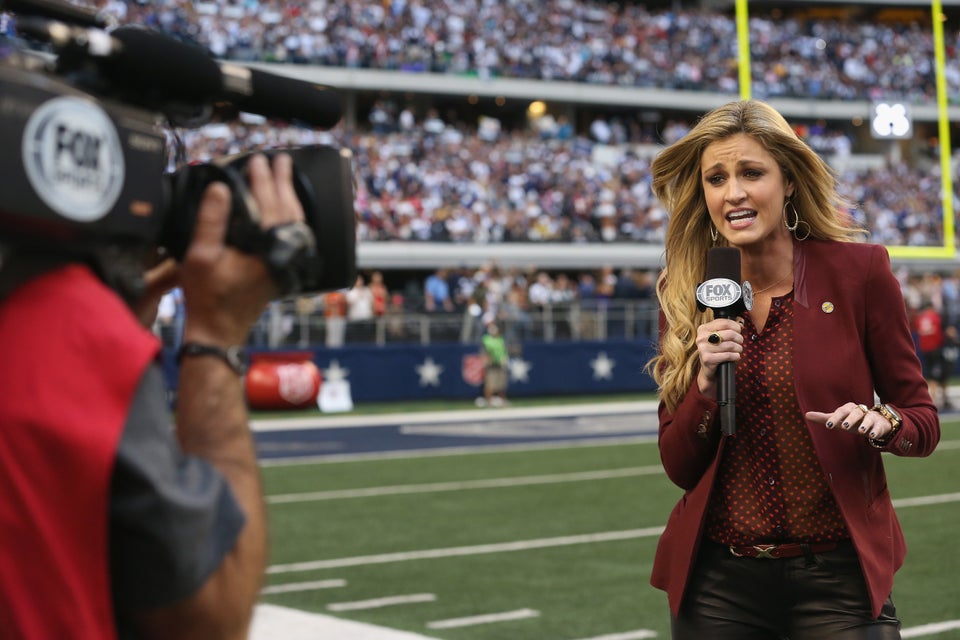 PHOTOS: Erin Andrews
Popular in the Community