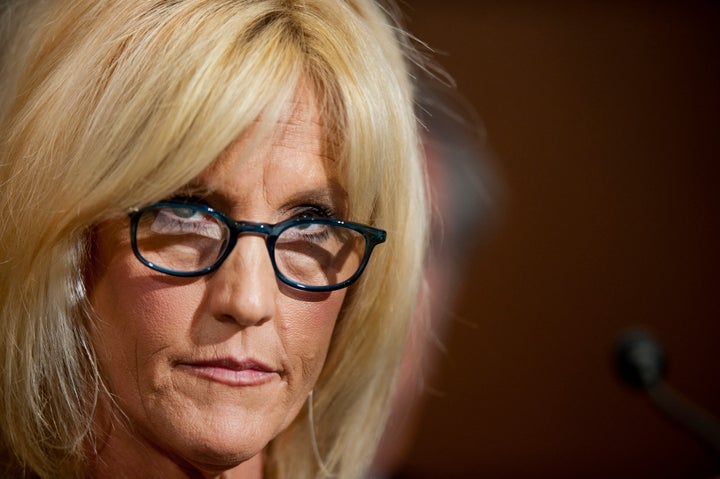 It took 16 years for us to start actually listening to Erin Brockovich again.
The consumer advocate and mother of three, whose historic class-action suit against an energy company that poisoned a California town's water became a Hollywood movie, hadn't stopped fighting for clean water. And today -- amid ballooning public water crises in Flint, Michigan; Jackson, Mississippi; and Hoosick Falls, New York -- her warnings about water contamination seem more urgent than ever.
"For years, we've seen this water crisis coming," Brockovich, who was played by Julia Roberts in an eponymous 2000 biopic, told The Huffington Post by phone on Thursday. "It's like an earthquake -- you prepare for it, but when it hits you're still like, 'oh my gosh.'"
Now, Brockovich expects more places to join the list. She said "millions of people in countless communities" could be affected by contaminated water supplies across the country.
"It's cropping up everywhere now," she said. "It used to be, historically, we'd see it in places that were more remote -- families looking to move away from cities, who were on well water -- we're now seeing this pop up in municipalities, in rich or poor or rural or in the city."
Lead contamination has emerged as the most popular water issue at the moment, as images of taps in Flint spewing foul-colored fluids appear on cable news channels almost daily. And new cases of lead contamination are popping up all over the country. Water authorities in Detroit, Philadelphia and the state of Rhode Island have distorted lead tests by using methods deemed misleading by the Environmental Protection Agency, according to an investigative report published in January by The Guardian.
But neglectful government officials, who left pipes to corrode, aren't the only ones to blame.
The case of Hoosick Falls, a quaint mill town 35 miles northeast of Albany, hits close to home for Brockovich. There, industrial giant Saint-Gobain Performance Plastics, whose two plants in the town of roughly 3,500 serve as its chief employers, allegedly poisoned the groundwater with perfluorooctanoic acid, or PFOA. The chemical is an ingredient in polytetrafluoroethylene, a white powdery substance better known by its brand name, Teflon.  PFOA is linked to thyroid disease, kidney cancer and testicular cancer. Last month, a New York law firm filed a federal class-action lawsuit on behalf of four plaintiffs from the affected area against Saint-Gobain and Honeywell International, the chemical behemoth that previously owned the plants.
Last Tuesday, Hoosick Falls officials told residents at a packed village board meeting that a temporary filtration system was up and running and that they could soon begin flushing out pipes and pools to replenish them with filtered water. But PFOA, pronounced puh-FOH-uh by those that have to deal with it regularly, is bioresistant, meaning it does not degrade easily in nature. So it'll be in the ground, albeit filtered out of the water, for a long time to come.
On Sunday, New York Gov. Andrew Cuomo (D) paid a brief, surprise visit to Hoosick Falls to announce that the municipal water supply had been cleared of PFOA.
Still, the governor -- who was accused of ignoring the problem until fury over Flint turned into a political quagmire for Michigan Gov. Rick Snyder (R) -- said that hundreds of community water supplies across New York may be contaminated with varying degrees of toxins. But he refused to set a statewide standard for acceptable levels of PFOA in water, despite a recent move by Vermont to cap the chemical at 20 parts per trillion.
"Why don't you pick the lowest number possible?" Cuomo said, arguing instead for a federal standard set by the EPA. "Because then you could have hundreds of communities installing very expensive filtration systems that don't need it."
Like Cuomo, Brockovich expects more cases. But unlike the governor, who is serving his second term and reportedly has presidential ambitions, she isn't concerned about overzealous safety standards when it comes to water.
She said she has already put together a list, which she intends to publish, of about 100 different towns where PFOA has contaminated the water.
"Hoosick Falls is now going to be representative of countless communities across the country," she said. "We think so many of these issues in other places have other undertones, therefore we think it isn't us. But I'm here to tell you, it is you. It is Hoosick Falls."
To address the problem, Brockovich suggested what seems nearly impossible amid the partisanship that rancors Washington. She wants the country's water crisis to become a policy issue without becoming political.
"Politicians should not play a game at all in our water supply," she said. "It's everyone's problem. And, boy howdy, if there were one issue that everyone would be able to extend their hands across the aisle and say 'we can fix this,' I'd venture to say, for millions of people in countless communities, we absolutely agree it's water."
That seems increasingly unlikely. On Monday, Rep. Jason Chaffetz (R-Utah), chair of the House oversight committee, said the EPA was guilty of "flat-out incompetence," and suggested the already embattled agency be dismantled rather than reformed.
"This is your water and my water," Brockovich said. "This is my grandchildren's water and my children's water. We can't adapt to drinking polluted water."
Calling all HuffPost superfans!
Sign up for membership to become a founding member and help shape HuffPost's next chapter
BEFORE YOU GO
PHOTO GALLERY
Here Are All The People Coming Together To Support Flint