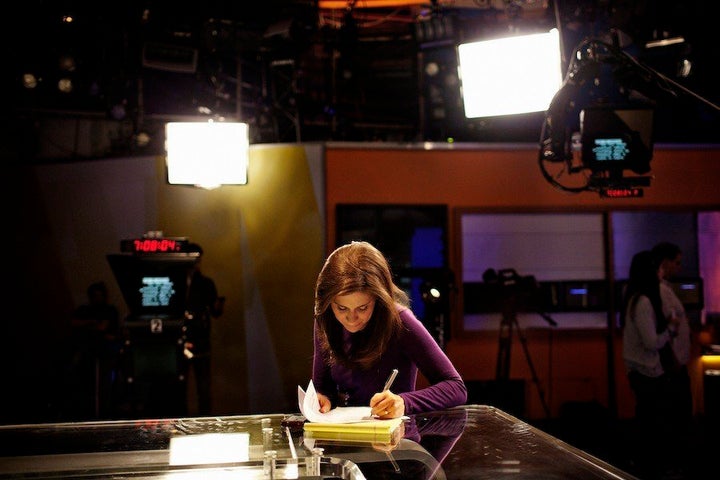 NEW YORK -- When Wil Surratt first met up with Erin Burnett to discuss working together on CNBC's "Street Signs," over coffee at the Time Warner Center, he remembers her speaking passionately about travel and international issues. "Someday we should talk about CNN," Surratt recalled saying at the time.
A few years later, they got to have that talk after Burnett jumped from CNBC to CNN, where she's now launching a 7 p.m. show on Monday night several floors up from that same coffee shop. "This is an evolution for Erin," said Surratt, the executive producer of "OutFront." "This is her opportunity to expand beyond the great financial reporter that she was into the broader news."
In an interview with The Huffington Post, Burnett acknowledged getting opportunities to break out of straight business reporting on other network platforms, such as on NBC's "Today" or MSNBC's "Morning Joe." "But ultimately," she said, "the reason I came here was for the primetime opportunity and because the brand is just is one of the most powerful brands in the world." She added that "for someone who believes that world news matters and is relevant, there really is no place like CNN."
Burnett, who covered major world stories this year like the Egyptian revolution, has already stamped her passport with the new job. This week, she'll air a story on a Pakistan women's prison that also houses many of the inmates' children. And closer to home, she'll feature a couple major newsmaker interviews, with Defense Secretary Leon Panetta on Monday and Treasury Secretary Tim Geithner later in the week.
Despite the change in scenery, Burnett says viewers shouldn't expect and radical change in her breezy on-air demeanor. "The style of what I'm doing and how I'm doing it is consistent because you can't really teach an old dog new tricks, they say," Burnett said. "I'm still the same person that I was before -- the delivery, the casualness, off-the-cuff."
The 35-year-old anchor describes "Outfront" as a "modern news program," and hopes that both her style and the show's substance resonate with younger viewers. "I think young people care about news," she said. "You see it in terms of their use online."
Burnett isn't a partisan and won't serve up the type of heated political commentary that draws more viewers in the evenings over to Fox News and MSNBC. However, she argues that viewers will tune in "if you can deliver an honest, but passionate and energetic news product that has a point of view in terms of 'yes, we do believe this story's important.'"
She also hopes to engage viewers through social media in a "modern way" that's more integrated than some programs, saying she doesn't just want to read a few tweets at the end of a segment the way hosts may read a couple emails from viewers. But how exactly she incorporates Twitter and Facebook will only be clear after Monday's launch.
Last Thursday, shortly before starting her final rehearsal, Burnett likened getting "OutFront" off the ground to "starting a company," albeit one "with the benefit of having all the capital." She joked that contrary to a scrappy start-up, the experience at the news network wasn't like "working out of a garage" and noted that CNN's "digs are pretty nice."
She's also looking forward to not answering too many more questions about what "OutFront" and letting the show speak for itself. While everyone in the media may know about Monday's launch, she admitted, "the average person has no clue."
"So we just want to launch something that's good and consistent, and then hopefully people will, by word of mouth, say 'that's a cool new show on CNN' and then they'll come and watch it," she said.
Television hosts like to downplay the importance of ratings, claiming not to even glance at the numbers when we know they hotly anticipate the nightly breakdown. However, Burnett insists that ratings won't be a factor in determining how the show develops since she's not even going to look at them. "I do not receive them daily, nor will I receive them when the show launches because it's just distracting," she said.

"If you start looking at it on Day 2," she added, "it's like getting in the weeds and forgetting you're in a sunflower patch."
REAL LIFE. REAL NEWS. REAL VOICES.
Help us tell more of the stories that matter from voices that too often remain unheard.