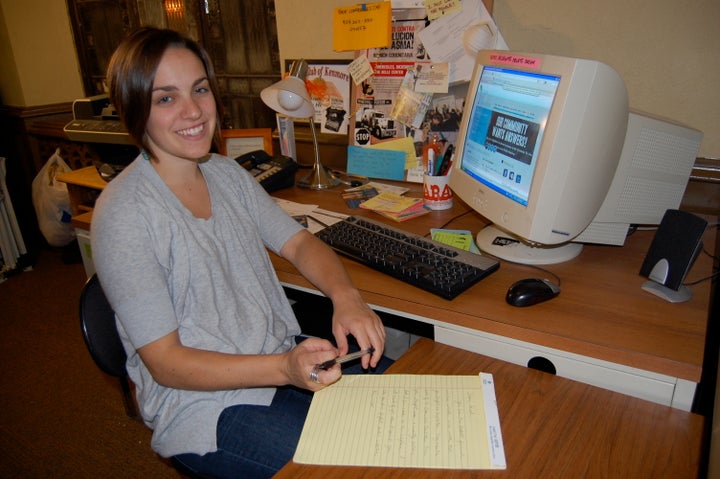 Erin Heaney doesn't mind being compared to another environmentally-minded Erin -- the one whose story became permanently etched into global consciousness with a certain award-winning Julia Roberts movie.
"It's kind of fortunate we have the same name," Heaney said of Erin Brockovich, the outspoken California activist who was instrumental in constructing a 1993 legal case against the Pacific Gas and Electric Company over the contamination of drinking water. As Heaney described the biggest challenges to environmental work, her kinship with Brockovich seemed to extend even further: "There's a lot of organized money out there who will ensure theirs is the story that's told ... I always knew I wanted to be watching those in power and calling them out if they weren't protecting those who they were supposed to be protecting."
The 24-year-old Heaney serves as the executive director of the Clean Air Coalition of Western New York, a Tonawanda, N.Y.-based organization that aims to protect the right of area residents to "breathe clean air and live, work and play in a healthy environment." In the two years since she joined the coalition, Heaney has rallied alongside other citizens to reduce air pollution in the area, which she said ranks among the highest in all of New York state due to a concentration of 53 industrial plants.
Members of the Clean Air Coalition have been most heavily involved with Tonawanda Coke, a foundry coke plant that was found to be emitting dangerous levels of benzene, a known human carcinogen. After heavy community pressure, air quality studies detected more than 75 times the amount of benzene permitted by the Environmental Protection Agency (EPA), and in 2009, coalition members including Heaney staged a full-scale protest at the company's gates. The company's environmental control manager currently faces charges of violating three federal laws.
The daughter of an investigative reporter, Heaney told The Huffington Post that she didn't seek out an environmentally-focused career, but rather one geared toward social justice. In fact, the Buffalo native was planning to pursue another opportunity in Providence, R.I., when the Clean Air Coalition position came about, and a quick drive through the Tonawanda area was enough to change her mind.
"I drove up to the industrial area and was totally blown away," she recalled. "I could see a coal-burning power plant, several chemical storage facilities, petroleum storage tanks ... I knew right then and there that this was what I was supposed to be doing. It was a very powerful moment."
Much to her initial surprise, Heaney found environmental causes well-suited to her social justice aims. "My perception of the environmental business before I became involved with it is that it was all about individual responsibility," she said. "We get a lot of challenges both from industries and elected officials who get their money from them. We don't have power in money, we have power in people."
Never a group to rest soundly, the Clean Air Coalition has recently been involved in other area environmental cases. In June, members found levels of benzene to be at more than 10 times the level considered safe by the EPA following a fire at Buffalo's Niagara Lubricant Plant. The group has also conducted research into emissions at one of the city's truck plazas, which services some 20,000 cars and 5,000 diesel trucks daily. In most cases, residents collect their own air samples by an inflatable tool known as "the bucket." Though it may seem simple, this grassroots form of resident science has helped Heaney and her team "get in the door of various elected officials," she said.
In the future, Heaney said she hopes the Clean Air Coalition of Western New York will expand into even more neighborhoods. Though she's seen interest in her organization grow as global warming research increases on both the national and international levels, she still struggles with lingering stereotypes of environmentalists. "A lot of people hear our name and think we might be a bunch of tree-hugging hippies," she said. "But going green isn't a choice, a lifestyle, or a philosophy -- it's about survival."

For more information on the Clean Air Coalition of Western New York, click here.

Related
Popular in the Community