It's a humbling feeling to look at an image and have no idea what it is you're actually looking at. It's one of the magical abilities of abstract art, to turn even the most knowledgable of viewers into a childish eye, searching for meaning and grasping for balance in the face of the unknown. Erin Loree gives us this stomach-jumbling feeling in the best of ways.
Loree's electric abstract canvases feel at once heavy -- largely due to the significant piles of paint that bulge off the page -- and light -- thanks to some unearthly energy radiating from their insides. The Toronto-based artist turns adjectives into nouns, and turns properties like weight, color and texture into the things themselves. Her psychedelic canvases shape shift before your eyes, resembling finger paintings from an alien being. We reached out to the artist to learn more about her work.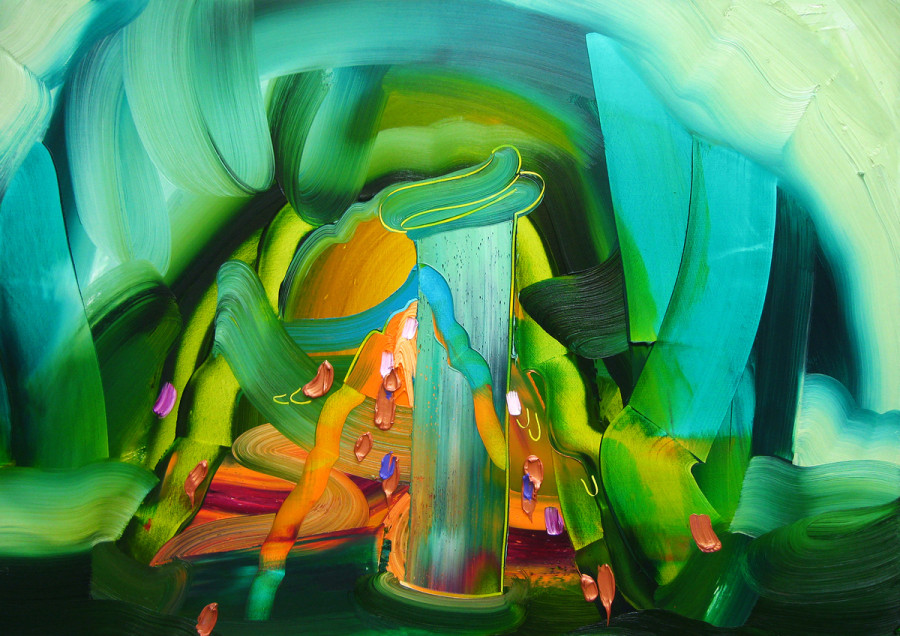 Oasis, Oil on canvas, 25" x 36", 2014
How did you first become interested in art?
I've been making art ever since I was old enough to hold a crayon. When I was young, my Dad -- a draftsman, painter, and musician -- used to draw with me for hours every day on pieces of bristol board spread out on the floor. I always knew that I wanted to be an artist, so I never experienced any form of inner conflict about my life's path. I'm extremely lucky that both of my parents value growth and creativity as a way of life and that almost everyone in my family is involved in the arts in some way. Attending art school has also fostered my passion and opened me up to the infinite number of creative minds and possible artistic avenues.
Were there people in particular that inspired or motivated you?
There is one professor in particular who has changed the way I approach painting. Nicole Collins, an incredible abstract encaustic painter and my former professor at OCADU, introduced me to the idea that "making mistakes" is the most effective and creative way to learn. She encouraged exploration of new materials, trial and error, and having fun. I learned from her the important lessons of letting go and valuing the process.
A few of the artists that inspire my work are: Allison Schulnik, for her thick and gritty application of paint; Maya Hayuk, for her fresh technicolor palette; Harold Klunder, for his built-up organic forms and the rawness of his abstract self-portraits; and Francis Bacon for his bold and visceral strokes.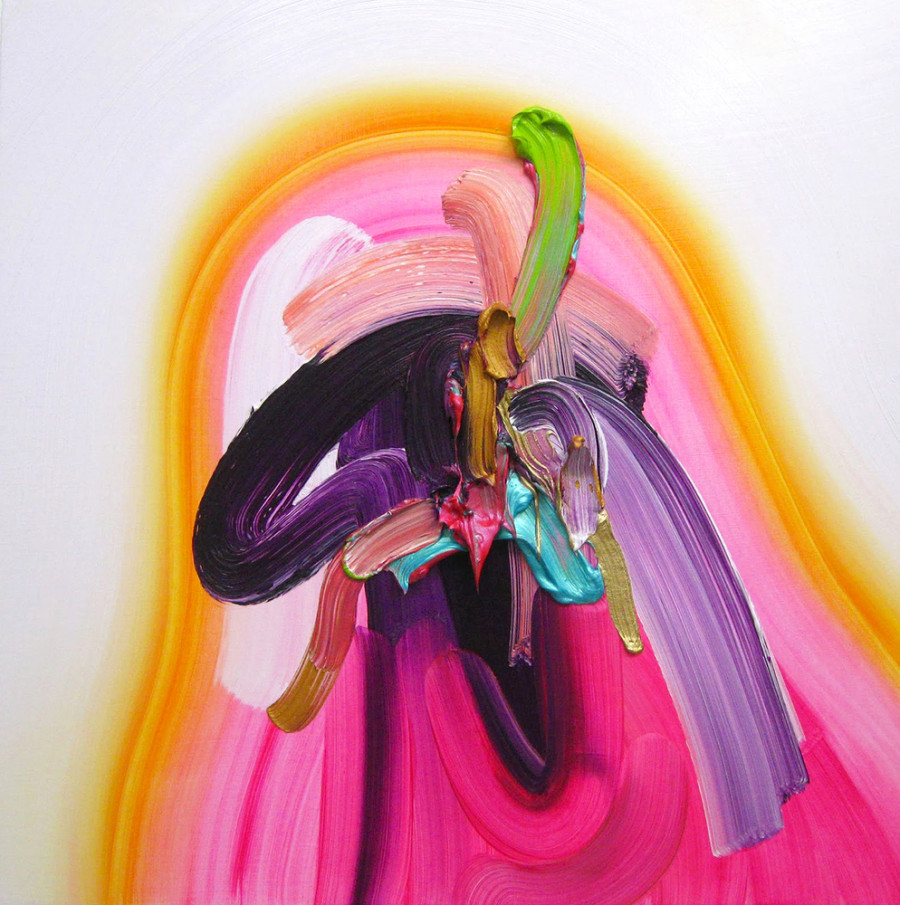 State shift , Oil on canvas, 20" x 20", 2014
How would you describe your style?
My work teeters between abstraction and representation but I would say it falls into the category of Abstract Expressionism. I attempt to depict an inner world of feeling or spirit and although there are representational elements in my work, I don't consciously look to forms from the external world to express my ideas.
What about your process? How long does each work take and what kinds of materials are you using?
Without using references, I paint expressively with oil on canvas, panel, and mylar by combining diffused, multicolored gradients with thick and visceral marks, creating what can often be seen as human or ghostlike forms and anthropomorphized natural phenomena. In my most recent paintings, I have begun to experiment with different tools, allowing me to build up thick layers of paint or scrape these layers away to reveal lost or forgotten compositions. I work on one piece at a time without any preconceived idea of the final image in mind, thriving on the uncertainty that this process fosters. I begin each piece by intuitively laying down a few bold strokes on the surface and from there I piece the rest of the composition together like a puzzle, stroke by stroke, until it feels unified -- each mark dictating the next. I often attempt to destroy a piece before I find something interesting to work with. This process allows the painting to come alive and evolve as needed. As a result, I am able to experience an ongoing and interactive relationship with the material.
In terms of how long it takes me to complete a piece, I like work wet-on-wet, so I tend to complete a painting in one or two sittings. However, lately I've started to explore layering paint on already dry works which creates some interesting gritty textures.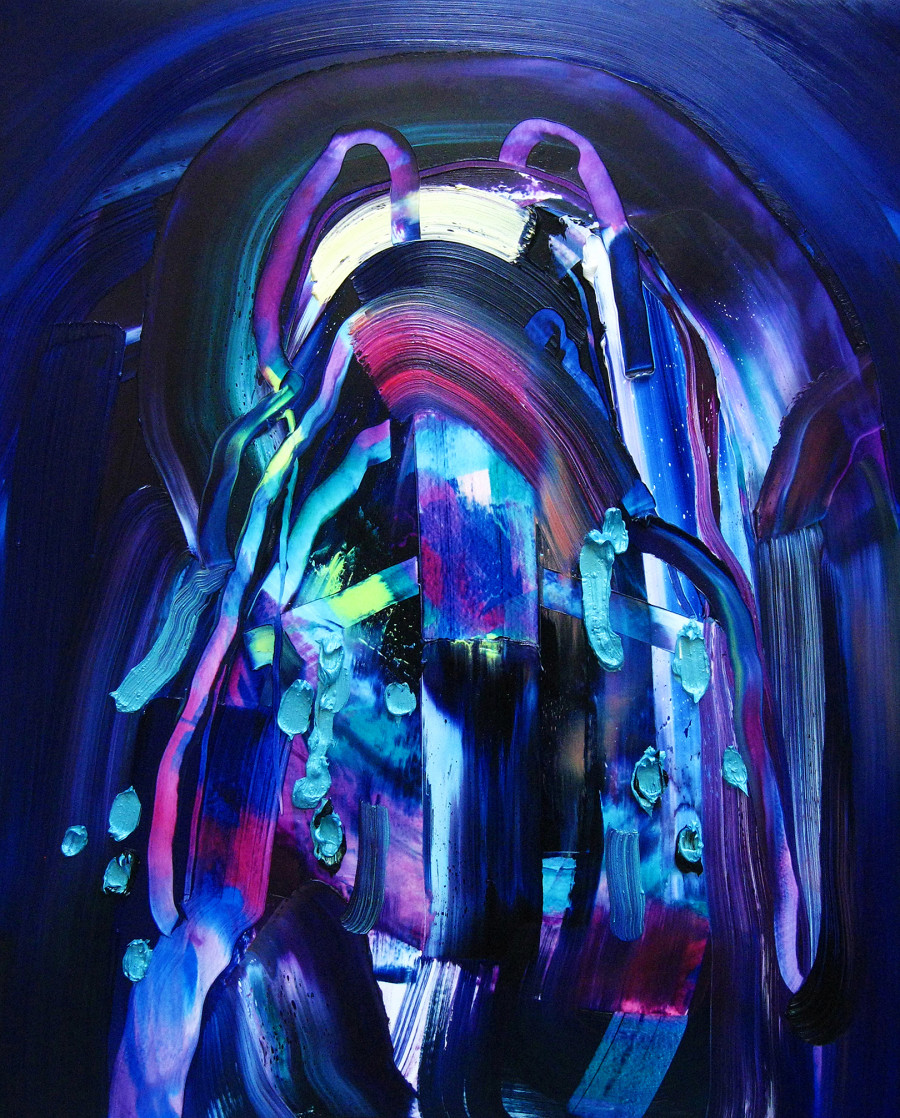 When it rains, it pours, Oil on mylar mounted on panel, 30" x 24", 2014
What do you hope to communicate through your work?
Most of my recent work is inspired by time spent in the Peruvian Amazon jungle. In the tangled paradise of the rainforest, I had the opportunity to really observe the cycles and rhythms in the natural world and, in doing so, began to understand how they reflect my own internal processes. Everything around us and inside of us is in a continuous state of becoming, birthing and dying, expanding and contracting. I'm fascinated by the transience of nature and its ability to remind us of the constant transformation within ourselves. Through my application of paint, I hope to communicate this understanding that everything in the universe, physical and non-physical, is impermanent and in a constant state of flux. The work inevitably resembles something in a state of transition or metamorphosis as the paint appears to melt and fold into itself. Although I use paint to create static images, I apply it in such a way as to suggest forms that are fluid and ever-changing.
See more of Loree's work below and let us know your thoughts in the comments.