The Children's Cancer Fund of New Mexico was formed in 1972 to support the University of New Mexico Pediatric Oncology program. A young child in the southern part of New Mexico was diagnosed with cancer and his classmates wanted to do something for the family so they created an event and called "A mile of pennies" and sent them to the Pediatric oncology program and that's how the foundation begin. In 1984 their Executive Director Diana Trujeque's son Erin Trujeque was diagnosed with a very rare form of cancer at the age of eleven. He had just competed in a junior golf tournament in San Diego California in July of that year and when they got home, he got ill and they immediately went into the hospital and basically never left until he died; she has dedicated her life to helping children with cancer.
While he was in hospital, his friends asked him if they could put together a golf tournament to help the family and he agreed with one condition that it benefited all the ill children and not just him. Unfortunately, he did not survive to see the first golf tournament but the Erin Trujeque Memorial event has now celebrated its 31st anniversary in July 2016. It benefits the Children's Cancer Fund of New Mexico which is a local non-profit organization that helps children with cancer and their families cope with the day-to-day needs of living with and fighting cancer. It is not only education wise to ensure the children keep up with their school work but financially and emotionally as well.
It has grown from an organization in 1972 that operated on about $1,200 a year to an organization that provides about $800,000 in services to children and families in New Mexico. The foundation have an office at the University of New Mexico Hospital and when the children go for procedures with chemotherapy or for their blood works there is an office on site to support the family. Every family is offered a gas card, and the money is based on the mileage from their homes because New Mexico is so big and the only Pediatrics oncology services are in Albuquerque. The fund also helps families to deal with all that paperwork as well as meal cards so they can eat at the hospital cafeteria because sometimes chemotherapy treatments and procedures will take all day. And for those who are staying at the short term care facilities like the Ronald McDonald House, they are given money for groceries so that they can cook meals for themselves.
Every child receives a prize after enduring painful procedures or uncomfortable chemotherapy treatment and parents can bring them to the office and they pick a toy. Sometimes doctors come down and ask for a toy to give to children who are distressed to ease the pain and the trauma that the children have to go through.
The fund also provide the following services:-
- Emergency Services for Families who cannot pay their rent, phone and electric bills.
- Educational scholarships for every child who has been diagnosed and treated for cancer in New Mexico at any of the pediatric oncology facilities. The scholarship overs 8 semesters of undergraduate school and four semesters of graduate school. It is equivalent to a full-time in-state tuition at the University of New Mexico which amounts to about $6,600 a year.
- They also have a large group of retired teachers who volunteer to help with the students.
- The fund also offer emotional support services and have a licensed mental health worker who helps children cope with their fears. Siblings suffer a tremendous emotional burden as well and the Children's Cancer Fund counsels the siblings of children who have cancer.
- The only pediatric hospice in the state of New Mexico serves the Albuquerque metropolitan area alone and the Children's Cancer Fund is creating a facility called "Erin's Place" which will create an atmosphere that is home like for children to have the best quality of life where it can feel like home. A place where they can bring their dog or cat and with no visiting hours like a hospital and where they can have friends and family over at any time. Construction of the house started in October 2016 and it should be completed in July 2017.
To support the Children's Cancer Fund visit their WEBSITE
You can contact Diana Trujeque, the Executive Director on 505-243-3618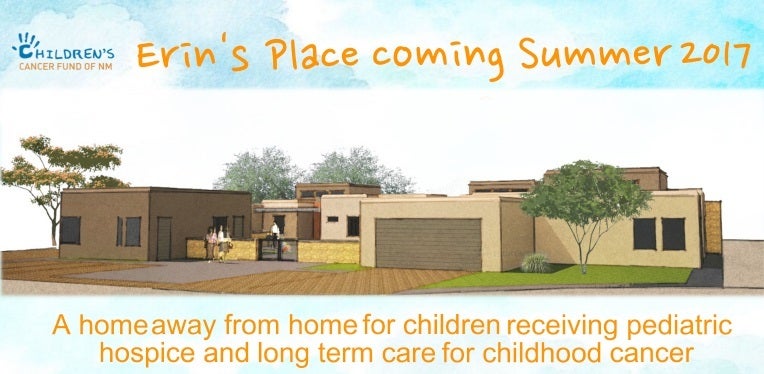 Calling all HuffPost superfans!
Sign up for membership to become a founding member and help shape HuffPost's next chapter
This post was published on the now-closed HuffPost Contributor platform. Contributors control their own work and posted freely to our site. If you need to flag this entry as abusive,
send us an email
.