Ernest Hemingway took his life on this day, July 2, back in 1961.
Below are obscure facts about the novelist's life, pulled from old interviews and personal accounts by the writer.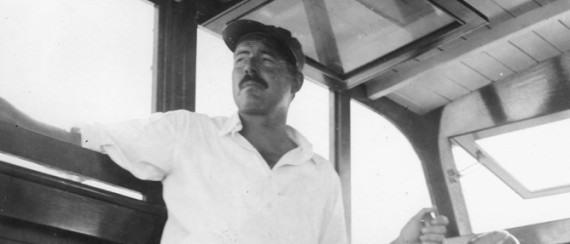 Former New Yorker staff writer Lillian Ross had a long profile of Hemingway published in 1950.
During a section of the story where she's at a bar with Hemingway, talking about bears at the Bronx zoo, Ross includes an aside about how the writer gets along well with animals, writing, "In Montana, once, he lived with a bear, and the bear slept with him, got drunk with him, and was a close friend."
As this fact simultaneously seems insane and doesn't readily appear elsewhere, it's unclear whether Ross' aside was an exclusive for her interview or if the story is more of a legend.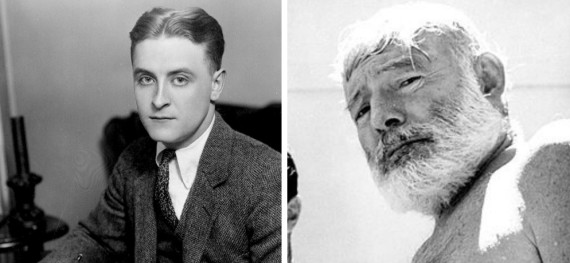 In Hemingway's A Moveable Feast -- a collection of stories about his time in Paris as an expat during the 1920s -- there's a long interaction with the Great Gatsby author, F. Scott Fitzgerald. In this exchange, according to Hemingway, Fitzgerald confesses that his wife, Zelda, said that his penis is too small or exactly, "She said it was a matter of measurements."
Hemingway tells Fitzgerald to follow him to the men's room and then says, "'You're perfectly fine,' I said. 'You are OK. There's nothing wrong with you." He continued reassuring Fitzgerald, "You look at yourself from above and you look foreshortened. Go over to the Louvre and look at the people in the statues and then go home and look at yourself in the mirror in profile.'"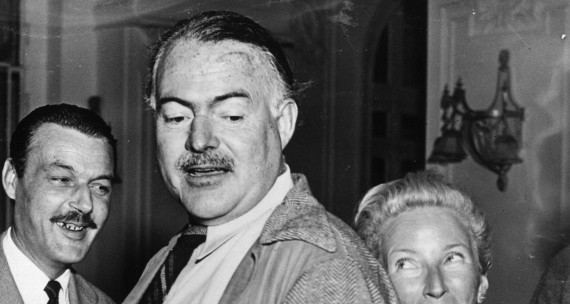 In the New Yorker profile from 1950, Hemingway gets frustrated at the group he's having lunch with for thinking they can leave the table before all of the champagne is finished.
"'The half bottle of champagne is the enemy of man,'" Hemingway said. We all sat down again," writes Ross in the New Yorker.
Hemingway is then quoted while pouring more champagne as saying, "If I have any money, I can't think of any better way of spending money than on champagne."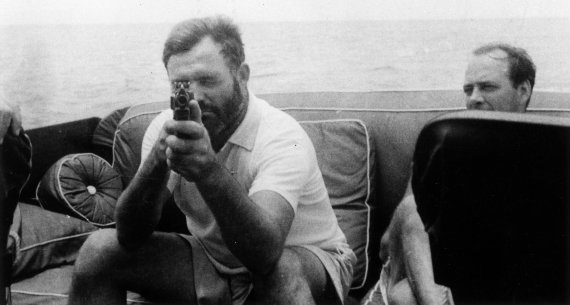 According to a 2009 story in The Guardian, Hemingway went by the code name "Argo," while somewhat working for the KGB. The article talks about the publication of Yale University Press' Spies: The Rise and Fall of the KGB in America, which claims that Hemingway was listed as a KGB operative in America during Stalin-era Moscow.
According to the documents obtained by the book, Hemingway was recruited in 1941 and was fully willing to help, but never actually provided any useful information. It's unclear if that's because Hemingway was doing this all as a lark, or if he just wasn't that good of a spy.
"The name's Hemingway, Ernest Hemingway," is a lot of syllables.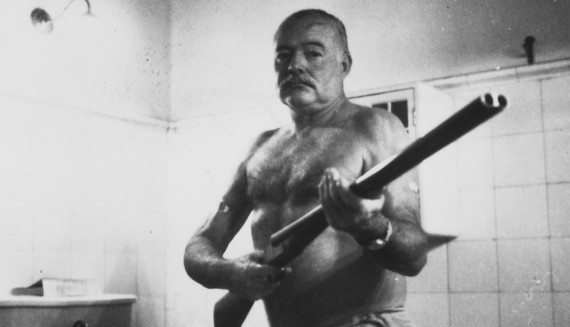 Hemingway biographer and personal friend of the author for 14 years, A.E. Hotchner, wrote a New York Times opinion piece in 2011, claiming that Hemingway spent his last days incredibly paranoid that the FBI was following him and that this paranoia ended up being justified.
"It's the worst hell. The goddamnedest hell. They've bugged everything. That's why we're using Duke's car. Mine's bugged. Everything's bugged. Can't use the phone. Mail intercepted," Hotchner quotes Hemingway as telling him shortly after the author's 60th birthday. Hotchner remembered thinking Hemingway was losing it as the author went on and on about how his phones were being tapped and his mail intercepted.
Hotchner was then shocked when the FBI released its Hemingway file due to a Freedom of Information petition, where they admitted Hemingway was put on the surveillance list in the 1940s by J. Edgar Hoover. "Over the following years, agents filed reports on him and tapped his phones," Hotchner wrote. According to Hotchner, he's had to find a way to reconcile his memories of Hemingway losing it in his final years -- which partially led to extensive electroshock therapy -- with the author actually being right.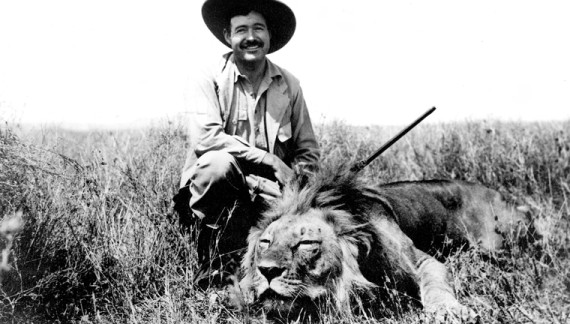 In that same New Yorker profile from 1950, Ross writes about what happened when she suggested what Hemingway thought was a lackluster fight:
Hemingway gave me a long, reproachful look. "Daughter, you've got to learn that a bad fight is worse than no fight," he said. We would all go to a fight when he got back from Europe, he said, because it was absolutely necessary to go to several good fights a year. "If you quit going for too long a time, then you never go near them," he said. "That would be very dangerous." He was interrupted by a brief fit of coughing. "Finally," he concluded, "you end up in one room and won't move."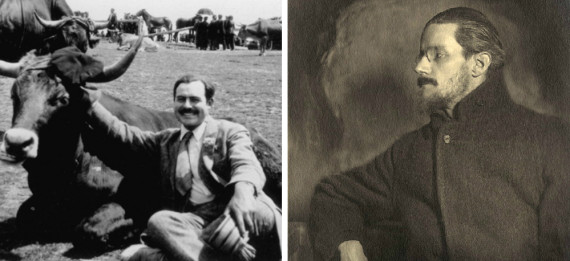 Kenneth Schuyler Lynn has a quote in his book, Hemingway, from the novelist about Hemingway and James Joyce's hangouts together.
"We would go out for a drink," Hemingway told a reporter for Time magazine in the midfifties, "and Joyce would fall into a fight. He couldn't even see the man so he'd say: 'Deal with him, Hemingway! Deal with him!'"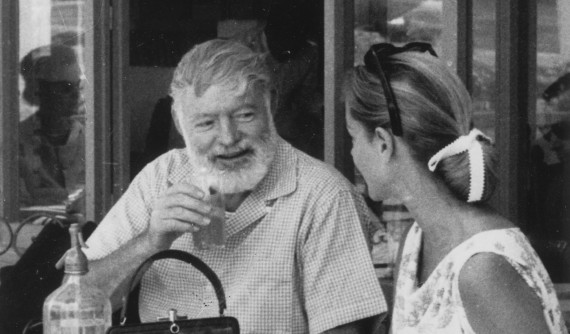 This also comes from the New Yorker profile, where Ross wrote, "He always wakes at daybreak, he explained, because his eyelids are especially thin and his eyes especially sensitive to light."
Hemingway is then quoted as saying, "I have seen all the sunrises there have been in my life, and that's half a hundred years." Hemingway continues, "I wake up in the morning and my mind starts making sentences, and I have to get rid of them fast -- talk them or write them down."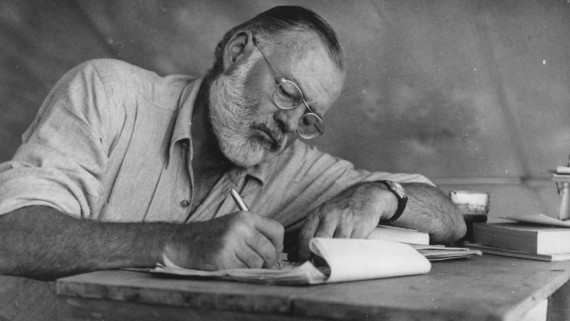 American journalist George Plimpton interviewed Hemingway in a Madrid café during May, 1954. In his piece, Plimton writes:
He keeps track of his daily progress -- "so as not to kid myself" -- on a large chart made out of the side of a cardboard packing case and set up against the wall under the nose of a mounted gazelle head. The numbers on the chart showing the daily output of words differ from 450, 575, 462, 1250, back to 512, the higher figures on days Hemingway puts in extra work so he won't feel guilty spending the following day fishing on the Gulf Stream.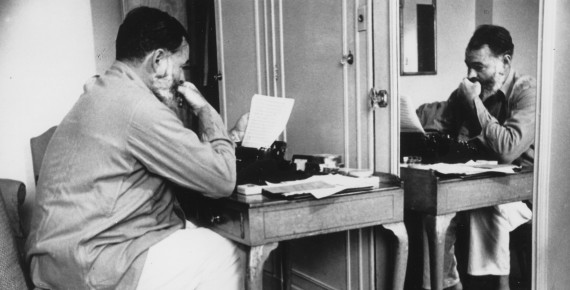 Also in the Madrid café in 1954, Plimpton got a quote from Hemingway about rewriting the ending to one of his most famous works.
Plimpton asked how much rewriting Hemingway does, to which the novelist responded, "It depends. I rewrote the ending to A Farewell to Arms, the last page of it, 39 times before I was satisfied."
The interviewer wondered, "Was there some technical problem there? What was it that had stumped you?"
Hemingway responded, "Getting the words right."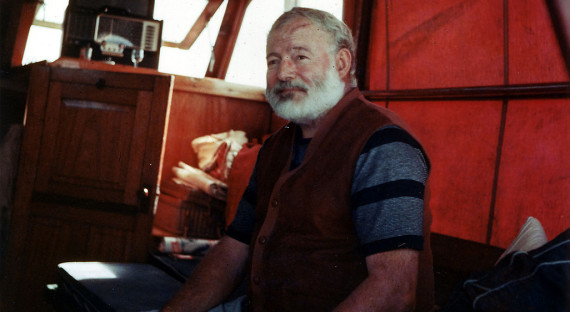 From the New Yorker profile, here is an extended description by Hemingway of how he would have ideally spent his older days:
"What I want to be when I am old is a wise old man who won't bore," he said, then paused while the waiter set a plate of asparagus and an artichoke before him and poured the Tavel. Hemingway tasted the wine and gave the waiter a nod. "I'd like to see all the new fighters, horses, ballets, bike riders, dames, bullfighters, painters, airplanes, sons of bitches, café characters, big international whores, restaurants, years of wine, newsreels, and never have to write a line about any of it," he said. "I'd like to write lots of letters to my friends and get back letters. Would like to be able to make love good until I was eighty-five, the way Clemenceau could. And what I would like to be is not Bernie Baruch. I wouldn't sit on park benches, although I might go around the park once in a while to feed the pigeons, and also I wouldn't have any long beard, so there could be an old man didn't look like Shaw." He stopped and ran the back of his hand along his beard, and looked around the room reflectively. "Have never met Mr. Shaw," he said. "Never been to Niagara Falls, either. Anyway, I would take up harness racing. You aren't up near the top at that until you're over seventy-five. Then I could get me a good young ball club, maybe, like Mr. Mack. Only I wouldn't signal with a program—so as to break the pattern. Haven't figured out yet what I would signal with. And when that's over, I'll make the prettiest corpse since Pretty Boy Floyd. Only suckers worry about saving their souls. Who the hell should care about saving his soul when it is a man's duty to lose it intelligently, the way you would sell a position you were defending, if you could not hold it, as expensively as possible, trying to make it the most expensive position that was ever sold. It isn't hard to die." He opened his mouth and laughed, at first soundlessly and then loudly. "No more worries," he said. With his fingers, he picked up a long spear of asparagus and looked at it without enthusiasm. "It takes a pretty good man to make any sense when he's dying," he said.

Related
Before You Go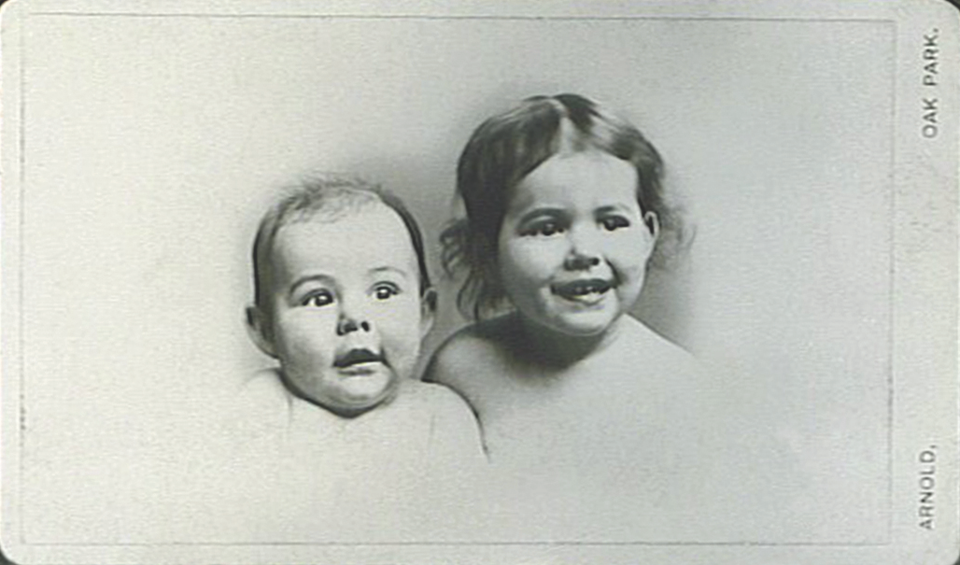 Ernest Hemingway Foundation of Oak Park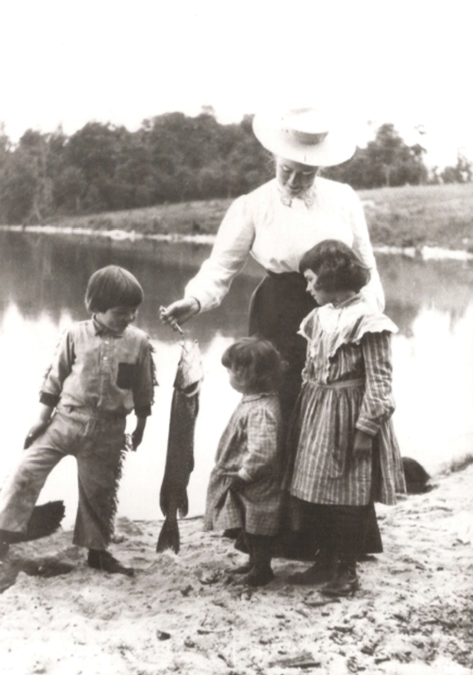 Ernest Hemingway Foundation of Oak Park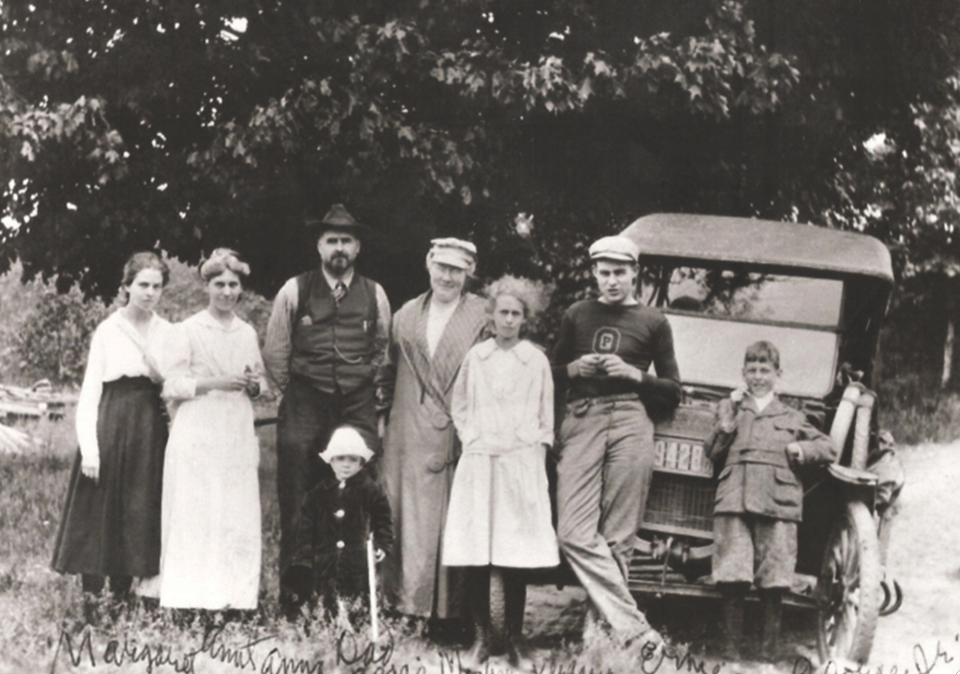 Ernest Hemingway Foundation of Oak Park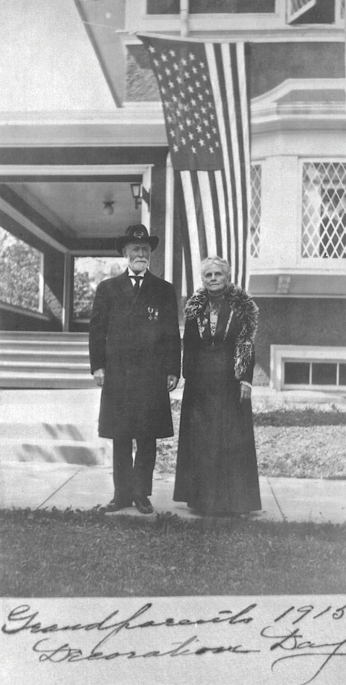 Ernest Hemingway Foundation of Oak Park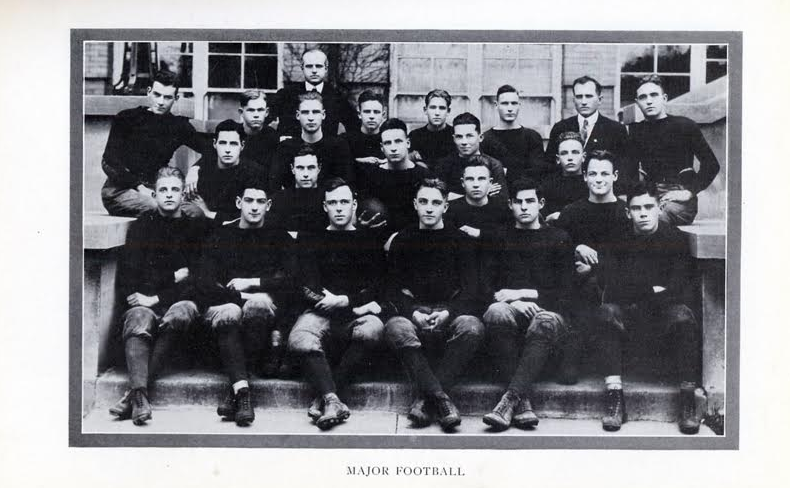 Courtesy Oak Park Public Library, Oak Park, Illinois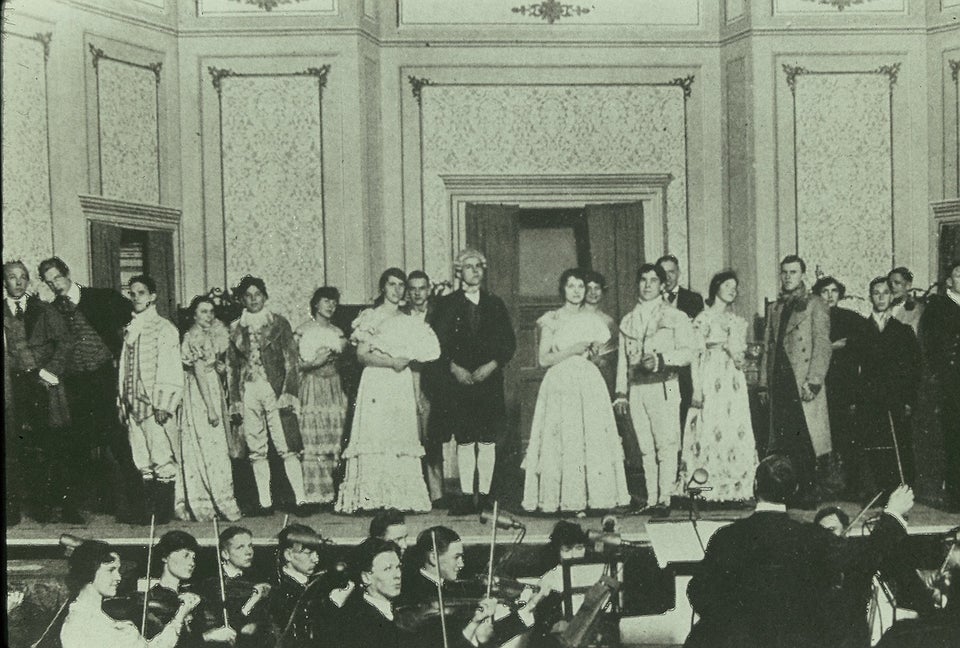 Courtesy Oak Park Public Library, Oak Park, Illinois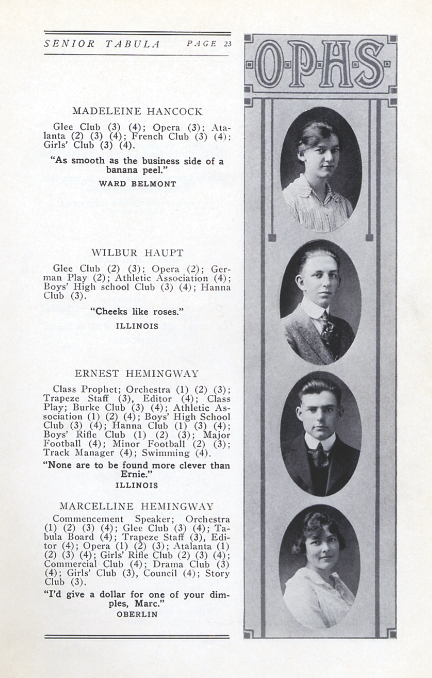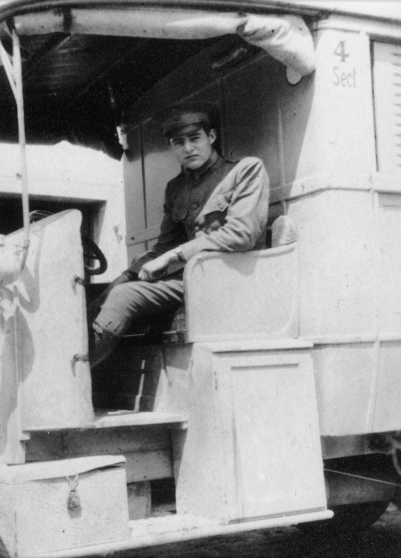 Hemingway Collection, John F. Kennedy Presidential Library and Museum
Popular in the Community