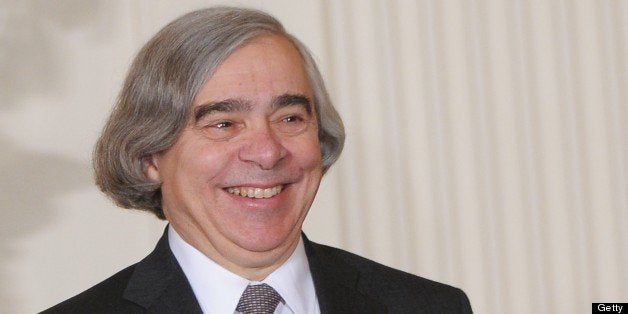 In a Monday morning announcement that was long anticipated but not widely welcomed by environmentalists, President Barack Obama tapped Ernest Moniz, director of the Energy Initiative at the Massachusetts Institute of Technology (MIT), as the nominee for the next secretary of energy.
"Ernie knows that we can produce more energy and grow our economy while still taking care of our air, our water and our climate," Obama said during a press conference on Monday morning announcing Moniz's nomination, along with his other picks, including Gina McCarthy to lead the Environmental Protection Agency.
While some environmental groups cheered the pending nomination, others have expressed deep concern over Moniz due to his outspoken support of hydraulic fracturing for shale gas, better known as fracking. Some critics have gone as far as to call him a "shill" for the shale gas industry.
Anthony Ingraffea, a professor of civil and environmental engineering at Cornell University, said that the controversial report was just one example of what he calls "frackademia" -- pro-fracking studies coming out of institutions like SUNY Buffalo and the University of Texas at Austin that are later found to have been supported by industry. But MIT, being "the best tech institute in the country and the wellspring of many fantastic people," he said, seems to "get a pass."
Ingraffea's own fracking research comes to a starkly different conclusion -- that natural gas could be a bigger climate-changer than coal. It was largely funded by a foundation that has supported anti-fracking groups.
"No one is alleging that Moniz has personally financially gained directly from moneys from the oil and gas industry for fracking studies," said Ingraffea. However, he added, the study does raise concerns over whether or not any actions were taken that "benefited the people paying, despite knowing those actions were not in the best interest of the public, students, his university or the country."
"It's difficult," he added. "How do you determine that?"
Bill Snape of the Center for Biological Diversity shared similar disapproval with the possibility of a a Moniz-led Energy Department in a February statement.
"We're concerned that, as energy secretary, Ernest Moniz may take a politically expedient view of harmful fracking and divert resources from solar, geothermal and other renewable energy sources vital to avoiding climate disaster," said Snape. "We're also concerned that Moniz would be in a position to delay research into the dangers fracking poses to our air, water and climate."
In addition to fracking, Moniz is also an ardent proponent of nuclear power -- another sticking point among some environmentalists.
Sen. Ron Wyden (D-Ore.) plans to question Moniz on the polluted Hanford nuclear site in Washington State, where waste tanks may be leaking 1,000 gallons of waste per year, reported The Hill. Moniz wrote in November 2011 that "it would be a mistake" to let "Fukushima cause governments to abandon nuclear power and its benefits."
"Nuclear power's track record of providing clean and reliable electricity compares favorably with other energy sources," Moniz wrote.
Still, many environmental experts and advocates have also highlighted Moniz's track record of concern for climate change and emphasis on renewable energy and innovation, and some were hopeful that the nominee's experience and track record would help him accomplish more in the secretary of energy position.
As Obama said on Monday, Moniz "already knows his way around the Department of Energy."
The physicist, well-known for his over-the-ears hairstyle, served as an undersecretary of energy during the Clinton administration. For the past four years, he has served on the President's Council of Advisors on Science and Technology (PCAST).
"Ernie is really a big-picture guy," Rosina Bierbaum, a fellow PCAST member and an environmental-policy expert at the University of Michigan at Ann Arbor, recently told Nature. "He can talk the details of science far better than most of us, but he never ever gets lost in the weeds."
The Natural Resource Defense Council also welcomed the nomination to replace Steven Chu, who plans to return to Stanford, as "good news."
"Professor Moniz has the hands-on experience and the expertise needed to help further the climate and energy goals our country urgently needs," Frances Beinecke, president of the group, said in a statement on Monday.
Moniz's hands may very well be full, and the pressure on him high, as the U.S. faces a series of important decisions that could affect the country's -- and the world's -- future economic, environmental and energy landscapes.
"I have a set of adjectives and nouns to describe the energy business -- it's a highly capitalized, multi-trillion dollar per year commodity business in the sense that when we flick the switch on, we don't see whether it came from a coal plant or solar panel," Moniz told the Switch Energy Project last year. "It serves every activity in society. It therefore does, and always will, invite extensive regulation and very complex politics."
Support HuffPost
The Stakes Have Never Been Higher
Related
Before You Go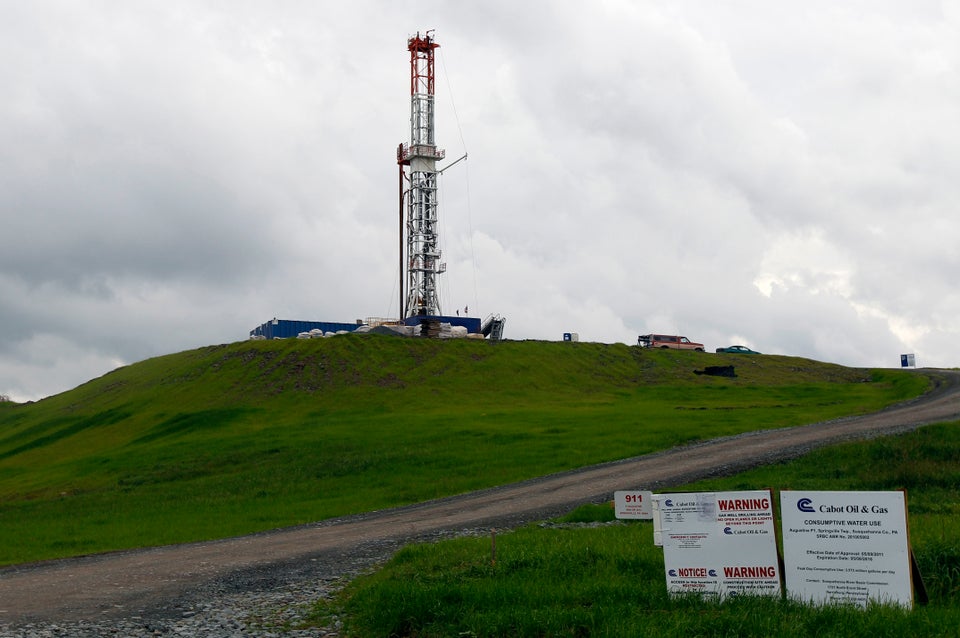 Drilling And Fracking Photos
Popular in the Community