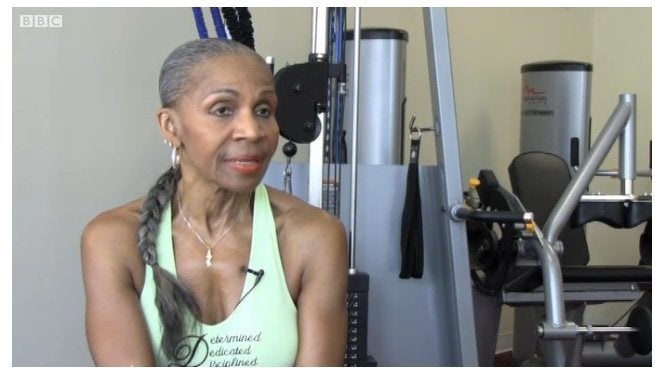 "Age is nothing but a number," says Ernestine Shepherd, the 75-year-old body building champion and Guinness Book of World Records holder in a BBC profile.
Shepherd didn't start exercising until her mid-50s and didn't enter her first bodybuilding competition until she was 71-years-old. At 74, she was awarded the Guinness record as the oldest female bodybuilder for the 2012 book. Although she began her fitness transformation out of grief over the untimely death of her sister from a brain aneurism, she has used her later-life transformation to bring a health and wellness message to her community. The BBC video chronicles what she refers to as her "ministry -- the fitness classes she teaches at her local church in Baltimore, Maryland. It also reveals part of her routine: a daily 10-mile run that she begins after waking at 2:30 am. As Jessica Testa at BuzzFeed Shift said, "So... how's your summer fitness routine going, hm?"
Do you have anyone in your life who inspires you with his or her fitness dedication? Give them a shout out in the comments -- or get in touch with us on Twitter @HealthyLiving, #FitnessInspirations.
For more on fitness and exercise, click here.