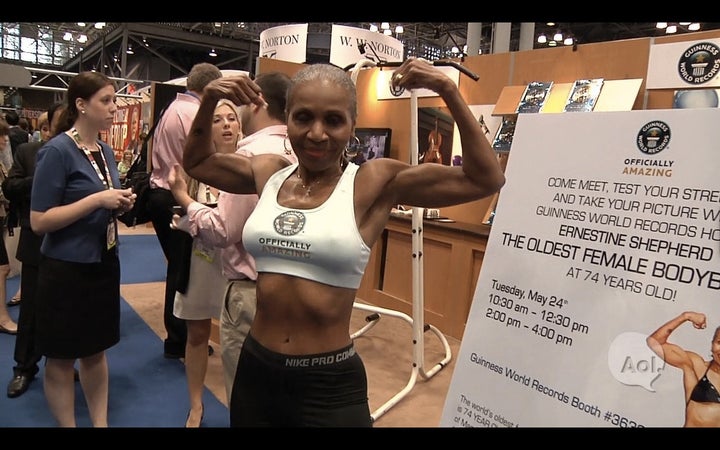 At a time in life when most people would be happy sitting on a park bench, Ernestine Shepherd is benching more than her own weight -- and competing with women half her age at muscle shows.
The 74-year-old grandmother is a regular on the Musclemania circuit, and her achievements flexing her rippling muscles in a itty-bitty Lycra outfit, has made her one of the featured record holders in the forthcoming 2012 Guinness World Records book, due out in September.
"I feel younger now than I did 20 years ago," Shepherd told AOL Weird News, at BookExpo America 2011 in New York City's Jacob K Javits Centre this week.


Flexing for the crowd, this retired Baltimore school administrator remembered that day 20 years ago when she turned her life around.
"I was getting ready for a picnic with my sister Mildred, and we were trying on swimsuits," she recalled. "And we were not happy. So we did something about it."
These days, the 5-foot-5, 130-pound dynamo wakes up at 3 a.m. every morning, and runs 10 miles a day, before hitting the gym for pushups, pull-ups and a heavy regimen of free weights, all to the amazement of her 80 year old husband of 54 years, her 53-year-old son, and her 14-year-old grandson.
She volunteers at Baltimore's Union Memorial United Methodist Church, works as a personal trainer, and appears at a motivational speaker all over the country.
"You have to live the part," she says, "if you want people to change."
Her trainer Yohnnie Shambourger, a 57-year-old former Mr Universe who won a 1995 gold medal at the Pan American Games, says anyone can change -- but you have to be special to be Ernestine.
"It's a combination of commitment and genetic gifts," Shambourger says. "Ernestine has both, or she wouldn't have gotten as far as she has."
Her 1,700-calorie daily diet consists of egg whites in the morning, vegetables, chicken and brown rice. She claims that this regime has helped her with depression, high blood pressure, panic attacks, and acid reflux -- all of which she suffered from in her mid 50s.
"I plan to keep doing bodybuilding shows," she says. "There's no reason you can't be 80, and strutting your stuff."
Her heroes: Michelle Obama, in part for her veggie-eating message, and Sylvester Stallone, for those Rocky films.
"I really want to meet Sylvester Stallone," Shepherd says. "Those training sequences in those Rocky films you can't help but think about when you're working out."
Message from AOL Weird News to Sylvester Stallone: "Yo, Rocky, get off your rump and call Ernestine! You might have to fight her in your next romp as the Italian Stallion. If you were aging half as well as her, that franchise might still be alive."
Related
Popular in the Community