Legendary Chicago Cub Ernie Banks was honored Wednesday at the White House with the Presidential Medal of Freedom, the nation's highest civilian honor.
Banks, known both as "Mr. Cub" and "Mr. Sunshine" was described by the White House as "one of the greatest baseball players of all time." In his 19 seasons as a Chicago Cub, Banks was an MVP favorite, hit more than 500 homers and was swiftly inducted into the Baseball Hall of Fame the first year he was eligible.
"In the process, Ernie became known as much for his 512 home runs as for his cheer and his optimism, and his eternal faith that someday the Cubs would go all the way," the president and noted Chicago White Sox fan said in a playful jab against the Cubs (who have been without a World Series win since 1908).
Obama added: "He is just a wonderful man and a great icon of my hometown."
"It means life is just wonderful. When you do things to try to help people and share things, it really comes back to you. I try to do that. I love the players, love Wrigley Field, love all the players. ... This award means a lot to me. It's almost like the Nobel Peace Prize to me."
Banks said he is also a big fan of the president ("I was just so happy I couldn't sleep that night for thinking about Barack," Banks said of Obama's 2008 election victory) and brought him a Louisville Slugger bat that once belonged to fellow Medal of Freedom winner Jackie Robinson.
Here's a great throwback video of Banks signing Johnny Frigo's Cubs anthem, "Hey Hey Holy Mackerel":
Before You Go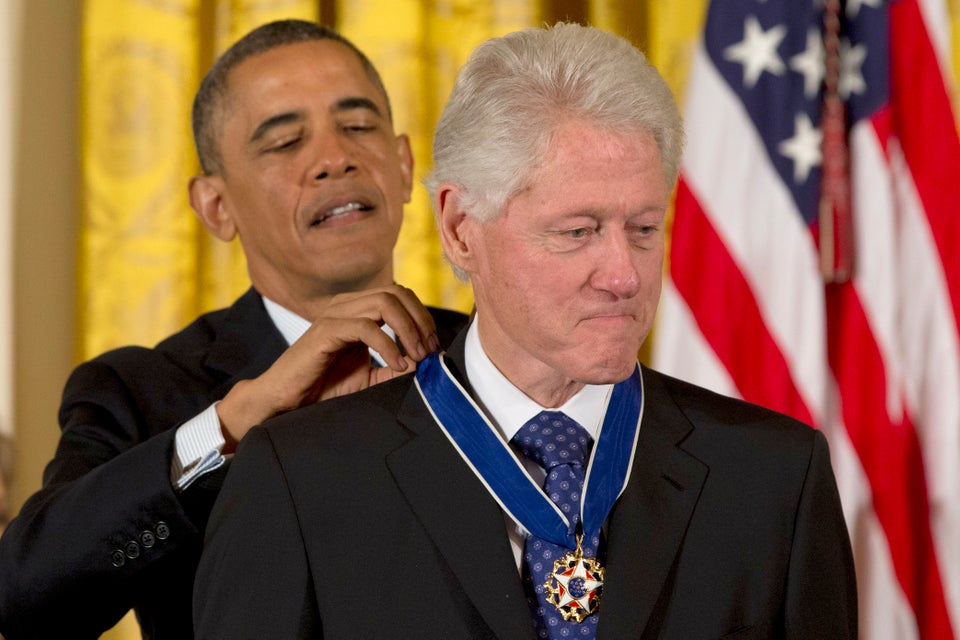 2013 Presidential Medal Of Freedom Winners
Popular in the Community