So how exactly did Ernie Sabella wind up with " … the greatest gig of my life" (i.e., being cast as the voice of Pumbaa the warthog in Disney's The Lion King) ? To hear this Broadway veteran talk, it was all because Nathan Lane doesn't like to work alone.
"In early 1992, Nathan & I had been cast in a revival of 'Guys & Dolls.' He was playing Nathan Detroit. I was playing Harry the Horse," Sabella recalled during a recent sit-down interview. "Anyway, we had just begun rehearsals when Nathan got a call from his agent. Disney was holding auditions in New York that day for a film that they'd just begun working on. Something called King of the Jungle.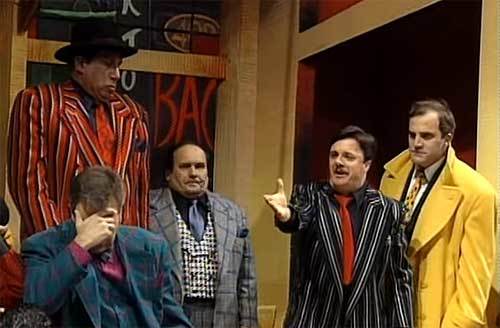 Lane's agent knew that that morning's rehearsal would soon be breaking for lunch. Which is why he wanted Nathan to take advantage of this break, race across town and then go audition for this new Disney project. But Lane wasn't exactly enthusiastic about this idea.
"Figuring that nothing would ever actually come out of this audition, Nathan asked me to come along with him so that – as soon as he was done – he & I could then go get something to eat together," Ernie continued.
So as soon as the "Guys & Dolls" rehearsal broke for lunch, Lane & Sabella headed out for where Disney was holding its King of the Jungle auditions. But as soon as Nathan was handed the pages that he was supposed to be performing at this audition, Lane realized that this is a dialogue scene between three different characters. A trio of hyenas, to be specific.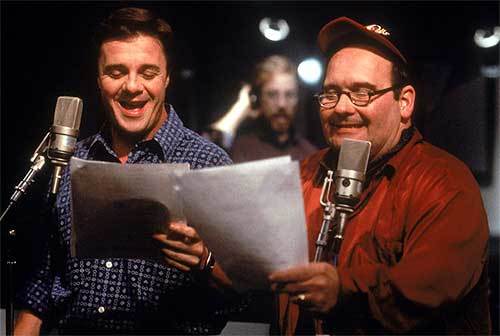 "So Nathan turns to the guy who's running these auditions and says 'Can I bring Ernie into the booth with me? That way, I won't have to do the voices for three different characters all by myself.' And that guy says 'Sure,' " Sabella states. "So the two of us go into the booth and read the audition scene as it was written. After that … Well, we goofed around a little. Riffed on that audition material for a minute or so."
What happened next, Ernie remembers to this day. After he and Lane finished ad-libbing, Sabella looked up. And who's on the other side of the glass in the control room but King of the Jungle director Roger Allers. And Roger is just standing there, looking back at these two Broadway vets, with his jaw hanging open.
"That was the moment when I figured that we had really screwed up this audition. So I said a quick 'Thank You' into the mic. And then Nathan & I got out of that recording booth as quickly as we could. And as we raced for the elevator so that we could then finally go get something to eat, I turned to Nathan and said 'Well, at least we still have our night-time jobs," Ernie laughed.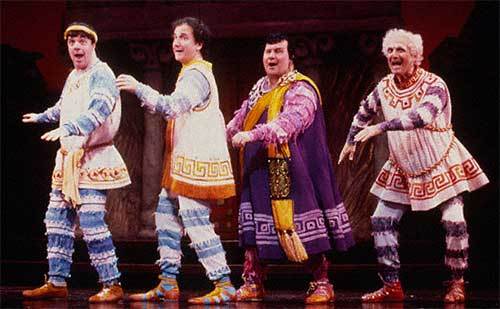 But Lane & Sabella hadn't actually screwed up their audition. If anything, the riffing that these two had done after they had finished reading that scene for those three hyena characters was exactly what Allers & associates had been looking for.
"Nathan and I only found out later that King of the Jungle – which, sometime after our audition, got renamed The Lion King – was making people at Disney Studios nervous because this film's storyline was so dark. So Roger and his co-director were already looking for ways they could somehow lighten this material up. And when he heard Nathan & I going off-script in that recording booth, there was something in our ad-libs that made Roger think that we could maybe be the voices of these comic characters that hadn't even been developed yet. Ones who'd then could help them lighten up some of The Lion King's darker stretches," Ernie said.
Mind you, Lane & Sabella still thought that they'd completely blown their original audition. It wasn't 'til two months later when Nathan's agent reached out yet again and asked that he & Ernie to return to that recording booth. All because Disney now had two very different characters that they wanted these "Guys & Dolls" cast members to read for.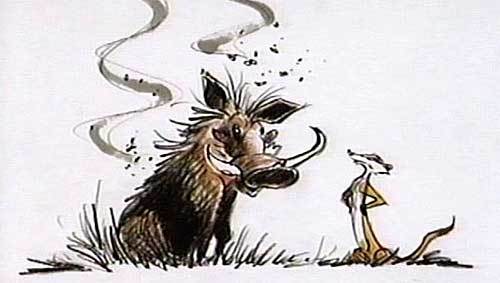 "This time around, we aren't auditioning to be hyenas. Disney gave us these scenes where Simba was interacting with a meerkat named Timon and a warthog named Pumbaa," Ernie remembered. "And Disney must have liked what they heard. Because every couple of weeks, we'd then be asked to go back into the booth to record even more scenes with Timon & Pumbaa. So Nathan & I were appeared in 'Guys & Dolls' at night and recording all this stuff for The Lion King during the day."
And that pattern continued for the next 15 months. And for Sabella, who was a life-long Disney fan ("I remember my Mom parking me on the couch when I was a little kid with a peanut-butter-and-jelly sandwich so that I could then watch Walt on the original 'Disneyland' TV show"), this day job just seemed too good to be true.
"I kept telling Nathan 'Don't get used to this. Sure, Disney's having us record this stuff now. But someday soon, they're going to hire Dom DeLuise to come voice Pumbaa and someone else for Timon. And then Disney's going to turn to us and say 'Thanks for all your help, boys. But we've got some real stars now. You can go back to doing your Broadway show,' " Ernie recalled.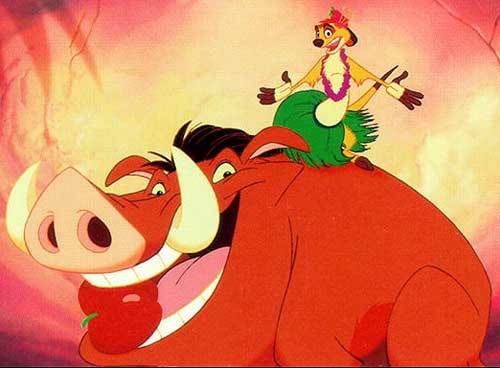 But that call never came. If anything, the animators kept folding more & more of the characters that Lane and Sabella were voicing into this movie. With the very last piece (i.e., Timon's version of the "Hawaiian War Chant," which was supplemented by Pumbaa periodically saying "Yup Yup Yup") being added to The Lion King just 10 weeks before this Walt Disney Animation Studios production was first released to theaters back in June of 1994.
"And after that happened, and The Lion King then went on to become Disney's biggest hit since Snow White … Well, I'd be walking around Manhattan. And people would then see me and stop me, insisting that I say 'Hakuna Matata' in Pumbaa's voice," Ernie remembered. "It was really wild and kind of fun to get recognized on the street like that."
And though Sabella would to do stage work over the next decade, appearing in award-winning revivals of "A Funny Thing Happened on the Way to the Forum," "Man of La Mancha," "Sweet Charity," and "Chicago," Pumbaa kept him steadily employed throughout this same period as well. Ernie did this warthog's voice for all 85 episodes of that "Timon & Pumbaa" animated series which ran on CBS back in the mid-1990s. Not to mention Walt Disney Studios Home Entertainment's two direct-to-video Lion King sequels, 1998's The Lion King II: Simba's Pride and 2004's The Lion King 1 ½.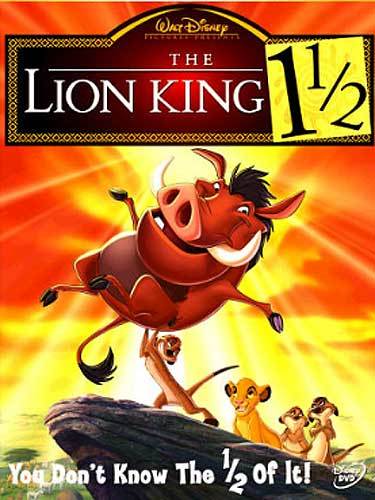 Over this same period of time, Walt Disney Studios Home Entertainment made the original Lion King motion picture available for purchase in a variety of different formats. The VHS version of this Academy Award-winner hit store shelves back in March of 1995. The DVD version (AKA Disney's Platinum edition of this motion picture) debuted in October of 2003, while the Blu-ray (AKA Disney's Diamond edition of this same film) wasn't available 'til of October 2011. The Digital HD version of The Lion King (AKA the Signature Edition of this feature-length cartoon) only became available in August of this year.
And on the Walt Disney Pictures side of the operation, they managed to keep The Lion King in theatrical release by first releasing a version of this animated feature that had been reformatted for IMAX back in December of 2002. Nearly nine years later, a 3D version of The Lion King started a limited engagement in cinemas around the country in early September of 2011.
"And every time Disney did this, I was happy to help out with the promotion. Likewise when the Imagineer would call and then ask me to come in and record Pumbaa's voice for something new they were planning for the Parks," Sabella said. "I was always happy to go back in the booth and do Pumbaa's voice again because I genuinely love this character."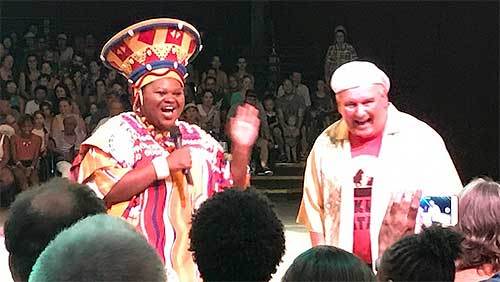 But when Frozen arrived into theaters in November of 2013 and then quickly blew past all of The Lion King's old box office records, Ernie figured that this meant his days of working as a warthog were finally winding down. That is until he got that call from his agent back during the Fall of 2014.
"He tells me that Disney's looking to do this new show called 'The Lion Guard.' And I was like 'What's that? A new stage show?' And he said 'No, it's this new animated series for Disney Junior. And they're bringing back James Earl Jones to voice Mufasa. And they'd like you to come back and do Pumbaa's voice for this show,'" Sabella stated. "And I turn to my wife Cheryl and said 'Lightning just struck again.'"
"The Lion Guard" debuted on Disney Junior back in November of 2015 with "Return of the Roar," an original TV movie which introduced Kion (i.e., Simba's second-born) to the world. This animated series officially got underway in January of 2016 and quickly established itself as a hit. So much so that this Walt Disney Television production was renewed for a third season back in March of this year.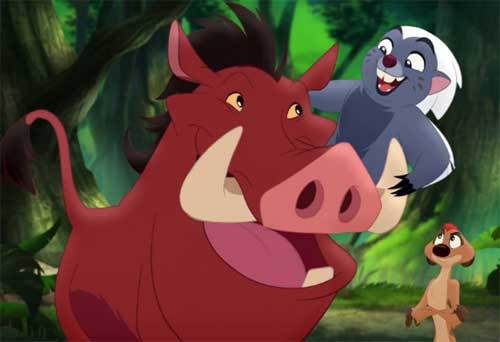 "And what I love about working on 'The Lion Guard' is that this show is introducing Pumbaa to a whole new generation of kids. He's Kion's uncle who's actually a whole lot smarter than Timon," Ernie enthused. "Pumbaa's actually got a lot of great advice for Simba's son. His problem is that no one ever listens to him."
And speaking of advice … Does Sabella have any advice for Seth Rogen, the Neighbors star that Jon Favreau just recruited to come voice Pumbaa in that live-action version of The Lion King which Walt Disney Studios will be releasing to theaters on July 19, 2019.
"First of all, let me be clear here: I am not handing the character of Pumbaa off to Seth Rogen. I am just letting him borrow it for a while," Ernie smiled. "Besides, I can understand why Jon Favreau went this route. I'm going to be 70 in a few years and Seth is 35. And just like they did with their new live-action versions of Cinderella, The Jungle Book, and Beauty and the Beast, Disney's looking to reinvent these movies for a hip new younger audience. So I get it. I'm just hoping that Jon offers me a cameo."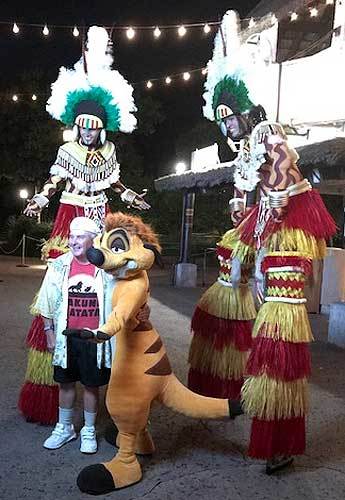 "But as for my advice for Seth, all I can say is make Pumbaa your own," Sabella continued. "Voicing this character has been the greatest gig of my life. I just hope that Seth has half as much fun voicing Pumbaa as I did."
Related
Popular in the Community