He sells "eros," or love, in a bottle and originates from the Greek island of Crete. His name is Emmanuel Maniadakis and the "Eros" apple ice cider he produces is strictly made with the purest organic products on the outskirts of Montreal where his vast orchards form an impressive sight.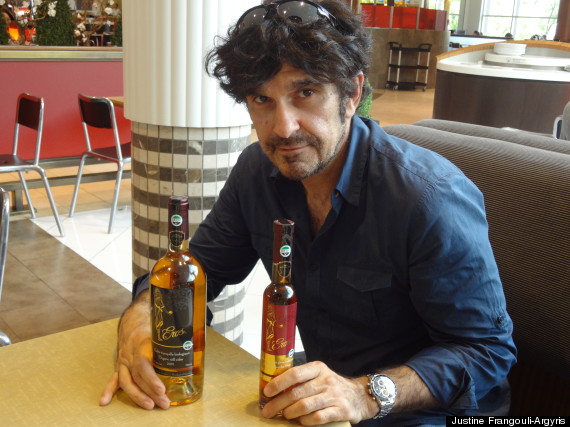 Maniadakis may be a native of the famous Greek island but he was the first grower in Quebec who dared invest in the biological cultivation of apples. You can call him innovator, crazy or a dreamer but he explains, "the apple tree is a very sensitive plantation and no one believed that I could grow apples without the use of chemical fertilizers or sprays."
Daring to go against the tide because he was very sensitive to chemicals and had suffered for years from allergies when dealing with apples and apple growers, he began his "natural" production in 2002 and was granted the official stamp of the Agricultural Service of Quebec, designating his apples as unquestionably organic.
His experiment, however, was not a simple one as he notes that chemicals are widely used to suppress apple tree diseases. "The main problem is the various diseases that can attack the trees and the mildew that proliferates with the rain is almost impossible to arrest without antibacterial drugs. However, I proved to growers and agronomists alike that, with constant trimming, sparseness of tree numbers and the use of geological sedatives apple trees can survive and flourish without any need for chemicals."
Ever since, Manolis Maniadakis' apples have become a staple in Quebec's organic supermarkets and fruit stands. His Cretan restlessness, however, led to his desire to take his dream one step further and demonstrate that he could distill organic cider. He proudly proclaims, "After I succeeded with the organic apples, I decided to use the fruit to make ice cider because the weather in Quebec is favorable to the production of this kind of spirit."
We let the apples freeze as the frost mashes and kneads the inside of the fruit. We then harvest the frozen produce towards the end of January when the temperature reaches minus 10 degrees celsius and place it in a sterile chamber where the kernels are gathered and the alcohol is produced. The result is a much sought after sweet ice cider, or apple wine, that is served as an aperitif or digestive.
Maniadakis has bottled his nectar in a long, slender, elegant flask and affixed a colorful, artistic label with the words "Eros" emblazoned in gold. In mythology, Eros was the god of love and the word itself means passionate love in Greek. Proclaims Manolis, "I live and breathe Greek mythology. It is a passion of mine and I believe that an aphrodisiac wine such as Eros, made without chemicals, should have a name that denotes pure love from a God."
Maniadakis has received numerous awards for his ice cider around the world and has begun to export his production to France, Switzerland and the United States. Surprisingly, he has found it a struggle to obtain shelf space in his home market as the liquor stores in Quebec are a government monopoly that is not easy to penetrate. Undaunted, he continues to broaden his scope and recently introduced an ice wine made from organic pears.
His dream is to some day become another "Bacchus" and have his sophisticated wine widely available in his homeland, being enjoyed by the Greeks themselves. He would like to see his Cretan brothers under the bright sun in front of the sea brandishing a bottle of Eros!
REAL LIFE. REAL NEWS. REAL VOICES.
Help us tell more of the stories that matter from voices that too often remain unheard.