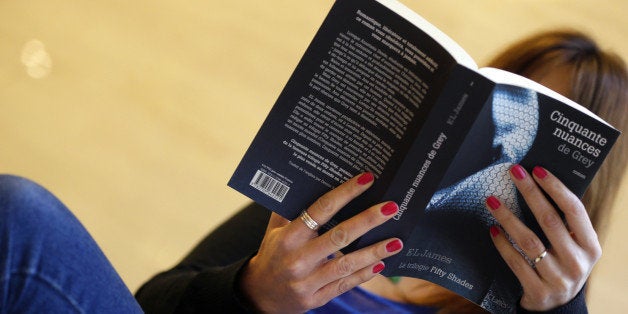 With hot casting news, there's no doubt the most talked-about book right now is E L James' "Fifty Shades of Grey." It's become the bestselling book of all time in Britain, and smashed sales records in the U.S., catapulting the romance genre into the spotlight. The "Fifty Shades" film is still a few years away, but James recently announced that "Sons of Anarchy" and "Pacific Rim" actor Charlie Hunnam will take up Christian's riding crop, while up-and-comer Dakota Johnson will bite her lip with abandon as Ana. So you've devoured the sexual history of Anastasia and Christian and loved every dominant and submissive minute. Now what? As you eagerly await the first trailer, satiate your need for more with these erotic encounters. And while we don't think you should ever feel guilty for reading, we've made sure they're available in e-book form, so your device can serve as discreet packaging for these sizzling stories.
Like the Fifty Shades trilogy, Sylvia Day's "Bared to You" and the sequel, "Reflected in You," found a place at the top of the New York Times bestseller list. Day's novel focuses on the complicated relationship between Eva and Gideon, both abuse survivors finding true love and passion for the first time.
2. "The Claiming of Sleeping Beauty"
Published under the pseudonym A.N. Roquelaure, this retelling of Charles Perrault's famous fairy tale of Sleeping Beauty with an erotic twist. Rather than waking up the princess with a kiss, the handsome prince in this book stirs her with seduction and is rewarded with her submission to his desires.
3. "Crescendo" [the Leah Brooke Collection]
Because there's no such thing as too much, Leah Brooke brings you not one but two Christian Grey-type characters: Nick Morietti and Steve Vanguard. Both men dominate the submissive Julianna Lovette in this erotic adventure set against a story of mystery and revenge.
Ever wonder what would have happened if Anastasia and Christian hadn't worked out? Bestselling author Maya Banks introduces readers to Ren and her paramour Cole, who seem to be living the ultimate love story until Cole takes his desires a step too far. Years later, Ren is living as a submissive to a new man who offers her everything she ever wanted … except for true love.
5. "Sexual Life Catherine M."
Catherine Millet has had a sex life worth writing about, and she's recalled many of her most exciting experiences in this memoir. The book, which is translated from the French, follows her from peep shows to orgies. Millet takes time to think about her actions, providing an essential bit of reflection to her otherwise tantalizing read.
Nicholson Baker is no stranger to writing about erotic encounters. In the early 1990s, he took phone sex to the published page in "Vox." Then in 2011, he introduced a new vocabulary of sex acts in "House of Holes," which describe exploits of an adult resort reserved for those looking to satisfy eyebrow-raising fantasies.
Popular in the Community