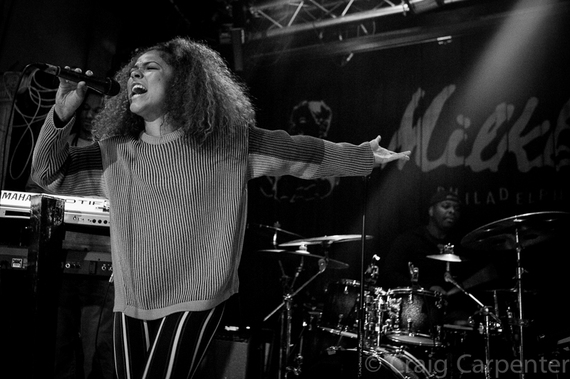 There's a famous Supreme Court opinion written by Justice Potter Stewart which contains the phrase, "I know it when I see it." Without getting into the specifics of that case, the phrase itself is appropriate to describe the feeling I had when I first heard, and even more so, when I first saw Eryn Allen Kane. I've mentioned in writing before that I'm afforded a lot of opportunities to see live performances of both established and emerging talents. I'm very fortunate in that, I won't deny. But, I have finite time and resources. I can't make it to every show, or listen to every download, but there are times when I know it when I see it. I made the time to see her when she came through New York, and then again in Philadelphia. After two shows, packed with expectant crowds, delivering generations of soul, I knew, without question, Ms. Kane was the real thing. The following interview, taking place before the New York show, after the Philly show, and following up through email has been edited for clarity.
Listening to your soundcloud page, it's obvious that you're a student of the game, drawing references from classic and modern R&B, hip hop and blues - which, to these ears means you can't be put into a single bag. From whom have you drawn your inspirations and influences?
My inspirations range from Aretha Franklin to Michael Jackson, to Stevie Wonder to Chaka Khan, to Earth Wind and Fire. I grew up in a household where music was a pretty big thing. My mom particularly loved gospel. Karen Clark Sheard, Kirk Franklin, Fred Hammond are all a part of that influence. A lot of them were powerhouse vocalists, simply put. They possessed so much raw emotion in their songs. I knew I wanted to make music like them.

We first met prior to your first performance at New York's Rockwood Music Hall. I was so impressed that I travelled back to Philly for your next show, which you admitted was only your third public performance. One would have to have heard that from your own lips to believe it. Where did you get that level of confidence and showmanship?
Thank you. I've always performed in choirs and in theater but I've typically been in the background when it comes to music. I think I've just been waiting my whole life to be able to perform like this and every show I'm filled with very intense emotions and there's only one way to get them out. Whether that means shouting, crying, dancing, getting the audience to dance, I want everyone to feel what I'm feeling on stage and to walk away not only having enjoyed the experience, but knowing that I truly meant every word I sang. It's very important to me that I be genuine in my music.
I asked you if being from Detroit and now residing in Chicago presents an extra level of pressure, considering the history of great music coming from those cities. You claimed, and then demonstrated that it doesn't. But it's clear that that music lives in you. Tell me how it feels getting it out there.
It's very frightening at first to be honest. Writing music is so very personal that releasing it into the universe puts you as an artist in a vulnerable position. On the other hand I think it's beautiful once I'm finally able to let it go. It's therapeutic in a sense. Once people listen and they clearly relate, it makes that vulnerable feeling sort of subside and it really connects you to your audience.
In less than two years you've released a two part EP, collaborated on a surprise album release with Chance The Rapper, and caught the ear of Prince. Most people would call that being pretty prolific, but something tells me you've got bigger plans. Can you drop some hints - because I know listeners are anxious for more.
I'm trying to get the performance thing down fully so I'll be having a bunch of those coming up. I'm also working on new material, I don't know who I'll be working with on this next thing or when but it should be fun stuff!
Tell about how you got started singing. At one point in your set at Philadelphia's Milkboy, there was a very obvious reference to gospel music. Not contemporary gospel, but the gospel of The Great Migration. Was that part of your background? I, for one, find it elemental, and refreshing to hear our roots reflected in our present. Tell how you feel about that.
Yes, gospel plays a big role in my musical style. I started singing in the choir when I was 6. Picking up on the pure passion in gospel at a young age, it really carried over into adulthood and into my own musical performances. My mom wouldn't let us listen to the radio so it was either gospel or one of her favorite artists like Chaka Khan, Aretha, Al Green or Prince. I think all of them were also inspired by gospel. It's a sound that is rooted in all of their music. They've just taken different elements and combined them to make their own sound. If I am to make soul music, I must really put my soul on the line and that's precisely what gospel taught me. It taught me how to sing with my entire heart and sometimes for something much bigger than me
You have a background in fashion, as well as music. What other creative outlets interest you?
I love acting. I was the lead in in my HS plays including "Annie" (laughs). I went on to attend college and major in theater performance. Movies/theater can play such a huge role in our lives. Some stories are inspirational and heartfelt, others are super comical others are brutally honest. But they have sort of the same purpose as music in that they can alter the way people view things. They both offer new perspectives. With acting, you're "living truthfully in an imaginary circumstance" and with singing you're just living truthfully and transparently. Slightly different with similar goals in mind.
Nina Simone famously expressed that an artist must reflect the times they are living in. Prince liked your voice so much that he asked you to contribute on his song, "Baltimore", which was a reaction to the unrest in that city this past year. Is that sentiment important to you, reflecting the times we're living in?
I believe it is our duty as artists to reflect on the times we're living in, especially if we are given the platform to do so. It's very important to bring new conversations to the table, ask questions, investigate, be political, and be emotional about issues plaguing our generation. Being aware of what's going on is something everyone needs to be doing but as an artist I think it's especially important to have an opinion and at least express certain topics you feel passionately about outside of love or breakup songs.
If you had it to do all over again, what might you do differently?
I think I'm only able to do what I'm doing now because of the path I've taken. You can't skip steps or cheat the hustle. I'm proud of the choices I've made and own my mistakes. I think it all adds to my music. I wouldn't have changed a thing.
REAL LIFE. REAL NEWS. REAL VOICES.
Help us tell more of the stories that matter from voices that too often remain unheard.