Now when I think of the word 'charming', I will forever associate it with Bianca Espada, E!'s Latina lifestyle blogger.
I really tried to trip Bianca up with my questions but nooooo, she was smooth and elegant with her responses.
In the show Rich Kids of Beverly Hills, Bianca joins the cast as a long time friend of the show's centerpiece, Dorothy Wang, as she deals with tarnished friendships while deciding whether to to nurture her growing career in fashion in NYC or LA. Bianca begins questioning the relationships she has formed and whether or not they can be fixed.
How did you become involved in Rich Kids of Beverly Hills?
I was originally interviewed to do Season 1 but that didn't work out, so they asked again for Season 4 and this time I was available to do the show. I've known most of the cast for years, I've been friends with Dorothy and Johnny for a while; I grew up with Brendan, and my brother was the Best Man in Brendan and Morgan's wedding. So I've always been around but the timing hasn't been right until now.
What exactly draws you to the design side of fashion?
I enjoy that I can have fun and experiment with different things to wear. I basically get to play dress up all day.
There has always been controversy with women wearing high heeled shoes, even recently in the New York Post. What's your take on wearing the stiletto vs. being more health conscious about feet, posture, etc.?
To me there is no controversy. Anyone who has controversy over wearing heels just shouldn't wear them, I personally love them and what they bring to a woman's sense of style.
What annoys you the most?
Racial insensitivity, fake friends and people that aren't loyal.
You grew up in Malibu and schooled in NYC. What differences in LIFESTYLE have you noticed between the East and West Coasts?
I actually went to design school in Georgia before working on both coasts. A lifestyle difference that I have noticed between East and West Coasts is that on the West Coast, specifically LA, people check out each other and the way they dress a lot more. While I'm in NYC my wardrobe is very practical and work minded. In LA, I would only have two looks, either running around in gym clothes or going out in a dress and heels for dinner. I wear flats all the time in New York, where in LA I would wear heels every day. So it's just a more practical way of living on the East Coast since you're always on the go.
Tell us about your Latina roots.
My family is Mexican. When I was younger I lived with my grandma and when my mom would go to work, my grandma would only speak Spanish to me. Then my mom would come home and speak both Spanish and English to me, so I learned both languages simultaneously. I grew up around strong Latin women, who taught me not to back down, to be strong, and to not let anyone push me around. My grandma was always cooking and my favorite meals are the one's she used to make. Like most Latin people, I am extremely close to my family.
You work as an assistant to celebrity stylist Sonja Benson, best known as Rihanna's street wear guru. How'd you get that job?
A mutual friend in LA knew Sonja and referred me to her because she thought I'd be perfect for the job.
Do you keep a calendar? How do you organize your day? Or are you just all over the place?
I'm so bad at organizing and learning how to work my phone calendar. Thankfully I have my mom and my friends to remind me of meetings and where I'm supposed to be. I'm just so A.D.D. and all over the place, I'm lucky to even put my shoes on the right feet.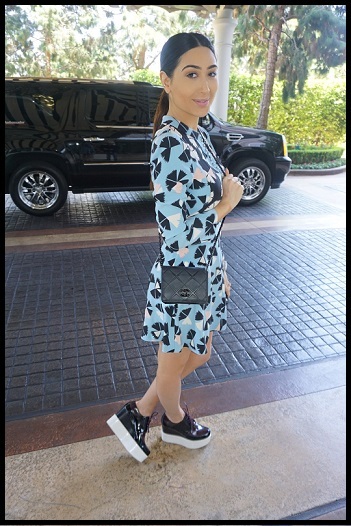 Bianca Espada has great taste in fashion! I'm a size 7-1/2 in case someone wants to send me some shoes like Bianca's -- or Vans - ILANA
You have a Boston Terrier dog named ChaCha. Is this your dog or the family dog? Tell us a funny story about ChaCha.
ChaCha is my dog. I got her when I was on a college break. I just decided to walk into a dog store and buy her. I didn't even tell my parents, I just brought her home with me. My parents were out at some event and when they got home there was a little puppy in the house. Their first reaction was, "How cute, who's dog is that?" Then I said, "It's mine, I just bought her!" They were so upset with me, they didn't talk to me for a few days. But eventually they started to get to know ChaCha, and ended up being so happy that I got her. Now they like her more than me.
A funny story about ChaCha is from when I was in art school, I did portraits of people who were close to me and decided to do one of ChaCha that had the caption "She'll sleep with anyone (because she's so loving)."
How do you come up with topics for your blog?
I get inspired by my surroundings and what's around New York, there so much creative energy in the city. I also get inspired by what's going on in social media, what's trending and giving my input on the topic. I enjoy blogging about things that I innately like... It's easier to blog about things I actually love like chokers and perfume for example. I did a piece on chokers because that is something I wear often and I always have on one of my favorite perfumes.
I don't get "writer's block" per say, I more so get "what to write about next" block because there are so many possibilities.
Anything else you'd like to say?
I hope you guys are enjoying this season of Rich Kids of Beverly Hills, I'm excited for everyone to see what is still to come this season. In the meantime, check out my blog at BiancaEspada.com!
REAL LIFE. REAL NEWS. REAL VOICES.
Help us tell more of the stories that matter from voices that too often remain unheard.