Co-authored by Paul Arthur Berkman, Lloyd N. Axworthy, and Oran R. Young
Ukraine escalates urgency to prevent an Arctic Cold War. Already events are moving in dangerous directions, undermining decades of east-west cooperation that have established the high north as a region of low tensions. As the U.S. resumes chairmanship of the Arctic Council for a two-year term starting on 24 April 2015, the ball is squarely in President Barack Obama's court to provide statesmanship needed for the Arctic as a zone of peace.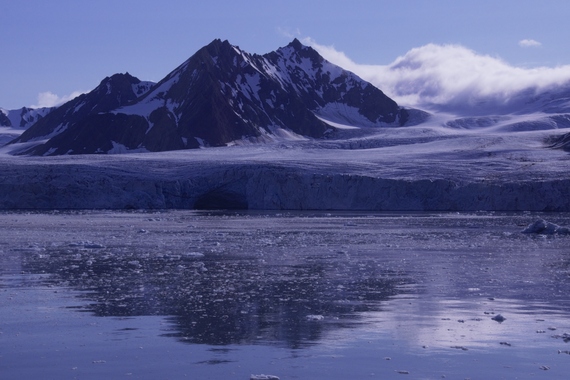 Spitsbergen archipelago (76o55'N, 16o17'E), Arctic Ocean, in 2012. The Spitsbergen Treaty, signed in 1920, is the first international institution to discuss peace in the Arctic. Credit: P.A. Berkman.
Russian Tupolev Tu-95 Bear 'H' Bombers are increasingly testing airspace responses of adjacent Arctic states. "They're flying in places... where they've never flown before," as noted in February by Adm. Wiiliam Gortney, head of U.S. Northern Command and North American Aerospace Defence Command. "They've been very aggressive -- under my NORAD hat -- for us in the Arctic."
Concerns about heightened activity by Russian submarines, naval forces and aircraft in this region are echoed among the five Nordic states, with suggestions emerging from the Nordic Defense Cooperation for a battle group that could be deployed in the Arctic.
Russian Defence Minister Sergey Shoigu countered in February that a "broad spectrum of potential challenges and threats to our national security is now being formed in the Arctic. Therefore, one of the defense ministry's priorities is to develop military infrastructure in this zone." This call to arms was echoed by Russian President Vladimir Putin this March when he ordered the Northern Fleet on full combat readiness with one of the biggest displays of force since the Cold War. The result is an escalating action-reaction process in which each side claims to be responding to the provocative moves of the other, despite the absence of underlying conflicts. Already discussions have ceased among the eight Arctic states' defense departments, which serve as points of contact for search and rescue.
Yet, all this tactical bravado pales in comparison to the ever present "burning security" threat of submarine-launched ballistic missiles, which have been poised continuously in the Arctic Ocean since the early 1960s. Reality is the number of Arctic submarine missile tests after 1991 dwarf the levels during the Cold War.
It is mad to think about any type of armed conflict or war in the Arctic.
However, it is just as risky to be complacent, avoiding holistic considerations for development of the Arctic, and the military is the elephant in the room. The prescription that the "Arctic Council should not deal with matters related to military security" served its purpose to establish basic levels of cooperation with Russia from the collapse of the Soviet Union until its Sochi zenith. But this foundation of good will is rapidly deteriorating, just like the sea ice in the Arctic Ocean.
The three themes for U.S. chairmanship of the Arctic Council introduced by Admiral Robert Papp, U.S. Special Representative for the Arctic, are insufficient without cooperative engagement with Russia. Stability and peace must be a prime consideration for the U.S. as it prepares to assume chairmanship this month of the only international high-level forum for the Arctic.
The challenge is inconsistency among U.S. foreign policies. Sanctions imposed in conjunction with the Ukraine crisis include measures that preclude Exxon Mobil, Shell and BP from engaging in joint operations with Rosneft in the Kara Sea. But at the same time, President Obama issued an executive order in January 2015 noting that "as a global leader, the United States has the responsibility to strengthen international cooperation" in the Arctic.
How can the U.S. ensure effective implementation of the 2011 search-and-rescue agreement and 2013 oil-pollution-preparedness-and-response agreement in the Arctic Ocean without close Russian collaboration? More importantly, how can any nation be sincere about sustainability, conservation, environmental protection or commercial development without first taking steps to ensure that the Arctic remains a stable and peaceful region? Answers to these questions will impact progress with Arctic Ocean infrastructure involving investments for energy, shipping and living-resource activities as well as diplomacy to resolve boundary issues under law of the sea.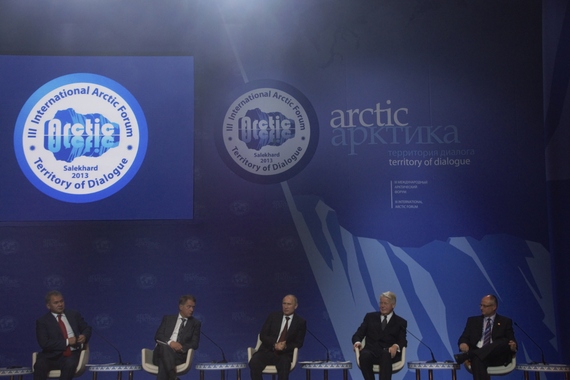 Third International Arctic Forum (Territory of Dialogue) in Salekhard, Russia, on 25 September 2013 with Presidents of the Arctic states. Left-Right: Sergey Shoigu (Russian Defencse Minister), Sauli Niinistö (President of Finland), Vladimir Putin (President of Russian Federation), Ólafur Grímsson (President of Iceland) and Patrick Borbey (Canadian Senior Arctic Official Chair). Credit: P.A. Berkman.
As a major collateral casualty of the Ukraine crisis, the Arctic presents a legacy opportunity for President Obama to earn his Nobel Peace Prize, demonstrating the political will and capacity to maintain the North Pole as a pole of peace. For the U.S., convening a summit with all Arctic Heads of State in 2016 holds promise as a significant achievement on the 20th anniversary of the Arctic Council, but only if it produces a unifying outcome. Insulate the Arctic from global geopolitics.
Paul Arthur Berkman Research Professor, University of California Santa Barbara
Lloyd N. Axworthy Former Foreign Minister of Canada
Oran R. Young Professor Emeritus, University of California Santa Barbara
Calling all HuffPost superfans!
Sign up for membership to become a founding member and help shape HuffPost's next chapter