Troubles are still plaguing the embattled Russian anarcho-absurdist art collective Voina, which has been targeted by the government for their politically provocative performances. This week, Voina members Oleg Vorotnikov and wife, Natalia Sokol, were the targets of an attempted arrest gone awry. And true to the over-the-top nature of the collective, it went down like something out of the "Bourne Identity."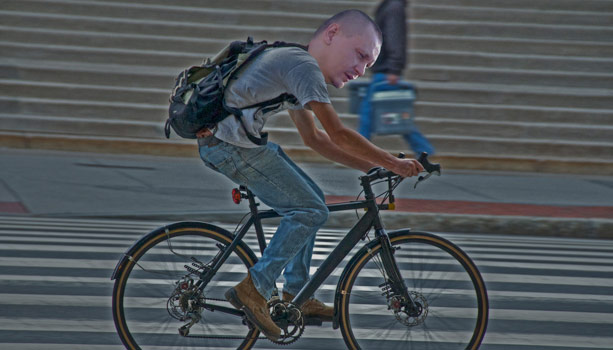 Voina member Oleg Vorotnikov escaped arrest on his bike earlier this week. / Bike photo courtesy of Ed Yourdon via Flickr / Photo of Oleg Vorotnikov courtesy of Voina
Following a meeting with two German journalists, Ulf Kalkreuth and Igor Nedorezov, at a St. Petersburg hotel, the Voina members were walking down the street with their young son, Kasper, as the journalists filmed the scene. Suddenly, a car driving on the other side of the street made a U-turn to stop next to the group. Sensing danger, Vorotnikov (who has an international warrant out for his arrest) jumped on his bicycle and fled, speeding across a busy highway intersection. Plainclothes police ran out of the car and gave chase, threatening to shoot, but Vorotnikov was already well away ("'Go right ahead,' I replied in my mind," the artist wrote in an email to Voina supporters).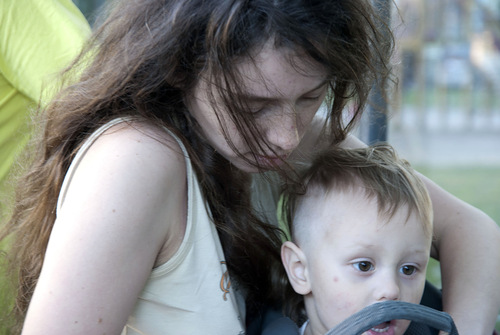 Voina member Natalia Sokol and her son Kasper were detained by police and held overnight /Courtesy of Voina via Tumblr
Vorotnikov managed to get away, but Sokol and their son were detained by police and held overnight in jail without criminal charges. Sokol was not allowed to speak to her lawyer or make a phone call. The two were released after a visit from lawyer and human rights defender Joseph Gabunia and a crew of journalists. The Russian Investigations Committee "officially terminated" two criminal cases against Voina earlier this month, but the government is clearly still interested in pinning the artists down.
-Kyle Chayka, ARTINFO

More of Today's News from ARTINFO:
Calling all HuffPost superfans!
Sign up for membership to become a founding member and help shape HuffPost's next chapter