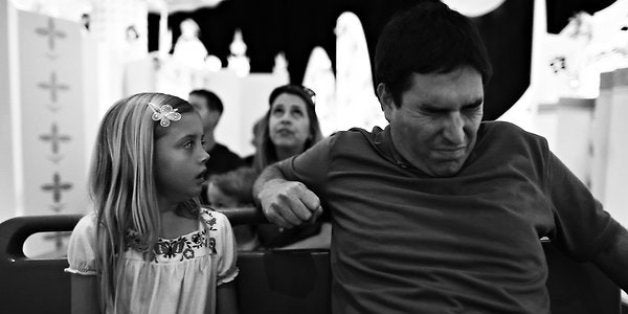 "Escape From Tomorrow," the controversial psychological thriller that debuted to strong reviews at this year's Sundance Film Festival, will receive a limited theatrical release and video-on-demand bow on Oct. 11, this according to a press release from Producers Distribution Agency.
Directed by Randy Moore, the film focuses on a husband and father who finds out he lost his job on the eve of taking his family to Disney World. There, he's met with some possibly paranoid delusions, including thoughts that his son is trying to kill him with help from a mysterious, wheelchair-bound man. Moore shot the film guerrilla-style, without the permission of Disney, leading many to wonder whether the company would prevent the film's release. That, however, proved unfounded. From The New Yorker:
Under copyright law, commentary and parody are well-established fair-use categories, and this is where the film likely falls. It would be one thing if Moore merely used Disney World to embellish his film -- to serve as a pleasing backdrop for some light romantic comedy. But his use of Disney World is not as simple window dressing; he transforms it into something gruesome and disturbing -- a place where, for example, guests are sometimes tasered and have their imaginations purged.
It should be noted that nowhere in the press release is Disney or Disney World mentioned by PDA, including the official plot synopsis of "Escape From Tomorrow":
An epic battle begins when a middle-aged American husband and father of two learns that he has lost his job. Keeping the news from his nagging wife and wound-up children, he packs up the family and embarks on a full day of park hopping amid enchanted castles and fairytale princesses. Soon, the manufactured mirth of the fantasy land around him begins to haunt his subconscious. An idyllic family vacation quickly unravels into a surrealist and darkly comic nightmare of paranoid visions, bizarre encounters, and an obsessive pursuit of a pair of sexy teenage Parisians. Chillingly shot in black and white, ESCAPE FROM TOMORROW dissects the mythology of artificial perfection while subversively attacking our culture's obsession with mass entertainment.
PHOTO GALLERY
Celebrity News & Photos
Calling all HuffPost superfans!
Sign up for membership to become a founding member and help shape HuffPost's next chapter