With its eponymous restaurant's newly awarded Michelin star, there's no better time to visit the Dorchester Collection's Coworth Park than right now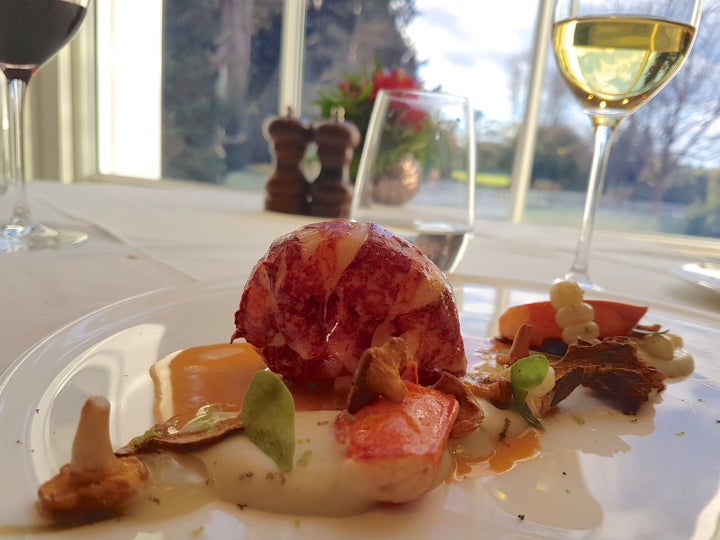 From time to time, even diehard fans need to flee Londontown. The next time you find yourself longing for a country escape with next-to-no hassle, check out Coworth Park in Berkshire. It's only 45 minutes from Central London, and you can even Uber there. (Yes, I checked.) It also has its own helipad, should you feel the need to be extra luxurious.
You'll find that ease and luxury are somewhat of a theme at Coworth Park: It's a proper estate fully equipped for English gentry (with polo fields, charming gardens, a luscious spa, indoor pool, croquet and tennis courts, horses, etc.), but it doesn't take itself too seriously nor is it overly straitlaced. That's why they call themselves "the country house hotel that rewrites the rules," and I couldn't agree more.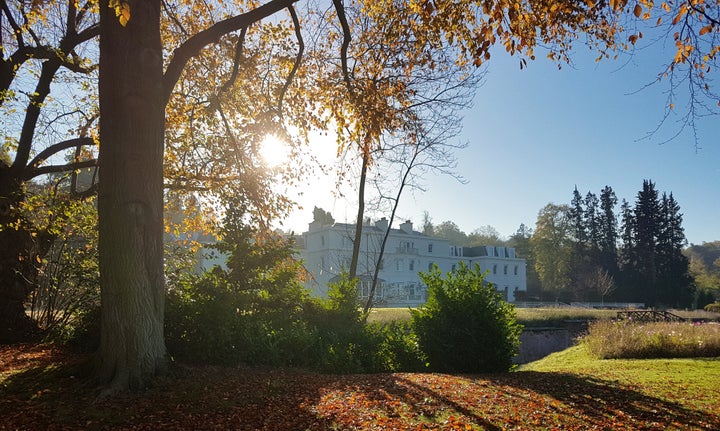 In addition to the long list of amenities listed above, the 240-acre property also boasts three restaurants: There's The Barn for relaxed, informal dining in a pastoral, rustic atmosphere and The Spatisserie in the upscale, zen spa for healthy, light eats. But the fine-dining gem is undoubtedly Restaurant Coworth Park, where Executive Chef Adam Smith was just awarded a Michelin star by the Michelin Guide Great Britain and Ireland, 2018. Adam Smith is in his element at Restaurant Coworth Park where he showcases classic British taste combinations in a modern, visually delightful manner. He uses exceptional, locally sourced ingredients and lets the flavors come through like in the silky, farm-fresh duck liver starter or the native lobster main, which is sea-fresh and unfussy. I sampled both on my last visit and even after my first bite, I could see why the star was awarded. He keeps things simple, and there's a real elegance and skill to that.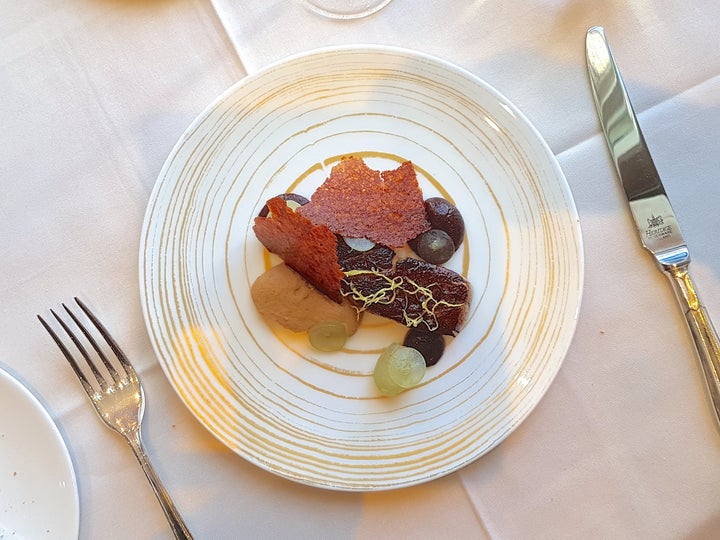 Restaurant Coworth Park serves a Tasting Menu at dinner, as well as an a la carte offering; Sunday Lunch; Best of British Lunch; and seasonal Festive Lunch and Festive Dinner menus, showcasing dishes like Norfolk Bronze turkey trimmed with sage and chestnut stuffing and gin-cured salmon, with apple, celeriac, and smoked eel. (NOTE: At an excellent value, the Festive Lunch presents a three-course menu with a glass of wine at £45 per person and is served every Friday and Saturday, from December 1 to December 23. Festive Dinner presents a three-course menu with a glass of wine at £50 per person and is served every Wednesday, Thursday and Friday, from November 30 to December 22.) Check out all the menus here.
I did the Sunday Lunch menu where Sunday staples like roasts (Waterford Farm Beef Sirloin, Yorkshire Pudding, Roasted Potatoes, Garden Vegetables) sit alongside more avant-garde dishes (Braised Brill, Coco Beans, Salt Lemon, Tarragon).
No matter the meal or menu, the lush desserts are not to be missed and include signature bites like Amedei No.9, a slice of artesian Italian chocolate tart adorned with hazelnuts and delectable Tonka bean ice cream, which shows off Smith's talent for combining flavors and varying textures.
Service is respectful but warm, and the staff seem to take pride in what they do. Bonus points are to be awarded for fabulous Head Sommelier, Michael Fiducia, for his creative wine pairings (which included a Swedish iced cider with the duck liver) and his ability to express and share his knowledge with such ease.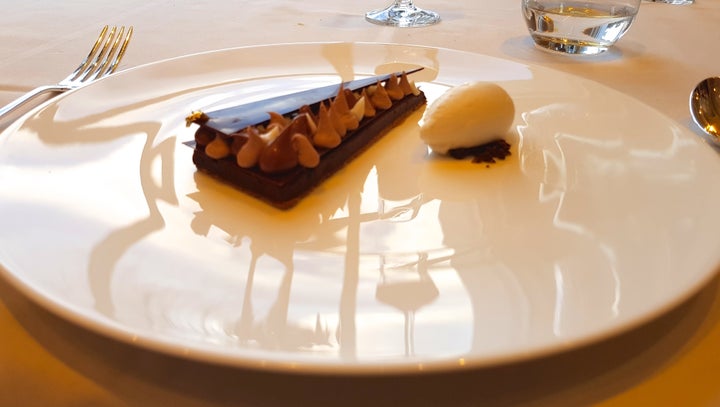 The restaurant overlooks the hotel's manicured lawns and fields of wildflowers and is adorned with seasonal foliage and a chandelier sculpture of bronzed leaves, making it a lovely choice for autumn in particular.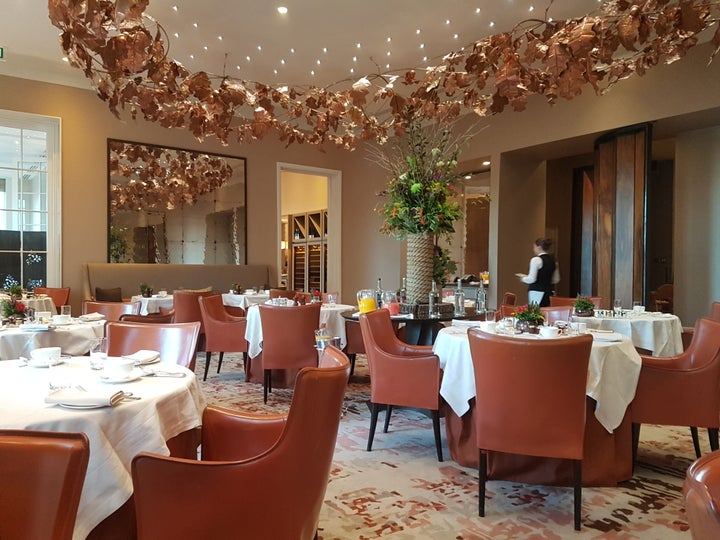 Though the hotel has 70 luxury rooms spread throughout the property (in the main house, stable blocks, and cottages), the Mansion House Executive Suites in the main manor is an absolute indulgence with high ceilings, lots of light, and lush-but-understated décor. Most rooms feature four-poster, king-size beds and divine, marble bathrooms with freestanding copper bathtubs that come equipped with bubble bath and a little light reading in the form of the terribly English "Book Of Idle Pleasures." I love these sorts of little British touches like the book and the way the room is decorated with sprigs and bouquets of local, season-appropriate flora. It brings a true sense of the surrounding countryside into the room without being too heavy-handed. All in all, Coworth Park is a simply dreamy, relaxed retreat that will leave you feeling recharged, rejuvenated, and incredibly well-fed.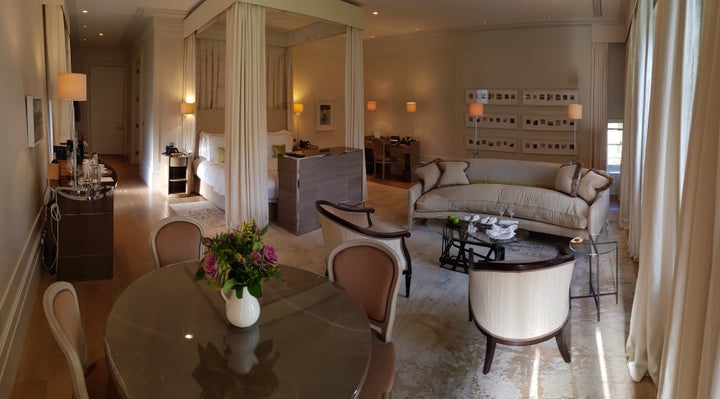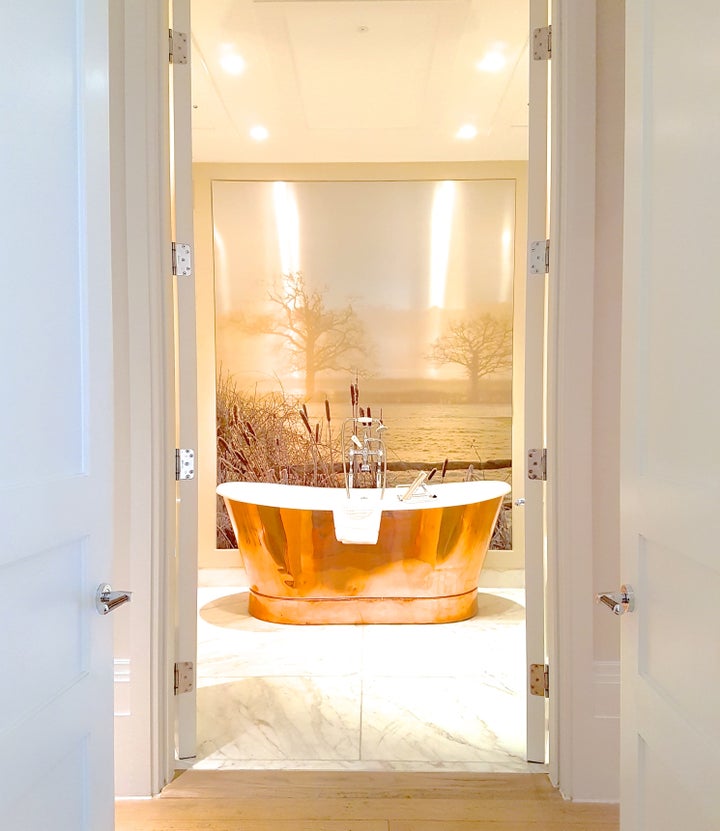 Coworth Park Blacknest Road Ascot Berkshire, SL5 7SE UK Tel: 0044 1344 876 600
Popular in the Community